Are There Better Ways to Help Consumers Tackle Social and Environmental Problems?
Techniques used by online microfinance platforms to spur user involvement could be useful in helping organisations to persuade people to behave in ways that benefit both society and environment.
Microfinance platforms have popularised the idea that ordinary people can become bankers to the poor. Communities of lenders get together every day to crowdfund microloans to disadvantaged micro-entrepreneurs by investing small sums of around only 25 dollars.
A new study digs into the universe of these microloan platforms to investigate how they manage to attract investors and perpetuate their enthusiasm for responding to social problems such as poverty.
Researchers from the Universities of Birmingham and Southern Denmark have identified two major ways through which platforms maintain and potentiate lending. Their findings are published in the Journal of Consumer Research.
Firstly, the platforms assemble resources that function as an 'apparatus of affirmation' – providing first-hand evidence of impact that help consumers imagine the benefits of their actions, thereby creating a sense of empowerment.
Secondly, the platforms translate complex and distant social problems, such as poverty, into personal encounters between lenders and borrowers – creating a sense of connection and familiarity via photographs, stories and loan updates. This set of techniques is theorised as the 'apparatus of relatability'.
Co-author Dr Pilar Rojas-Gaviria, Lecturer in Marketing at the University of Birmingham, comments: "Organisations such as microlending platforms, which strive to mobilise responsible consumers, face two key challenges – overcoming the powerlessness felt when facing daunting problems, and removing a sense of disconnection from 'faraway' problems.
"Supplementing the power of ideas and knowledge with personal stories that inspire hope and aspiration, affinity and connection are powerful techniques that could be useful in inspiring consumers to more actively participate in efforts to tackle social and environmental problems, such as climate change."
Through storytelling, imagery, platform design and communication, the researchers note that online microlending platforms nurture a feeling that genuine change is possible through affordable actions. They also develop a sense of affinity and empathy among potential investors with aspiring micro-entrepreneurs, particularly those from Low-and Middle-income Countries (LMIC).
For example, the platforms publish loan requests to showcase individual borrowers with first names, photographs, and short biographies. This personalised strategy effectively frames microlending as a virtual encounter with a borrower and their story of micro-entrepreneurship. Celebrities, such as actor Natalie Portman, have over the past years helped the microfinance industry to promote microloans as an act of hope that empowers resourceful poor in their efforts to escape poverty.
Co-author Domen Bajde, from the University of Southern Denmark comments: "The advent of online microlending has expanded the pool of potential investors to anyone with internet access and $25 to spare.
"After learning that lenders were more interested in 'emotional returns' rather than financial profit from their loans, platforms began to dramatise microlending as an act of aspirational hope and affinity toward the entrepreneurial poor."
The research is also significant for charitable giving, noting that donors are more likely to contribute when they see their donations as a way of empowering the disadvantaged and when donations are experienced as impactful investments.
All Business Stakeholders Will Benefit from Stronger ESG Policies, Says GlobalData
The age-old view that addressing environmental, social and governance (ESG) issues will make a dent in profits is a myth, says GlobalData. The leading data and analytics company notes that businesses that embrace all three elements of ESG will actually outperform their peers.
Cyrus Mewawalla, Head of Thematic Research at GlobalData, comments: "The reluctance of many CEOs to fully engage with sustainability can be attributed to the age-old view that it will hurt profits. However, GlobalData's research suggests the opposite: CEOs that are too slow to improve their company's approach to ESG will see an exodus of customers and a drop in profits far sooner than they ever imagined."
GlobalData's latest thematic report, 'Thematic Research: ESG – Top Trends by Sector', notes that, while saving the planet used to just equate to implementing sustainable practices such as 'limiting the use of plastics' and 'reducing carbon footprint', 'sustainability' has morphed into an umbrella term that includes all aspects of ESG issues. The company proposes an ESG framework that identifies key areas in which companies should invest. One of these is climate change.
Luke Gowland, Analyst in the Thematic team at GlobalData, comments: "With COP26 setting the agenda on climate change, companies are focusing their efforts on tackling carbon emissions by switching to renewable energy and undertaking energy efficiency projets. However, companies must excel across all three aspects of ESG, and not overlook the importance of strong social performance and having the correct governance structures in place to achieve ESG goals."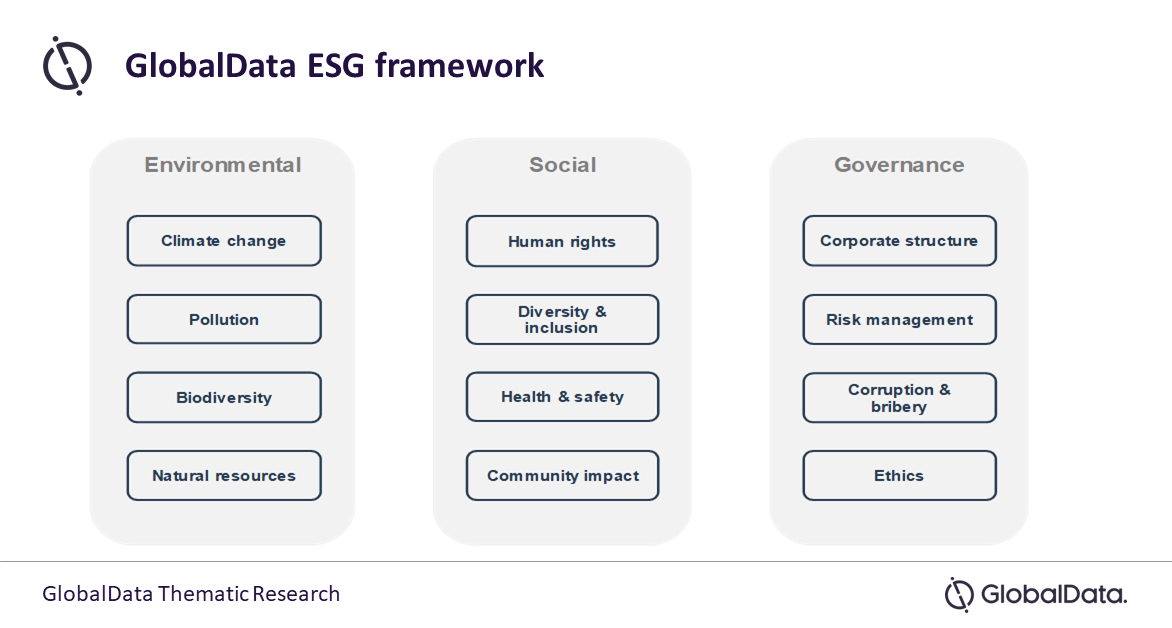 Citizens, governments, regulators, and the media are turning the spotlight on corporations and demanding action. Social inequality, corruption, tax avoidance, and a lack of action on climate change are all issues that companies must now address head-on, in full public view.
Since Q1 2021,GlobalData has been asking respondents to detail their company's approach to ESG goals In Thematic Sentiment Analysis, Q3 2021, conducted in Q3 2021, nearly a quarter of respondents thought that, for most companies, ESG was just a marketing exercise.
Gowland continues: "Our latest sentiment analysis report shows that more companies have changed their behavior to meet ESG goals (33%) than not (22%). While the attitudes towards ESG are improving, there is a long way to go."
Nvidia's Arm Acquisition Now Highly Unlikely to Go Through
Gartner semiconductor analyst Alan Priestly has said that Nvidia's planned $40 billion acquisition of United Kingdom Chip Designer Arm is becoming more unlikely to be successful.
Priestly attributed this possible failure to the increasing number of regulatory inquiries which the deal is facing, also making mention of concerns in the United Kingdom, the European Union, the United States of America and China. Priestly said this to CNBC on Wednesday, with both Nvidia and Arm failing to respond immediately to a request for comment by CNBC.
The deal had previously eyed a completion date of March 2022, but the CEO of Nvidia Jensen Huang had admitted in August that the deal may go beyond the anticipated date.
Arm was born out of an old computing company known as Acorn Computers back in 1990. The energy-efficient chips designed by the company are used in about 95% of smartphones around the world and 95% of chips designed in China. The company was bought by Japan-owned SoftBank in 2016 for about 24 billion pounds ($32 billion), authorizes its chip designs to over 500 companies who use these chips when making their own semiconductors.
Critics have concerns that the merger with Nvidia – who is responsible for designing its own chips – could hinder Arm's semiconductor designs which have been dubbed neutral, and may then lead to increased prices, less available choices and reduced innovation across the industry. Nvidia however argues that the deal will result in more innovation and that Arm will benefit from an increase in investment.
American chip giant Broadcom has publicly shown support for the deal, but many others remain against it.
Qualcomm has stated that Nvidia could proceed to limit the supply of Arm's technology to competitors, or even raise prices. Bloomberg reports that Google and Microsoft have raised similar concerns with regulators.
The United Kingdom announced back in November that it would be launching a full investigation into the takeover of Arm by Nvidia, with the Competition and Markets Authority (CMA) investigating antitrust concerns and national security issues over the period of 24 weeks.
Transcorp Plc Targets of 843MW Combined Capacity
Transnational Corporation of Nigeria (Transcorp) Plc disclosed plans to increase the combined available capacity of its power plants Trans Afam Power Limited (TAPL) and Transcorp Power Limited (TPL) to 843 Megawatt (MW).
The power plants are currently undergoing upgrades and repairs. It plans to raise the average available capacity in the Trans Afam Power plant to 166MW and to 677MW in the Transcorp Power Plant.
The Group CEO, Owen Omogaifo spoke at the company's third-quarter 2021 Analysts presentation and investors conference call and said the company would leverage strategic relationships to sell its stranded capacity through the West African Power Project (WAPP), through partnerships with DisCos, directly to eligible customers among other means.
She went on to say "60 Percent of the population or 117 million people have some level of access to grid electricity, With a generation capacity of only 32 percent, there is a large gap to be filled in the power industry. Given the gap in the sector and the increasing demand for electricity, the power sector remains an attractive investment choice. Our plants are undergoing significant upgrades and repairs that will significantly increase the available capacity by December 2021. We plan to have an extensive engagement with TCN towards resolving several transmission challenges which are affecting our generation and evacuation capabilities."
She went on to present the company's financial performance for the third quarter. The company grew its Profit After Tax by 672.1 Percent from N1.75 billion in the prior year to N13.5 billion while earnings rose by 57.4 Percent to N85.59 billion from N54.38 billion in the prior period.
Transcorp Plc is a leading diversified conglomerate focused on acquiring and managing strategic businesses that create long-term value and socio-economic impact. Its subsidiaries include Transcop Hotels, Transcorp Power, and Transcorp Energy. The company is listed on the main board of the Nigerian Exchange Group.