Commercial Airlines Facing Staggering Losses; Total Profit Loss to Hit $51.8B in 2021
After devastating 2020 and colossal revenue losses caused by the first and second wave of the pandemic, the COVID-19 continues paralyzing the aviation industry. The growing number of COVID-19 cases, fears of travel restrictions due to Delta variant and concerns about the economic recovery caused a new hit to the world's largest airlines, hoping for a steady upturn in the aftermath of the pandemic.
According to data presented by StockApps.com, commercial airlines are expected to end this year with a profit loss of nearly $52bn and revenues 43% lower than before the COVID-19 hit.
European Airlines the Worst Hit, with $21 Billion in Profit Losses
During the last decade, the aviation industry witnessed stable growth, with revenues rising at a CARG of around 5.3% between 2009 and 2019 and reaching $838bn that year.
However, after the pandemic hit, revenue streams dropped to historically low levels, with most of the world's biggest airlines not even covering their operating costs. Although government aids across the globe brought hopes for the steady recovery of the global aviation industry, this scenario might not happen for years. Along with remaining one of the worst-hit sectors during the pandemic, the entire market faces increased costs, including labor and fuel.
The International Air Transport Association (IATA) survey showed that commercial airlines generated only $373bn in revenue in 2020 or 57% less than pre-pandemic projections. Although this figure is expected to jump by 25% YoY to $472bn in 2021, that is $100bn less than revenues from 2008.
Statistics show the global commercial aviation profit loss is expected to reach $51.8bn this year, after the industry already lost almost $138bn in 2020.
In regional comparison, most of that loss, or nearly $21bn, will be generated by the European airlines. The IATA predicts Asian Pacific to witness the second-largest profit loss this year of $11.2bn.
Middle Eastern and African carriers reported combined losses even before the COVID-19 shock. However, according to the IATA survey, the airlines from the two regions are expected to lose around $8.7bn in 2021. Latin America and North America follow, with a $5.6bn and $5.5bn profit loss, respectively.
However, North America is the only region expected to witness significant recovery next year, with airlines reaching $9.9bn in profit gains.
Almost 85% of People Changed their Travel Habits; Catching the Virus Abroad the Biggest Concern
Besides increased costs and plunging profits, the entire airline industry is facing massive changes in travel habits caused by the COVID-19 pandemic.
According to Passenger Confidence Tracker 2021, commissioned by Inmarsat, 84% of respondents claim their travel habits are likely to change post-COVID-19. Around 35% of people have decided to travel less frequently by any means after the pandemic ends, while almost 30% would travel less frequently by air.
Catching the virus is the biggest concern preventing people from traveling abroad, with a 52% share among respondents. However, the five other concerns with high shares of responses were also all related to the pandemic.
The survey also showed that India, South Korea, and China had the largest number of people who decided to travel less frequently by any means, while people from the United Kingdom, Greece, and Germany are the least likely to change their post-COVID-19 travel habits.
All Business Stakeholders Will Benefit from Stronger ESG Policies, Says GlobalData
The age-old view that addressing environmental, social and governance (ESG) issues will make a dent in profits is a myth, says GlobalData. The leading data and analytics company notes that businesses that embrace all three elements of ESG will actually outperform their peers.
Cyrus Mewawalla, Head of Thematic Research at GlobalData, comments: "The reluctance of many CEOs to fully engage with sustainability can be attributed to the age-old view that it will hurt profits. However, GlobalData's research suggests the opposite: CEOs that are too slow to improve their company's approach to ESG will see an exodus of customers and a drop in profits far sooner than they ever imagined."
GlobalData's latest thematic report, 'Thematic Research: ESG – Top Trends by Sector', notes that, while saving the planet used to just equate to implementing sustainable practices such as 'limiting the use of plastics' and 'reducing carbon footprint', 'sustainability' has morphed into an umbrella term that includes all aspects of ESG issues. The company proposes an ESG framework that identifies key areas in which companies should invest. One of these is climate change.
Luke Gowland, Analyst in the Thematic team at GlobalData, comments: "With COP26 setting the agenda on climate change, companies are focusing their efforts on tackling carbon emissions by switching to renewable energy and undertaking energy efficiency projets. However, companies must excel across all three aspects of ESG, and not overlook the importance of strong social performance and having the correct governance structures in place to achieve ESG goals."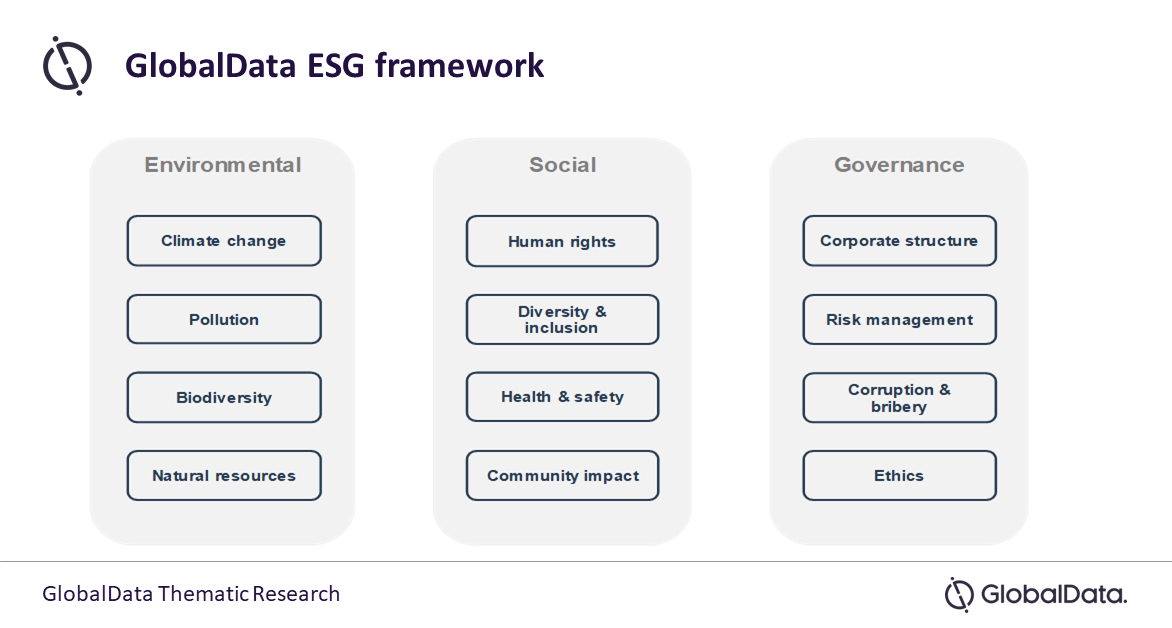 Citizens, governments, regulators, and the media are turning the spotlight on corporations and demanding action. Social inequality, corruption, tax avoidance, and a lack of action on climate change are all issues that companies must now address head-on, in full public view.
Since Q1 2021,GlobalData has been asking respondents to detail their company's approach to ESG goals In Thematic Sentiment Analysis, Q3 2021, conducted in Q3 2021, nearly a quarter of respondents thought that, for most companies, ESG was just a marketing exercise.
Gowland continues: "Our latest sentiment analysis report shows that more companies have changed their behavior to meet ESG goals (33%) than not (22%). While the attitudes towards ESG are improving, there is a long way to go."
Nvidia's Arm Acquisition Now Highly Unlikely to Go Through
Gartner semiconductor analyst Alan Priestly has said that Nvidia's planned $40 billion acquisition of United Kingdom Chip Designer Arm is becoming more unlikely to be successful.
Priestly attributed this possible failure to the increasing number of regulatory inquiries which the deal is facing, also making mention of concerns in the United Kingdom, the European Union, the United States of America and China. Priestly said this to CNBC on Wednesday, with both Nvidia and Arm failing to respond immediately to a request for comment by CNBC.
The deal had previously eyed a completion date of March 2022, but the CEO of Nvidia Jensen Huang had admitted in August that the deal may go beyond the anticipated date.
Arm was born out of an old computing company known as Acorn Computers back in 1990. The energy-efficient chips designed by the company are used in about 95% of smartphones around the world and 95% of chips designed in China. The company was bought by Japan-owned SoftBank in 2016 for about 24 billion pounds ($32 billion), authorizes its chip designs to over 500 companies who use these chips when making their own semiconductors.
Critics have concerns that the merger with Nvidia – who is responsible for designing its own chips – could hinder Arm's semiconductor designs which have been dubbed neutral, and may then lead to increased prices, less available choices and reduced innovation across the industry. Nvidia however argues that the deal will result in more innovation and that Arm will benefit from an increase in investment.
American chip giant Broadcom has publicly shown support for the deal, but many others remain against it.
Qualcomm has stated that Nvidia could proceed to limit the supply of Arm's technology to competitors, or even raise prices. Bloomberg reports that Google and Microsoft have raised similar concerns with regulators.
The United Kingdom announced back in November that it would be launching a full investigation into the takeover of Arm by Nvidia, with the Competition and Markets Authority (CMA) investigating antitrust concerns and national security issues over the period of 24 weeks.
Transcorp Plc Targets of 843MW Combined Capacity
Transnational Corporation of Nigeria (Transcorp) Plc disclosed plans to increase the combined available capacity of its power plants Trans Afam Power Limited (TAPL) and Transcorp Power Limited (TPL) to 843 Megawatt (MW).
The power plants are currently undergoing upgrades and repairs. It plans to raise the average available capacity in the Trans Afam Power plant to 166MW and to 677MW in the Transcorp Power Plant.
The Group CEO, Owen Omogaifo spoke at the company's third-quarter 2021 Analysts presentation and investors conference call and said the company would leverage strategic relationships to sell its stranded capacity through the West African Power Project (WAPP), through partnerships with DisCos, directly to eligible customers among other means.
She went on to say "60 Percent of the population or 117 million people have some level of access to grid electricity, With a generation capacity of only 32 percent, there is a large gap to be filled in the power industry. Given the gap in the sector and the increasing demand for electricity, the power sector remains an attractive investment choice. Our plants are undergoing significant upgrades and repairs that will significantly increase the available capacity by December 2021. We plan to have an extensive engagement with TCN towards resolving several transmission challenges which are affecting our generation and evacuation capabilities."
She went on to present the company's financial performance for the third quarter. The company grew its Profit After Tax by 672.1 Percent from N1.75 billion in the prior year to N13.5 billion while earnings rose by 57.4 Percent to N85.59 billion from N54.38 billion in the prior period.
Transcorp Plc is a leading diversified conglomerate focused on acquiring and managing strategic businesses that create long-term value and socio-economic impact. Its subsidiaries include Transcop Hotels, Transcorp Power, and Transcorp Energy. The company is listed on the main board of the Nigerian Exchange Group.