Afreximbank, ITFC Partner With ARSO to Facilitate Intra-African Trade
AFREXIMBANK and International Islamic Trade Finance Corporation (ITFC) Partner With ARSO to Facilitate Intra-African Trade in Pharmaceuticals and Medical Devices, under the Umbrella of the AATB Program
The African Export-Import Bank (Afreximbank) and the International Islamic Trade Finance Corporation (ITFC), have partnered with the African Organisation for Standardisation (ARSO), to launch a new Arab-Africa Trade Bridges Program (AATB) initiative called the Harmonisation of Standards for Pharmaceutical and Medical Devices in Africa, aimed at promoting the quality and safety of medicines and medical devices imported or produced on the continent.
Harmonized product standards are critical to the implementation of the African Continental Free Trade Agreement (AfCFTA), ensuring that producers of goods on the continent comply with one shared set of minimum regulatory and customer quality requirements, in turn allowing them to supply the continental market and beyond with goods that meet those standards. The harmonisation of standards also serves to enhance the quality of African manufacturing and boost intra-African and Arab-African trade and investment – one of the AATB's key objectives.
The initiative, which will be implemented in a phased manner over three years, begins immediately with the harmonisation of standards for pharmaceutical products and medical devices for use in the ongoing COVID-19 pandemic. The second phase will analyse and assess existing international, regional, and national standards for their suitability in meeting the unique challenges faced by African healthcare industries before achieving the 3rd phase, which is the harmonization of the related African Standards and their adoption on the continent.
Commenting on the initiative, ITFC CEO, Eng. Hani Salem Sonbol said, "From a trade development standpoint, harmonizing the standards of pharmaceutical products and medical devices in Africa is a crucial first step in facilitating local production and trade within sector. Such standards provide a necessary baseline from which to regulate the sector more effectively, raising the quality of locally produced life-saving drugs and related products, and ensuring timely access to appropriate and affordable medicines, vaccines, and other health services for those who need them most. It will also act as a catalyst for Africa to benefit from a burgeoning pharmaceutical sector, expanding trade opportunities locally and beyond borders thus creating long term sustainable socio-economic impact on the continent".
The initiative will also serve to enhance trade and investment within Africa's healthcare industry by boosting the manufacture of high-quality homegrown products and services – objectives laid out within the AfCFTA.
Welcoming the initiative, Mrs. Kanayo Awani, Afreximbank's Managing Director of the Intra-African Trade Initiative said, "At a time when the demand for quality medicines and medical devices is increasing, Africa needs to reinforce regional value chains to scale-up the supply of quality medical products. This would also contribute to building the continent's resilience against pandemics like COVID-19 in the future. Furthermore, leveraging on the African Continental Free Trade Agreement, this joint initiative will also facilitate increased intra-African trade in pharmaceuticals and medical consumables."
As part of a COVID-19 response, the harmonization of standards will facilitate the development of equivalent technical regulations among African countries. Therefore, distribution of medical supplies and equipment from one country to another can be fast-tracked.
A long-term outcome of the initiative will be the emergence of regional supply chains for pharmaceutical and medical devices, which will foster an ecosystem of innovation, local production and the development of medical products for diseases that are currently neglected.
Commenting on the initiative, ARSO's Secretary General, Dr Hermogene Nsengimana, said "While on one hand COVID-19 has created social distancing as a new norm, on another hand it has brought Africa together by opening our eyes to the need for industrialisation. Standards circulated by ARSO and other standards organisations related to face masks, and hand sanitizers have been used widely by African SMEs to develop locally made personal protective equipment thereby shedding light on the role of standards in industrialization, safety, and trade. This Initiative with Afreximbank and ITFC, will not only help in increasing local production but will also create trust and enable cross border trade and investment for pharmaceutical products and medical devices."
The African Organisation for Standardisation (ARSO) will play a key role in the development of standardization policies, applying existing principles and procedures that are already set out in the African Standards Harmonisation Model (ASHAM). ARSO's involvement will be supported by its Council, in addition to a Joint Advisory Group comprised of Regional Economic Communities, and a series of technical committees, which will carry out the harmonisation work with the resources provided under this grant from AFREXIMBANK and ITFC.
Ecobank Group Appoints Jubril Mobolaji Lawal as Regional Executive and Managing Director Designate for Ecobank Nigeria
Ecobank Group, the leading pan-African banking group, announces that Jubril Mobolaji Lawal has been appointed as Regional Executive and Managing Director designate of Ecobank Nigeria, subject to the approval of the Central Bank of Nigeria.
The appointment is made ahead of Patrick Akinwuntan's upcoming retirement, due to him reaching retirement age in January 2022.
Mobolaji Lawal joins Ecobank having been a versatile senior banking executive and digital transformation specialist for over 28 years with Guaranty Trust Bank Plc. He has deep involvement and experience in digital and retail banking, corporate and commercial banking, credit risk management and corporate finance. His previous experience includes being Executive Director at GTBank Plc Nigeria, and Non-Executive Director roles at both GTBank Ghana Limited and Nigeria Interbank Settlement Systems Plc. Mobolaji led the team that envisioned and implemented GTBank Plc's retail and digital banking strategy to achieve industry-wide leadership over a ten-year period and he introduced new products and solutions that have helped to deepen payments and access to digital financial services in Nigeria.
Mobolaji was selected and appointed as Managing Director designate following a keenly contested selection process, which included both internal and external candidates.
Mobolaji Lawal holds a Bachelor of Law degree from the Obafemi Awolowo University, Nigeria; B.L. from the Nigerian Law School and a Master of Business Administration from Oxford University, United Kingdom. He has also attended several executive management and banking specific developmental programmes at leading educational institutions including Harvard Business School, Stanford Graduate School of Business and Institut Européen d'Administration des Affaires (INSEAD).
Commenting on the appointment, Ade Ayeyemi, CEO, Ecobank Group said: "We welcome Mobolaji Lawal to the Ecobank Group and we stand to benefit from the extensive experience that he has acquired in various fields across banking, which will play a major role in continuing to rebuild our franchise in Nigeria. Nigeria is a key market for us, in which we have seen significant improvement over the past three years as we reposition and leverage upon our pan-African strengths in digital products and services, payments and as the go-to-bank for businesses seeking to grasp the growth opportunities being created by the AfCFTA, across all our markets on the continent. I wish Mobolaji the best and assure him of both my support and that of the entire Ecobank Group."
Mrs. Bola Adesola, the Chairman of the Board of Ecobank Nigeria said: "We look forward to working with Mobolaji and assure him of the full support of the Board, Management and all the staff of Ecobank Nigeria. The business in Nigeria is on the path of transformation and we are confident that Mobolaji will have significant impact in advancing our positive trajectory."
Mobolaji Lawal will assume the position of Managing Director, Ecobank Nigeria, upon receiving the approval of the Central Bank of Nigeria and after Patrick Akinwuntan retires.
South Africa Encourages Nigerian Businesses to Expand to the Country
In an effort to improve trade relations between Nigeria and South Africa, the South African High Commissioner to Nigeria Thamsanqa Dennis Mseleku has implored more Nigerian businesses (especially financial institutions) to expand their businesses to South Africa.
The South African representative revealed that the South African consulate was currently working on issuing Nigerian business owners (or operators) visas valid for ten years, in order to further bolster business relationship between both countries.
This was mentioned by Mseleku yesterday on 'The Morning Show', a programme which is monitored closely by Arise news, on which he also noted that the bilateral agreements being signed by both countries would be fully executed in the coming years.
According to Mseleku, Nigerian businesses are operating in South Africa, with the issue being raised back in 2019 when President Buhari was present in South Africa specifically talking about Access Bank and Air Peace. Mseleku stated that Access Bank has since opened up a branch in South Africa, and Air Peace is now making flights to and from South Africa.
Mseleku then said,"So, the issue is that we must encourage more businesses that want to go to South Africa from Nigeria to do so particularly in the financial sector."
This prospective deal between both countries is promising, because the encouragement of Nigerian businesses to come into South Africa may eventually lead to more South African businesses coming into Nigeria to operate. The moves will undoubtedly boost the economies of both countries.
It may also encourage other African countries to engage in trades and have bilateral or multilateral agreements with other African countries, boosting economies across the entire continent.
Mseleku also noted that some South African countries were pulling out of Nigeria, which he cited as one of the reasons for the visit of the South African President.
He also addressed the inaccessibility of visa to business personnel, saying that the country is agreeing and would go on implementing longer term visas for them. He then mentioned the 10 years visa which the country is considering.
All Business Stakeholders Will Benefit from Stronger ESG Policies, Says GlobalData
The age-old view that addressing environmental, social and governance (ESG) issues will make a dent in profits is a myth, says GlobalData. The leading data and analytics company notes that businesses that embrace all three elements of ESG will actually outperform their peers.
Cyrus Mewawalla, Head of Thematic Research at GlobalData, comments: "The reluctance of many CEOs to fully engage with sustainability can be attributed to the age-old view that it will hurt profits. However, GlobalData's research suggests the opposite: CEOs that are too slow to improve their company's approach to ESG will see an exodus of customers and a drop in profits far sooner than they ever imagined."
GlobalData's latest thematic report, 'Thematic Research: ESG – Top Trends by Sector', notes that, while saving the planet used to just equate to implementing sustainable practices such as 'limiting the use of plastics' and 'reducing carbon footprint', 'sustainability' has morphed into an umbrella term that includes all aspects of ESG issues. The company proposes an ESG framework that identifies key areas in which companies should invest. One of these is climate change.
Luke Gowland, Analyst in the Thematic team at GlobalData, comments: "With COP26 setting the agenda on climate change, companies are focusing their efforts on tackling carbon emissions by switching to renewable energy and undertaking energy efficiency projets. However, companies must excel across all three aspects of ESG, and not overlook the importance of strong social performance and having the correct governance structures in place to achieve ESG goals."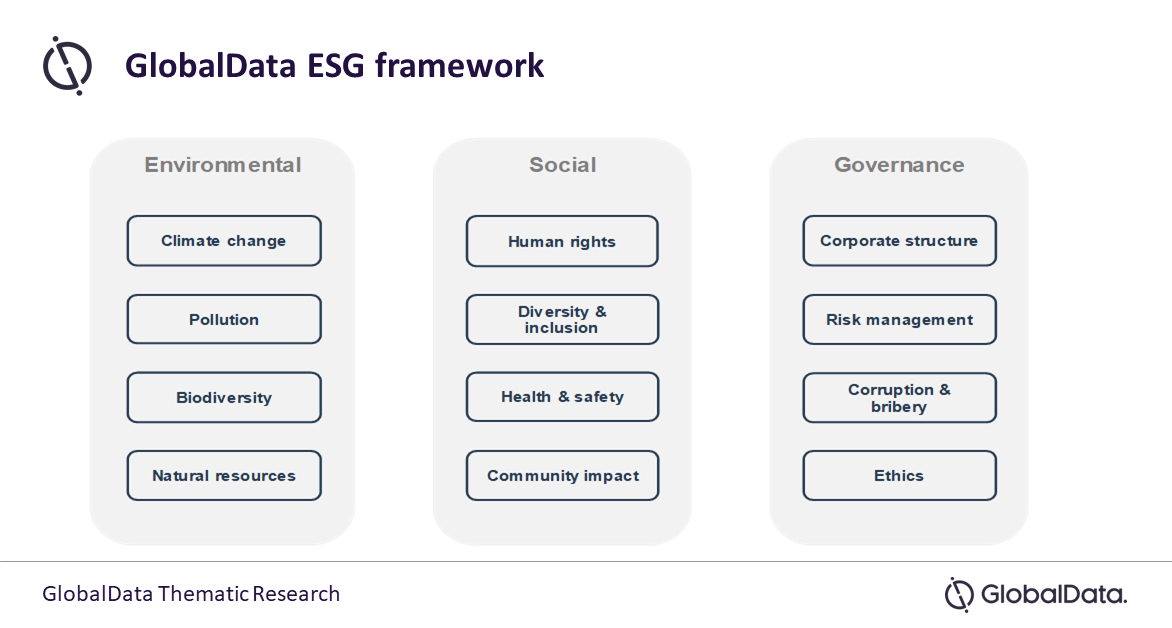 Citizens, governments, regulators, and the media are turning the spotlight on corporations and demanding action. Social inequality, corruption, tax avoidance, and a lack of action on climate change are all issues that companies must now address head-on, in full public view.
Since Q1 2021,GlobalData has been asking respondents to detail their company's approach to ESG goals In Thematic Sentiment Analysis, Q3 2021, conducted in Q3 2021, nearly a quarter of respondents thought that, for most companies, ESG was just a marketing exercise.
Gowland continues: "Our latest sentiment analysis report shows that more companies have changed their behavior to meet ESG goals (33%) than not (22%). While the attitudes towards ESG are improving, there is a long way to go."