China Weakens Yuan Fixing to Lowest Since 2011 as Dollar Climbs
China's central bank weakened its currency fixing to the lowest since March 2011 as the dollar strengthened.
The reference rate was set 0.3 percent weaker at 6.5693 per dollar. A gauge of the greenback's strength rose to a two-month high Tuesday as traders boosted wagers that U.S. interest rates will rise. The yuan declined 0.06 percent to 6.5631 a dollar as of 5:10 p.m. in Shanghai.
A resurgent greenback is shaking up a strategy that the People's Bank of China pursued over the past three months — a steady rate against the dollar, combined with depreciation against other major currencies. Traders are now pricing in a better-than-even chance of the Federal Reserve boosting borrowing costs by its July meeting, with officials lining up to indicate their willingness to support such a move, should the current strength in the economy be sustained.
"It could be because the authorities want to alleviate some of the depreciation pressure before the Fed interest rate decision in June," said Christy Tan, head of markets strategy at National Australia Bank Ltd. in Hong Kong. "If there are signs of panic dollar buying, the PBOC will step in."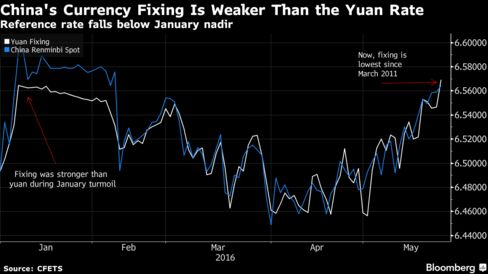 While the fixing is below levels reached during the currency's turmoil in January, the market rate is still 0.5 percent stronger than its nadir in January as traders show few signs of panic. Even so, investors are watching the currency as a barometer for the health of the world's second-largest economy. The earliest batch of private indicatorssuggest sluggish growth in May.
"Compared to our model prediction, it's a little bit weaker, so that's quite significant," said Irene Cheung, a foreign-exchange strategist at Australia & New Zealand Banking Group Ltd. in Singapore.
Chinese officials
plan
to press their American counterparts in annual talks next month on the chance of a U.S. interest-rate increase in June, according to people familiar with the matter. In China's view, if the Fed does lift borrowing costs, a July move would be preferable, the people said.
The offshore yuan was little changed at 6.5673.
OPEC Agrees to Increase Oil Supply by 500,000 Barrels Per Day Ahead of Surge in Demand
OPEC and allies finally agreed to ease their 7.7 million barrels per day production cut by 500,000 barrels per day starting from January 2021.
This will now bring the oil cartel's total production cuts to 7.2 million barrels per day starting from next year.
Oil prices rose after the news as the market believed the approval of Pfizer COVID-19 in the United Kingdom will kick start a series of approvals and helped restore confidence, increase business activities and demand for the commodity across the globe.
After the outcome of the meeting was made public on Thursday, Brent Crude Oil against which Nigerian oil is priced gained 1.35 percent on Friday after gaining 1.4 percent on Thursday to $49.37 per barrel at 11.35 am Nigerian time on Friday.
The US West Texas Intermediate gained 1.29 percent to $46.23 barrel on Friday.
"500,000 bpd from January is not the nightmare scenario that the market feared, but it is not what was really expected weeks ago," said Rystad Energy senior oil markets analyst Paola Rodriguez Masiu. "Markets are now reacting positively and prices are recording a small increase as 500,000 of extra supply is not deadly for balances," she added.
Investors King increased business sentiment in the energy sector to boost investment, increase activity in the sector and most important improve crude oil demand enough to accommodate the 500,000 barrels per day extra that would be hitting the global market starting from January.
Communities in Delta State Shut OML30 Operates by Heritage Energy Operational Services Ltd
The OML30 operated by Heritage Energy Operational Services Limited in Delta State has been shut down by the host communities for failing to meet its obligations to the 112 host communities.
The host communities, led by its Management Committee/President Generals, had accused the company of gross indifference and failure in its obligations to the host communities despite several meetings and calls to ensure a peaceful resolution.
The station with a production capacity of 80,000 barrels per day and eight flow stations operates within the Ughelli area of Delta State.
The host communities specifically accused HEOSL of failure to pay the GMOU fund for the last two years despite mediation by the Delta State Government on May 18, 2020.
Also, the host communities accused HEOSL of 'total stoppage of scholarship award and payment to host communities since 2016'.
The Chairman, Dr Harrison Oboghor and Secretary, Mr Ibuje Joseph that led the OML30 host communities explained to journalists on Monday that the host communities had resolved not to backpedal until all their demands were met.
Crude Oil Recovers from 4 Percent Decline as Joe Biden Wins
Oil Prices Recover from 4 Percent Decline as Joe Biden Wins
Crude oil prices rose with other financial markets on Monday following a 4 percent decline on Friday.
This was after Joe Biden, the former Vice-President and now the President-elect won the race to the White House.
Global benchmark oil, Brent crude oil, gained $1.06 or 2.7 percent to $40.51 per barrel on Monday while the U.S West Texas Intermediate crude oil gained $1.07 or 2.9 percent to $38.21 per barrel.
On Friday, Brent crude oil declined by 4 percent as global uncertainty surged amid unclear US election and a series of negative comments from President Trump. However, on Saturday when it became clear that Joe Biden has won, global financial markets rebounded in anticipation of additional stimulus given Biden's position on economic growth and recovery.
"Trading this morning has a risk-on flavor, reflecting increasing confidence that Joe Biden will occupy the White House, but the Republican Party will retain control of the Senate," Michael McCarthy, chief market strategist at CMC Markets in Sydney.
"The outcome is ideal from a market point of view. Neither party controls the Congress, so both trade wars and higher taxes are largely off the agenda."
The president-elect and his team are now working on mitigating the risk of COVID-19, grow the world's largest economy by protecting small businesses and the middle class that is the backbone of the American economy.
"There will be some repercussions further down the road," said OCBC's economist Howie Lee, raising the possibility of lockdowns in the United States under Biden.
"Either you're crimping energy demand or consumption behavior."