China Weakens Yuan Fixing to Lowest Since 2011 as Dollar Climbs
China's central bank weakened its currency fixing to the lowest since March 2011 as the dollar strengthened.
The reference rate was set 0.3 percent weaker at 6.5693 per dollar. A gauge of the greenback's strength rose to a two-month high Tuesday as traders boosted wagers that U.S. interest rates will rise. The yuan declined 0.06 percent to 6.5631 a dollar as of 5:10 p.m. in Shanghai.
A resurgent greenback is shaking up a strategy that the People's Bank of China pursued over the past three months — a steady rate against the dollar, combined with depreciation against other major currencies. Traders are now pricing in a better-than-even chance of the Federal Reserve boosting borrowing costs by its July meeting, with officials lining up to indicate their willingness to support such a move, should the current strength in the economy be sustained.
"It could be because the authorities want to alleviate some of the depreciation pressure before the Fed interest rate decision in June," said Christy Tan, head of markets strategy at National Australia Bank Ltd. in Hong Kong. "If there are signs of panic dollar buying, the PBOC will step in."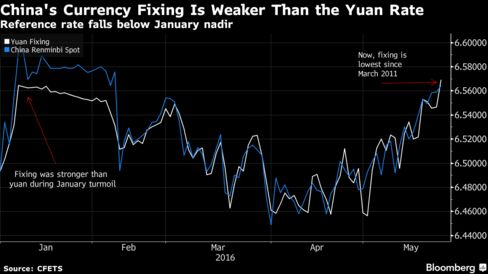 While the fixing is below levels reached during the currency's turmoil in January, the market rate is still 0.5 percent stronger than its nadir in January as traders show few signs of panic. Even so, investors are watching the currency as a barometer for the health of the world's second-largest economy. The earliest batch of private indicatorssuggest sluggish growth in May.
"Compared to our model prediction, it's a little bit weaker, so that's quite significant," said Irene Cheung, a foreign-exchange strategist at Australia & New Zealand Banking Group Ltd. in Singapore.
Chinese officials
plan
to press their American counterparts in annual talks next month on the chance of a U.S. interest-rate increase in June, according to people familiar with the matter. In China's view, if the Fed does lift borrowing costs, a July move would be preferable, the people said.
The offshore yuan was little changed at 6.5673.
Oil Slips With Energy Prices in Europe Halts Record Rally
Oil dipped toward $72 a barrel in New York after prices of energy commodities in Europe halted a record-breaking run.
West Texas Intermediate futures fell 0.6%, having reached the highest intraday level since early August on Wednesday. A rally in European gas and power prices to unprecedented levels was set to end as industries were starting to curb consumption. The surge in energy rates could temporarily boost diesel demand by as much as 2 million barrels a day as consumers switch fuels, according to Citigroup Inc.
Still, the bullish signals for oil are continuing to increase. U.S. crude inventories dropped by more than 6 million barrels last week to a two-year low, according to government figures, as coronavirus vaccination programs permit economies to reopen. Chevron Corp. Chief Executive Officer Mike Wirth warned that the world is facing high energy prices for the foreseeable future.
The investor optimism is showing up in key oil time spreads widening. Trading of bullish Brent options also surged to a two-month high on Wednesday.
Prices have been pushed higher in recent days "by supply outages combined with expectations of switching from gas to oil in the power sector," said Helge Andre Martinsen, a senior oil market analyst at DNB Bank ASA. "We still believe in softer prices toward year-end and early next year as curtailed production returns and OPEC+ continues to increase production."
Strong prices for gas, liquefied natural gas and oil are expected to last "for a while" as producers resist the urge to drill again, Chevron's Wirth told Bloomberg News. Norway's Equinor ASA said Thursday it also expects European gas prices to remain high over winter.
Fuel Scarcity: Petrol Sells N220 Per Litre in Nsukka
Premium Motor Spirit, otherwise called petrol, now sells for between N200 and N220 per liter at the independent marketers' service stations in Nsukka, Enugu State.
The News Agency of Nigeria is reporting the hike in the price against the official pump price of N162 per liter.
It said it started about a fortnight ago due to the scarcity of the commodity in the town and its environs.
Some residents of the town expressed deep worry over the development in separate interviews with NAN on Wednesday.
A civil servant, Stephen Ozioko, said the situation had further compounded the economic difficulties in the area.
Ozioko said many private car owners had been compelled to park their vehicles at home and move around in public transport.
He said: "Since the scarcity started, I decided to park my car and take public transport to the office and back home. N220 per liter is exorbitant and I cannot afford it considering my salary as a civil servant. I shall continue to use public transport until the situation returns to normal."
A building material dealer, Timothy Ngwu, said the development had also led to an increase in transport fare in the area.
Ngwu said: "Some people now trek from Nsukka Old Park to Odenigbo Roundabout because of the 100 percent hike in fares from N50 to N100 by tricycle.
"Before now, transport fare from Nsukka to Enugu was N500, but transporters now charge between N800 and N1000."
Also, a commuter bus driver, Victor Ogbonna, described the scarcity and hike in the price of petrol as "unfortunate and an ugly development".
Ogbonna added: "Today, only a few filling stations are selling the commodity in Nsukka town, while others are shut."
He alleged that some filling stations, which claimed to be out-of-stock, were selling to black marketers at night.
He said: "This is why black marketers have sprung up everywhere in the town, selling the commodity for about N300 per liter."
NAN reports that virtually all the major marketers in the area have stopped the sale of petrol, claiming to be out-of-stock.
The people called on the government to urgently intervene in order to bring the situation under control and also put an end to its harsh economic effects on the messes.
NAN.
DPR Targets N3.2T Revenue by Year-End
Nigeria's Department of Petroleum Resources (DPR) will hit the N3.2 trillion revenue target by December 2021, according to its Director/ Chief Executive Officer, Mr Sarki Auwalu.
Auwalu made the disclosure when he led a delegation of the DPR management team to the Executive Secretary of Petroleum Technology Development Fund (PTDF), Mr Bello Gusau, in Abuja on Wednesday.
He said that 70 percent of the revenue projection had already been met. "Last year, we exceed our revenue budget. We were given N1.5 trillion but we were able to generate N2.7trillion.
"This year, our revenue budget was N3.2 trillion. By the end of August 2021, we have generated up to 70 per cent.
"So, we with September, October, November and December, it is only the 30 per cent that we will work over,'' he said
He noted that the government took advantage of fiscal terms within the old and new legislation, thereby creating a level of increased signature bonuses.
"We reorganise the work programme that is normally being done in the DPR to key into the new operational structure as we see it in the bill, now an act.
"That programme is being handled by the planning and strategic business unit as against what we use to have because the entire work programme is supposed to show not only technical but also commercial and viability of oil fields and to guarantee the return on investment for investors.
"We have also created an economic value and benchmarking unit to key into the new fiscal provisions of the PIA,'' he said.
Commenting on capacity, Auwalu said the country stands at the advantage of exporting skills to emerging oil and gas countries across Africa with proper implementation of the newly passed Petroleum Industry Act.
This, he said, the DPR was ready to partner with the Fund to continue to build capacity in the oil and gas sector
He noted that the Federal Government was determined to create leeway that would encourage investors and drastically improve the nation's petroleum industry.
He further noted that no fewer than 300 legal battles in the oil and gas industry in Nigeria, which had been stalled for the past 20 years in courts, had been resolved through alternative dispute resolution.
According to Auwalu, the DPR is strategising well to ensure effective implementation of the PIA.
Responding, Gusau commended the DPR for enabling the industry and enhancing business activities in the oil and gas sector.
He said that DPR remained the head of the oil and gas industry in Nigeria adding that the Fund was grateful to benefit from the wealth of ideas from DPR.
"The last time we visited, we had a good discussion and issues raised are being implemented like tracking the inflow of funds in signature bonus accounts.
"We extended the meeting and involved ministry of Finance, Accountant General office and even the Central Bank of Nigeria (CBN).
"Sitting at field development plans and attending significant meetings, helped us to know where and what the industry is trying to do and it also helps to inform our decisions in training and capacity plans,'' he said
He urged the DPR to continue on its effort to ensure an efficient and productive petroleum industry in Nigeria
He assured collaboration with all as the head of the implementation committee of the Petroleum Industry Act. (NAN)