Nigerian Currency Crisis Explained: What We Know and Don't Know
Nigerian Currency Crisis Explained: What We Know and Don't Know
Nigeria's central bank may soon give bond and stock investors what they have been pleading for: a weaker naira.
Governor Godwin Emefiele announced after a meeting of the Monetary Policy Committee in Abuja, the capital, on Tuesday that a more flexible foreign-exchange system would be unveiled "in the coming days." But he gave scant detail and left plenty of questions. Here are some answers:
What's the problem?
Nigeria has held the naira at 197-199 per dollar since March 2015, even as other oil exporters from Russia to Colombia and Malaysia let their currencies drop amid the slump in crude prices since mid-2014. Foreign reserves dwindled as the central bank defended the peg, while foreign investors, fearing a devaluation, sold Nigerian stocks and bonds.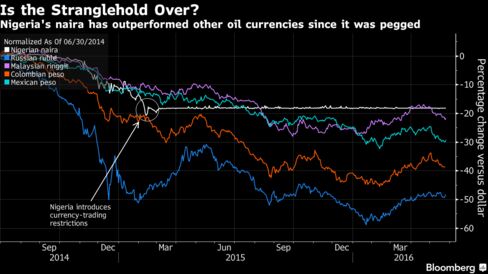 While President Muhammadu Buhari and Emefiele argued a devaluation would fuel inflation, that happened anyway: consumer prices accelerated at the fastest pace in six years in April as the black-market naira rate plummeted. To make matters worse, data released four days before the MPC meeting showed the economy contracted in the first quarter for the first time since 2004 as the dollar shortage curtailed manufacturing. That probably surprised policy makers, prompting the change of heart, according to Mathias Althoff, a fund manager at Tundra Fonder AB, which has about $200 million invested in frontier market stocks, including Nigerian banks.
What happens next?
While Emefiele didn't specify what he meant by "greater flexibility," analysts at Renaissance Capital Ltd. believe the central bank will allocate dollars at a fixed rate to strategic industries — like energy and agriculture — while letting the naira weaken in the interbank market, where everyone else would buy their foreign currency. The central bank may also try try to control the new interbank rate by imposing a trading band of about 5 or 10 percent around it, according to Althoff.
Will that satisfy investors and save the economy?
If the central bank doesn't allow the naira to drop enough, foreign investors will continue to shun Nigerian assets, according to Althoff. The currency should trade at around 285-290 per dollar, according to Alan Cameron, an economist at Exotix Partners LLP. A devaluation won't solve Nigeria's structural economic problems — which include an over-reliance on oil exports — and may fuel inflation in the short term. But it would make Nigerian exports more competitive, curb imports and encourage foreign investment.
What are the pitfalls?
Most investors would prefer a fully-floating naira, yet doubt that Nigeria, which has always had currency controls of some sort, will take that option. And there are concerns it will be impossible for the central bank to ensure that only importers meeting its criteria will be able to buy foreign-exchange at the discounted official rate. Many analysts fear that in a nation U.K. Prime Minister David Cameron described as "fantastically corrupt," access to the official rate will come down to political connections.
"The suggestion of a dual exchange rate, with the maintenance of the official window, is a concern," Razia Khan, head of African research at Standard Chartered Plc, said. "This might lead to continued distortions in the market, ultimately with pressure on foreign-exchange reserves."
What else should investors watch out for?
Buhari. He has made it clear that he, not Emefiele, is the person in charge of exchange-rate policy. The president is loath to allow the currency to drop unless he's forced to and in February likened such a move to "murder." He has yet to make any response to the MPC's announcement. And while he is due to make a speech on May 29, the first anniversary of his coming to power, local press reports suggest he will focus on the government's fight against corruption and Boko Haram's Islamist insurgency.
The central bank has hinted at change before, only to do nothing. "The MPC has dangled the carrot of exchange rate reform, but without giving any details of what a reformed market would look like," Cameron at Exotix said. "To the skeptics among us, this will simply sound like a re-hash of the same old material we've been hearing about since December 2015."
Oil Dips Below $62 in New York Though Banks Say Rally Can Extend
Oil Dips Below $62 in New York Though Banks Say Rally Can Extend
Oil retreated from an earlier rally with investment banks and traders predicting the market can go significantly higher in the months to come.
Futures in New York pared much of an earlier increase to $63 a barrel as the dollar climbed and equities slipped. Bank of America said prices could reach $70 at some point this year, while Socar Trading SA sees global benchmark Brent hitting $80 a barrel before the end of the year as the glut of inventories built up during the Covid-19 pandemic is drained by the summer.
The loss of oil output after the big freeze in the U.S. should help the market firm as much of the world emerges from lockdowns, according to Trafigura Group. Inventory data due later Tuesday from the American Petroleum Institute and more from the Energy Department on Wednesday will shed more light on how the Texas freeze disrupted U.S. oil supply last week.
Oil has surged this year after Saudi Arabia pledged to unilaterally cut 1 million barrels a day in February and March, with Goldman Sachs Group Inc. predicting the rally will accelerate as demand outpaces global supply. Russia and Riyadh, however, will next week once again head into an OPEC+ meeting with differing opinions about adding more crude to the market.
"The freeze in the U.S. has proved supportive as production was cut," said Hans van Cleef, senior energy economist at ABN Amro. "We still expect that Russia will push for a significant rise in production," which could soon weigh on prices, he said.
PRICES
West Texas Intermediate for April fell 27 cents to $61.43 a barrel at 9:20 a.m. New York time
Brent for April settlement fell 8 cents to $65.16
Brent's prompt timespread firmed in a bullish backwardation structure to the widest in more than a year. The gap rose above $1 a barrel on Tuesday before easing to 87 cents. That compares with 25 cents at the start of the month.
JPMorgan Chase & Co. and oil trader Vitol Group shot down talk of a new oil supercycle, though they said a lack of supply response will keep prices for crude prices firm in the short term.
Oil Prices Rise With Storm-hit U.S. Output Set for Slow Return
Oil Prices Rise With Storm-hit U.S. Output Set for Slow Return
Oil prices rose on Monday as the slow return of U.S. crude output cut by frigid conditions served as a reminder of the tight supply situation, just as demand recovers from the depths of the COVID-19 pandemic.
Brent crude was up $1.38, or 2.2%, at $64.29 per barrel. West Texas Intermediate gained $1.38, or 2.33%, to trade at $60.62 per barrel.
Abnormally cold weather in Texas and the Plains states forced the shutdown of up to 4 million barrels per day (bpd) of crude production along with 21 billion cubic feet of natural gas output, analysts estimated.
Shale oil producers in the region could take at least two weeks to restart the more than 2 million barrels per day (bpd) of crude output affected, sources said, as frozen pipes and power supply interruptions slow their recovery.
"With three-quarters of fracking crews standing down, the likelihood of a fast resumption is low," ANZ Research said in a note.
For the first time since November, U.S. drilling companies cut the number of oil rigs operating due to the cold and snow enveloping Texas, New Mexico and other energy-producing centres.
OPEC+ oil producers are set to meet on March 4, with sources saying the group is likely to ease curbs on supply after April given a recovery in prices, although any increase in output will likely be modest given lingering uncertainty over the pandemic.
"Saudi Arabia is eager to pursue yet higher prices in order to cover its social break-even expenses at around $80 a barrel while Russia is strongly focused on unwinding current cuts and getting back to normal production," said SEB chief commodity analyst Bjarne Schieldrop.
Crude Oil Rose Above $65 Per Barrel as US Production Drop Due to Texas Weather
Oil prices rose to $65.47 per barrel on Thursday as crude oil production dropped in the US due to frigid Texas weather.
The unusual weather has left millions in the dark and forced oil producers to shut down production. According to reports, at least the winter blast has claimed 24 lives.
Brent crude oil gained $2 to $65.47 on Thursday morning before pulling back to $64.62 per barrel around 11:00 am Nigerian time.
U.S. West Texas Intermediate (WTI) crude rose 2.3 percent to settle at $61.74 per barrel.
"This has just sent us to the next level," said Bob Yawger, director of energy futures at Mizuho in New York. "Crude oil WTI will probably max out somewhere pretty close to $65.65, refinery utilization rate will probably slide to somewhere around 76%," Yawger said.
However, the report that Saudi Arabia plans to increase production in the coming months weighed on crude oil as it can be seen in the chart below.
Prince Abdulaziz bin Salman, Saudi Arabian Energy Minister, warned that it was too early to declare victory against the COVID-19 virus and that oil producers must remain "extremely cautious".
"We are in a much better place than we were a year ago, but I must warn, once again, against complacency. The uncertainty is very high, and we have to be extremely cautious," he told an energy industry event.