Nigerian Currency Crisis Explained: What We Know and Don't Know
Nigerian Currency Crisis Explained: What We Know and Don't Know
Nigeria's central bank may soon give bond and stock investors what they have been pleading for: a weaker naira.
Governor Godwin Emefiele announced after a meeting of the Monetary Policy Committee in Abuja, the capital, on Tuesday that a more flexible foreign-exchange system would be unveiled "in the coming days." But he gave scant detail and left plenty of questions. Here are some answers:
What's the problem?
Nigeria has held the naira at 197-199 per dollar since March 2015, even as other oil exporters from Russia to Colombia and Malaysia let their currencies drop amid the slump in crude prices since mid-2014. Foreign reserves dwindled as the central bank defended the peg, while foreign investors, fearing a devaluation, sold Nigerian stocks and bonds.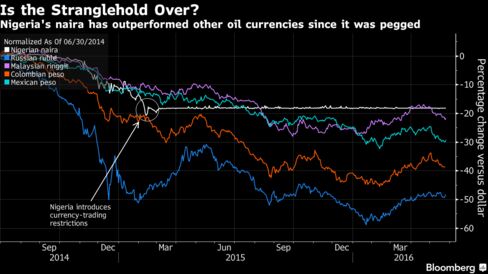 While President Muhammadu Buhari and Emefiele argued a devaluation would fuel inflation, that happened anyway: consumer prices accelerated at the fastest pace in six years in April as the black-market naira rate plummeted. To make matters worse, data released four days before the MPC meeting showed the economy contracted in the first quarter for the first time since 2004 as the dollar shortage curtailed manufacturing. That probably surprised policy makers, prompting the change of heart, according to Mathias Althoff, a fund manager at Tundra Fonder AB, which has about $200 million invested in frontier market stocks, including Nigerian banks.
What happens next?
While Emefiele didn't specify what he meant by "greater flexibility," analysts at Renaissance Capital Ltd. believe the central bank will allocate dollars at a fixed rate to strategic industries — like energy and agriculture — while letting the naira weaken in the interbank market, where everyone else would buy their foreign currency. The central bank may also try try to control the new interbank rate by imposing a trading band of about 5 or 10 percent around it, according to Althoff.
Will that satisfy investors and save the economy?
If the central bank doesn't allow the naira to drop enough, foreign investors will continue to shun Nigerian assets, according to Althoff. The currency should trade at around 285-290 per dollar, according to Alan Cameron, an economist at Exotix Partners LLP. A devaluation won't solve Nigeria's structural economic problems — which include an over-reliance on oil exports — and may fuel inflation in the short term. But it would make Nigerian exports more competitive, curb imports and encourage foreign investment.
What are the pitfalls?
Most investors would prefer a fully-floating naira, yet doubt that Nigeria, which has always had currency controls of some sort, will take that option. And there are concerns it will be impossible for the central bank to ensure that only importers meeting its criteria will be able to buy foreign-exchange at the discounted official rate. Many analysts fear that in a nation U.K. Prime Minister David Cameron described as "fantastically corrupt," access to the official rate will come down to political connections.
"The suggestion of a dual exchange rate, with the maintenance of the official window, is a concern," Razia Khan, head of African research at Standard Chartered Plc, said. "This might lead to continued distortions in the market, ultimately with pressure on foreign-exchange reserves."
What else should investors watch out for?
Buhari. He has made it clear that he, not Emefiele, is the person in charge of exchange-rate policy. The president is loath to allow the currency to drop unless he's forced to and in February likened such a move to "murder." He has yet to make any response to the MPC's announcement. And while he is due to make a speech on May 29, the first anniversary of his coming to power, local press reports suggest he will focus on the government's fight against corruption and Boko Haram's Islamist insurgency.
The central bank has hinted at change before, only to do nothing. "The MPC has dangled the carrot of exchange rate reform, but without giving any details of what a reformed market would look like," Cameron at Exotix said. "To the skeptics among us, this will simply sound like a re-hash of the same old material we've been hearing about since December 2015."
Seplat Energy Plc Records $535 Million in Revenue in the First Nine Months of 2021
Seplat Energy, a leading Nigerian independent energy company listed on both the Nigerian Exchange Limited and the London Stock Exchange, recorded $535 million in revenue in the nine months that ended 30 September 2021.
Earnings Before Interest, Taxes, Depreciation, and Amortization (EBITDA) stood at $266.4 million while cash realised from operations was $163.8 million, the company stated in its unaudited financial statements for the period.
Total expenditure for the period was $83.9 million. Cash at the bank was estimated at $273.9 million and the energy company posted $479.8 million as net debt. See other details below.
Operational highlights
YTD working-interest production of 47,280 boepd down 6.7% year on year largely as a result of the shut-in of the Forcados Oil Terminal (FOT) in August (Q3: 40,381 boepd)
Liquids production down 16.6% year on year at 27,804 bopd, recovering to 33kbopd liquids in October
Gas production up 13% to 113 MMscfd, despite FOT impact on associated gas
Completed two gas wells and three oil wells in the period, new Gbetiokun wells performing strongly
Financial highlights (9M 2021)
Revenue after adjusting for an underlift was $535 million
EBITDA of $266.4 million
Cash generated from operations $163.8 million
Cash at bank $273.9 million, net debt of $479.8 million
Total capital expenditure of $83.9 million
Interim dividend of 2.5 cents ($0.025)
Corporate updates
Name changed to Seplat Energy Plc to reflect new strategic vision outlined in July; new branding launched in October
Acquisition of Cardinal Drilling rigs for $36 million and cessation of legal proceedings by Access Bank Outlook for 2021
Expected production narrowed to 48-50 kboepd for full year, subject to market conditions
Amukpe-Escravos Pipeline (AEP) commissioning has commenced, oil flow expected in December 2021
Capex now expected to be $167 million for the full year
ANOH project remains on track for first gas in H1 2022
Commenting on the financial statements, Roger Brown, Chief Executive Officer, said: "Production has recovered strongly since the outage at Forcados Oil Terminal (FOT) and we have been averaging nearly 33kbopd liquids throughout October. Now that production has normalised, we expect production to be in the range 48-50 kboepd for the year, provided uptime on the Forcados Pipeline and FOT remains above the budgeted 80%. I'm pleased to report that our new wells at Gbetiokun are performing strongly, and we will soon commence drilling the exciting Sibiri prospect on OML40.
"We have taken the difficult, but practical decision to bring an end to the uncertainty of the Access Bank legal dispute regarding Cardinal Drilling Services, which completes the Board-mandated removal of Related Party Transactions.
"Although we maintain our previously stated position that legal action against the Company was wholly without merit, the risk of significant disruption to our operations and other opportunities from a long, drawn-out legal case brought us to a negotiated settlement with Access Bank. We have therefore acquired the four Cardinal rigs and we are now focusing on fast tracking their deployment in future drilling campaigns. `
"Our business model is robust, despite setbacks in the third quarter, thanks to the prudent and flexible approach we have taken to managing the business. With an increased focus on efficiency in our operations, improving uptime by opening up the Amukpe to Escravos Pipeline and driving further cost reduction across our portfolio, this will provide the bedrock allowing us to operate effectively in fluctuating commodity prices and generate returns for shareholders. I am optimistic that the coming year will be much stronger, with many of the problems of the past put behind us.
"After we set out our future strategy in July's Capital Markets Day and launched our new corporate name of Seplat Energy plc, complete with its new branding, we are now focusing on building out and executing the energy transition that is right for Nigeria. A strong step forward will be when we bring on stream the ANOH project next year delivering more transition gas to an energy poor market, over reliant on expensive, high carbon-emitting electricity generated from small-scale diesel and PMS generators. Our three-pillar strategy is designed to ensure we balance carbon emission reduction with the essential social agenda for undeniably the most under-electrified, youngest and fastest growing population on earth."
Crude Oil Drops on Wednesday as U.S. Oil Inventories Jump Unexpectedly
Global oil prices fell by 1 percent on Wednesday after data from the U.S. Energy Department showed that the United States oil inventories unexpectedly rose by 4.3 million barrels last week. More than the 1.9 million barrels predicted by experts.
The unexpected increase in United States inventories weighed on crude oil prices on Wednesday, erasing $1.31 or 1.5 percent from Brent crude oil after it rose to a seven-year high on Tuesday. While the U.S West Texas Intermediate (WTI) dipped by $1.09 or 1.3 percent to $83.56 a barrel.
Still, gasoline stocks declined by 2 million barrels across the United States, a situation likely to push pump prices even higher.
"The market continues to deplete Cushing crude oil inventories and that is impacting the Brent-WTI spread and ultimately we're going to see crude oil diverted from the Permian up to Cushing rather than going to the Gulf Coast," said Andrew Lipow, president of Lipow Oil Associates in Houston.
However, the shaky COVID-19 recovery in most economies has led to doubts over the sustainability of rising oil prices.
"(Some) countries are falling into an autumn Covid-19 case spike," said Louise Dickson, senior oil markets analyst at Rystad Energy, "which poses downside risk for oil demand growth in the very near-term and could provide a soft pressure on oil prices."
Brent Crude Oil Extends Gain to $86.66 a Barrel Amid Tight Supply
Tight global oil supply pushed Brent crude oil, against which Nigeria oil is priced, to a multi-year high of $86.66 per barrel on Monday at 3:30 pm Nigerian time.
Oil price was lifted by rising fuel demand in the United States and tight global supply as economies recover from pandemic-induced slumps.
"The global energy supply crunch continues to show its teeth, as oil prices extend their upward march this week, a result of traders pricing in the ongoing rise in fuel demand – which amid limited supply response is depleting global stockpiles," said Louise Dickson, senior oil markets analyst at Rystad Energy.
Goldman Sachs on the other hand is predicting a further increase in Brent crude oil to $90 a barrel, citing a strong rebound in global oil demand due to switching from gas to oil. This the bank estimated may contribute about 1 million barrels per day to global oil demand.
The investment bank said it expects oil demand to reach around 100 million barrels per day as consumption in Asia increases after the devastating effect of COVID-19.
"While not our base-case, such persistence would pose upside risk to our $90/bbl year-end Brent price forecast," Goldman said in a research note dated Oct. 24.
Earlier this month, the Organization of the Petroleum Exporting Countries, Russia and their allies, known as OPEC+ agreed to continue increasing oil supply by 400,000 bpd a month until April 2022 despite calls for an increase in global oil supplies.
The decision bolstered the price of Brent crude oil above $84 per barrel and expected to push the price even further to $90 a barrel. Low global oil supply amid rising demand for crude oil will continue to support oil prices in the near term.
"Despite the recent power cuts and impacts to industrial activity in China, oil demand is likely instead supported by switching to diesel powered generators and diesel engines in LNG trucks, as well as by a ramp up in coal production," Goldman Sachs stated.