Massive Bailout' Needed in China, Banking Analyst Chu Says
Charlene Chu, a banking analyst who made her name warning of the risks from China's credit binge, said a bailout in the trillions of dollars is needed to tackle the bad-debt burden dragging down the nation's economy.
Speaking eight days after a Communist Party newspaper highlighted dangers from the build-up of debt, Chu, a partner at Autonomous Research, said she was yet to be convinced the government is serious about deleveraging and eliminating industry overcapacity.
She also argued that lenders' off-balance-sheet portfolios of wealth-management products are the biggest immediate threat to the nation's financial system, with similarities to Western bank exposures in 2008 that helped to trigger a global meltdown.
The former Fitch Ratings analyst uses a top-down approach to calculating China's bad-debt levels as the credit to gross domestic product ratio worsens, requiring more credit to generate each unit of GDP.
While Chu is on the bearish side of the debate about the outlook for China, she's not alone. In a report on Monday, Societe Generale SA analysts said that Chinese banks may ultimately face 8 trillion yuan ($1.2 trillion) in losses and a bailout from the government, citing the scale of soured credit within state-owned enterprises.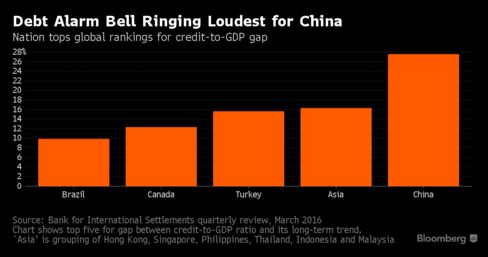 Interviewed in Hong Kong last week, Chu estimated as much as 22 percent of all China's outstanding credit may be nonperforming by the end of this year, compared with an official bad-loan number for banks in March of 1.75 percent.
Question
What do you see as the biggest risk in the financial system?
Answer
"China's debt problems are large and severe, but in some respects a slow burn. Over the near term, we think the biggest risk is banks' WMP portfolios. The stock of Chinese banks' off-balance-sheet WMPs grew 73 percent last year. There is nothing in the Chinese economy that supports a 73 percent growth rate of anything at the moment. Regardless of all of the headlines and announcements about the authorities cracking down on WMPs, they have done very little, really, and issuance continues to accelerate.
"We call off-balance-sheet WMPs a hidden second balance sheet because that's really what it is — it's a hidden pool of liabilities and assets. In this way, it's similar to the Special Investment Vehicles and conduits that the Western banks had in 2008, which nobody paid attention to until everything fell apart and they had to be incorporated on-balance-sheet.
"The mid-tier lenders is where these second balance sheets are very large. China Merchants Bank is a good example. Their second balance sheet is close to 40 percent of their on-balance-sheet liabilities. Enormous."
Question
Who buys a WMP?
Answer
"The products used to be predominantly sold to the public, but now they're increasingly being sold to banks and other WMPs. We're starting to see layers of liabilities built upon the same underlying assets, much like we did with subprime asset-backed securities, collateralized debt obligations, and CDOs-squared in the U.S. The range of assets is much more diverse than mortgages, but we have significantly less visibility on the assets than we did with subprime."
Question
After the People's Daily commentary, is it clear that the government is serious about deleveraging?
Answer
"The word deleveraging should not be used when discussing China. Deleveraging means negative credit growth, or a contraction in the ratio of credit to GDP. China is nowhere close to deleveraging. Over the years, I have learned from watching the authorities respond to issues like WMPs that there is often a large divergence between official rhetoric and actual action. It's encouraging to see policy makers acknowledge the severe overcapacity problem, but I am sceptical that much headway will be made any time soon, given how painful implementation will be and the pushback they will inevitably receive at local levels."
Question
Is a financial crisis or a very dramatic economic slowdown now inevitable?
Answer
"Not yet, but we're getting there because the problem is getting so big. We're still adding 10 to 20 percentage points to the ratio of credit to GDP every year — that has not changed despite the fact that credit growth has decelerated. If the government was to come out with a very aggressive — and it would have to be incredibly aggressive — bailout package for corporates, as well as financial institutions, it would do a lot in terms of dealing with some of this debt overhang and getting rid of the black cloud that's hanging over the country. However, the idea that China needs a massive bailout in the trillions of U.S. dollars isn't something I think the authorities are on board with or accept yet. They still believe they can grow out of it."
Question
Could your assessment of China's debt situation be based on faulty assumptions?
Answer
"If we're wrong, and there's always a chance of that, it's going to be because we're under-appreciating the economic growth potential in China — that there is some more strength to the consumption story and services story than we sense now, and that these are about to take off and propel the country out of these debt problems."
Question
How does China's debt build-up compare to Japan's previously?
Answer
"If you look at Japan, the credit expansion wasn't anywhere close to the size of China's, and China's continues to grow at a rapid rate. There is also a somewhat Wild West, chaotic nature to a lot of the shadow banking going on in China that is different from the shadow credit we saw in Japan. What's positive for China is that they've got a leadership team that is not as afraid as the Japanese leadership is of radical change. So, if China's authorities ever do decide debt is the center of their problems and they need to do something about it, we won't have decades of complacency with nothing really done. On the negative side, China has a much weaker social safety net and a much poorer population, which makes social and political instability a real concern."
Question
What's your assessment of China's capital flows?
Answer
"The party line is that outflows are all about offshore debt repayment, but that accounts for a minority of the flows we are seeing. We think most of the money is leaving through trade mis-invoicing, which is very hard to shut down. Although capital outflows have quieted down, the underlying motivations for people to move their money out of the country are still there. This problem has not gone away."
Black Friday Lull
We're seeing subdued trading at the end of the week, with the absence of the US leaving markets lacking any notable direction.
By Craig Erlam, Senior Market Analyst, UK & EMEA, OANDA
We're seeing subdued trading at the end of the week, with the absence of the US leaving markets lacking any notable direction.
This isn't really unusual and at the end of the week too, it really makes sense. Barring a flurry of big headlines from elsewhere, we could now see equity markets just drift into the weekend with investors already having an eye on next week.
Perhaps today people are trading in their charts for some Black Friday deals, the outcome of which will certainly be on everyone's radar. Going into the holiday season, we'll get an early idea of the state of play for household spending in the midst of a cost-of-living crisis.
Of course, it will naturally be difficult to distinguish how much of that bargain hunting will prove to be holiday season shopping brought forward in an attempt to get the "best deals". But if Black Friday shopping takes a hit this year, it won't bode well for the rest of the holiday period which is so important to retailers.
PBOC cuts the RRR
The PBOC cut the RRR by 25 basis points this morning in a bid to support the economy which is once more going through a difficult period. How effective that will prove to be when cities are seeing restrictions and effective lockdowns reimposed is hard to say. But combined with other measures to boost the property market and ease Covid curbs, the cut could be supportive over the medium term when growth remains highly uncertain.
Oil pares losses as price cap talks continue
Oil prices are higher on Friday, continuing to pare losses after being hit heavily in recent weeks by surging Covid cases in China and discussions around the price cap on Russian crude.
Lockdowns in all but name appear to be popping up in major Chinese cities in an attempt to get a grip on record cases which will weigh heavily on economic activity once more and in turn demand. It's now a question of how long they last but clearly investors' enthusiasm toward the relaxation of Covid restrictions was a bit premature.
Talks will continue on a price cap but it seems it won't be as strict as first thought, to the point that it may be borderline pointless. That's hit oil prices again this week as the threat to Russian output from a $70 cap, for example, is minimal given it's selling around those levels already.
Gold establishing a range ahead of key data releases
Gold is marginally lower today but has been quite choppy throughout the session, and broadly lacked any real direction. We could be seeing a little profit-taking as the dollar edges higher following the relief rally that followed the Fed minutes.
The yellow metal is trading roughly in the middle of what may be a newly established range between $1,730 and $1,780, potentially now awaiting the next catalyst ahead of the December Fed meeting. With another jobs and inflation report still to come, a lot could change between now and when the FOMC next meets.
Bitcoin still extremely vulnerable
Bitcoin is edging lower again today after recording three days of gains. That dragged it off the lows but didn't really carry it that far from them. It's trying to stabilize around the $15,500-$17,000 region and weather the storm but I'm not sure it will be that easy. There's likely more to come from the FTX collapse and the contagion effects, not to mention potentially other scandals that could be uncovered. This may continue to make crypto traders very nervous and leave the foundations supporting price extremely shaky. ​
Lack of Inflows, Revenue Shortage Plunge Nigeria's Excess Crude Account By 89%
The ECB balance declined from $4.1 billion recorded in November 2014 to $472,513
Weak foreign revenue inflow amid fluctuations in the global oil market has plunged Nigeria's Excess Crude Account (ECA) by 89% in the last eight years.
The Excess Crude Account (ECA) is an account used to save excess crude oil revenue by the Nigerian government.
The ECB balance declined from $4.1 billion recorded in November 2014 to $472,513 in the same period of 2022, according to a statement from the Ministry of Finance, Budget, and National Planning.
Economists attributed the substantial decline to the nation's persistent depreciation in foreign revenue inflows and the struggle with crude oil production amid global uncertainty.
According to Jonathan Aremu, professor of economics at Covenant University in Ogun State, the decline was a result of constant withdrawal without replenishment.
"For you to increase the ECA, the oil price must rise above the budgeted price. If it does not, nothing goes in.  Also, if what you are spending is higher than what goes in, it depletes. This is the situation," he noted.
On Thursday, crude oil prices declined following the Group of Seven (G7) nations' proposed plan to cap Russian oil at $65-70 a barrel.
Brent crude oil, against which Nigerian oil is priced, declined to $85 a barrel while the West Texas Intermediate (WTI) crude fell by 0.6% to $77.48 a barrel.
Despite the fact that the benchmark price for oil in the 2022 budget was $57, the price of oil today is still about $30 higher. In spite of higher oil prices, the ECA has been on a decline since early 2022, suggesting that the issue is internal.
"Nigeria's crude production plunged below 1 million barrels per day (mbpd) for the first time since Buhari became President this year and has averaged about 1.2 mbpd most part of 2022. Therefore, it is impossible to take advantage of the Russian-Ukraine war inflated oil prices like we did during the Gulf war under former president Ibrahim Babangida," Samed Olukoya, CEO/Founder Investors King Ltd stated.
The government needs to address internal issues, revamp refineries, reduce oil theft and diversify the economy to reduce overexposure to global oil fluctuations.
Crude Oil Opens at $85 as G7 Nations Move to Cap Russian Oil
The Group of Seven (G7) proposed to cap Russian crude oil at $65-$70 a barrel
Crude oil opened lower on Thursday, declining to a two-month low following the Group of Seven (G7) proposal to cap Russian crude oil at $65-$70 a barrel.
A greater-than-expected build in U.S. gasoline inventories and widening COVID-19 controls in China added to downward pressure.
Brent crude dipped 50 cents, or 0.6%, to $84.91 a barrel, while U.S. West Texas Intermediate (WTI) crude fell by 46 cents, or 0.6%, to $77.48 a barrel.
Both benchmarks plunged more than 3% on Wednesday on news the planned price cap on Russian oil could be above the current market level.
The G7 is looking at a cap on Russian seaborne oil at $65-$70 a barrel, according to a European official, though European Union governments have not yet agreed on a price.
A higher price cap could make it attractive for Russia to continue to sell its oil, reducing the risk of a supply shortage in global oil markets.
That range would also be higher than markets had expected, reducing the risk of global supply being disrupted, said Vivek Dhar, a commodities analyst at Commonwealth Bank in a report.
"If the EU agree to an oil price cap of $65‑$70/bbl this week, we see downside risks to our oil price forecast of $95/bbl this quarter," Dhar said.
Oil and gas exports are forecast to account for 42% of Russia's revenues this year at 11.7 trillion roubles ($196 billion), according to the country's finance ministry, up from 36% or 9.1 trillion roubles ($152 billion) in 2021.
The G7, including the United States, as well as the whole of the European Union and Australia, are planning to implement the price cap on sea-borne exports of Russian oil on Dec. 5.