Jobless Claims in U.S. Dropped Last Week From a One-Year High
Filings for U.S. unemployment benefits declined last week from a more than one-year high, as a plunge in New York returned claims to a level consistent with a firm labor market.
Applications dropped by 16,000 in the week ended May 14, the biggest decrease since early February, to 278,000, a Labor Department report showed Thursday. The median forecast in a Bloomberg survey called for 275,000.
The decrease was primarily due to fewer filings in New York after a surge the previous week that probably reflected difficulties adjusting for the spring break holiday. A subdued rate of dismissals, along with steady hiring, shows companies have confidence in the demand outlook.
"New York State fell basically by the amount it went up in the prior week, so that seems like more of a blip," Kevin Cummins, an economist at RBS Securities Inc. in Stamford, Connecticut, which is the best forecaster of jobless claims over the past two years, according to data compiled by Bloomberg. Overall, claims are "still suggesting a pretty solid labor market."
Estimates in the Bloomberg survey ranged from 260,000 to 285,000. Claims were unrevised at 294,000 in the previous week, the highest since February 2015.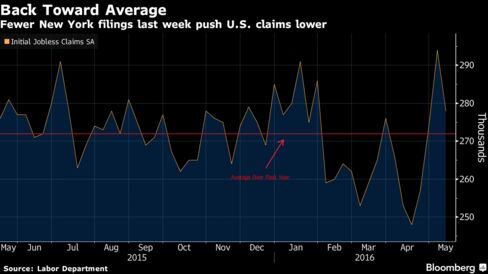 Filings have been below 300,000 for 63 straight weeks, the longest stretch since 1973 and a level economists say is typically consistent with a healthy labor market.
No states were estimated last week and there was nothing unusual in the data, according to the Labor Department. In New York, jobless claims slumped by 15,745 last week, accounting for most of the 17,099 overall decline before seasonal adjustment.
Applications for benefits in the Empire State jumped 14,494 in the prior week due to increased filings in educational services, transportation and accommodation and food services, the report showed.
The four-week average of claims, a less-volatile measure than the weekly figure, rose to a seasonally adjusted 275,750 from 268,250 in the prior week.
The number of people continuing to receive jobless benefits decreased by 13,000 to 2.15 million in the week ended May 7. The unemployment rate among people eligible for benefits held at 1.6 percent. These data are reported with a one-week lag.
Employers in April added the fewest number of workers in seven months, while the unemployment rate held at 5 percent. Economists see job gains slowing to a 182,000 monthly pace by year-end, compared with a 203,000 average in the first quarter.
Brent Crude Oil Approaches $70 Per Barrel on Friday
Nigerian Oil Approaches $70 Per Barrel Following OPEC+ Production Cuts Extension
Brent crude oil, against which Nigerian oil is priced, rose to $69 on Friday at 3:55 pm Nigerian time.
Oil price jumped after OPEC and allies, known as OPEC plus, agreed to role-over crude oil production cuts to further reduce global oil supplies and artificially sustain oil price in a move experts said could stoke inflationary pressure.
Brent crude oil rose from $63.86 per barrel on Wednesday to $69 per barrel on Friday as energy investors became more optimistic about the oil outlook.
While certain experts are worried that U.S crude oil production will eventually hurt OPEC strategy once the economy fully opens, few experts are saying production in the world's largest economy won't hit pre-pandemic highs.
According to Vicki Hollub, the CEO of Occidental, U.S oil production may not return to pre-pandemic levels given a shift in corporates' value.
"I do believe that most companies have committed to value growth, rather than production growth," she said during a CNBC Evolve conversation with Brian Sullivan. "And so I do believe that that's going to be part of the reason that oil production in the United States does not get back to 13 million barrels a day."
Hollub believes corporate organisations will focus on optimizing present operations and facilities, rather than seeking growth at all costs. She, however, noted that oil prices rebounded faster than expected, largely due to China, India and United States' growing consumption.
"The recovery looks more V-shaped than we had originally thought it would be," she said. Occidental previous projection had oil production recovering to pre-pandemic levels by the middle of 2022. The CEO Now believes demand will return by the end of this year or the first few months of 2022.
"I do believe we're headed for a much healthier supply and demand environment" she said.
Oil Jumps to $67.70 as OPEC+ Extends Production Cuts
Oil Jumps to $67.70 as OPEC+ Extends Production Cuts
Brent crude oil, against which Nigerian oil is priced, rose to $67.70 per barrel on Thursday following the decision of OPEC and allies, known as OPEC+, to extend production cuts.
OPEC and allies are presently debating whether to restore as much as 1.5 million barrels per day of crude oil in April, according to people with the knowledge of the meeting.
Experts have said OPEC+ continuous production cuts could increase global inflationary pressure with the rising price of could oil. However, Saudi Energy Minister Prince Abdulaziz bin Salman said "I don't think it will overheat."
Last year "we suffered alone, we as OPEC+" and now "it's about being vigilant and being careful," he said.
Saudi minister added that the additional 1 million barrel-a-day voluntary production cut the kingdom introduced in February was now open-ended. Meaning, OPEC+ will be withholding 7 million barrels a day or 7 percent of global demand from the market– even as fuel consumption recovers in many nations.
Experts have started predicting $75 a barrel by April.
"We expect oil prices to rise toward $70 to $75 a barrel during April," said Ann-Louise Hittle, vice president of macro oils at consultant Wood Mackenzie Ltd. "The risk is these higher prices will dampen the tentative global recovery. But the Saudi energy minister is adamant OPEC+ must watch for concrete signs of a demand rise before he moves on production."
Gold Hits Eight-Month Low as Global Optimism Grows Amid Rising Demand for Bitcoin
Gold Struggles Ahead of Economic Recovery as Bitcoin, New Gold, Surges
Global haven asset, gold, declined to the lowest in more than eight months on Tuesday as signs of global economic recovery became glaring with rising bond yields.
The price of the precious metal declined to $1,718 per ounce during London trading on Thursday, down from $2,072 it traded in August as more investors continue to cut down on their holdings of the metal.
The previous metal usually performs poorly with rising yields on other assets like bonds, especially given the fact that gold does not provide streams of interest payments. Investors have been jumping on US bonds ahead of President Joe Biden's $1.9 trillion coronavirus stimulus package, expected to stoke stronger US price growth.
"We see the rising bond yields as a sign of economic optimism, which has also prompted gold investors to sell some of their positions," said Carsten Menke of Julius Baer.
Another analyst from Commerzbank, Carsten Fritsch, said that "gold's reputation appears to have been tarnished considerably by the heavy losses of recent weeks, as evidenced by the ongoing outflows from gold ETFs".
Experts at Investors King believed the growing demand for Bitcoin, now called the new gold, and other cryptocurrencies in recent months by institutional investors is hurting gold attractiveness.
In a recent report, analysts at Citigroup have started projecting mainstream acceptance for the unregulated dominant cryptocurrency, Bitcoin.
The price of Bitcoin has rallied by 60 percent to $52,000 this year alone. While Ethereum has risen by over 660 percent in 2021.