World's No. 2 Currency Trader Says Dollar Rebound Just the Start
The dollar's three-week rally is just the beginning, according to Deutsche Bank AG.
A slump by the greenback earlier this year has "likely run its course," analysts at the world's second-largest currency trader wrote in a note Friday. The bank favors buying the U.S. currency versus emerging markets — such as China, Mexico and South Korea — following a shakeout in speculative bets on the dollar, George Saravelos, co-head of global foreign-exchange research in London, wrote.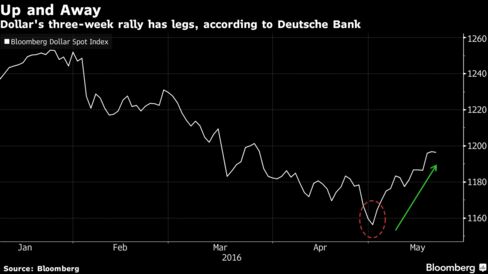 With policy makers from the Group-of-Seven economies meeting in Japan, the Federal Reserve this week gave the dollar a boost by signaling that it may raise interest rates as soon as June. That helped send the greenback to a seven-week high, providing relief to policy makers outside the U.S. who have watched with dismay as a weaker dollar eroded the stimulatory effect of interest-rate cuts and bond purchases.
"The dollar still has some legs," said Sebastien Galy, a strategist at Deutsche Bank in New York. "The global dollar trend is probably far less appealing than it used to be, but there's still some opportunity there."
The Bloomberg Dollar Spot Index, which tracks the dollar versus 10 peers, added 0.8 percent this week. The greenback rose 0.8 percent to $1.1224 per euro and gained 1.4 percent to 110.15 yen.
Market Swings
The dollar slumped 12 percent versus the yen, 7 percent versus the euro, and 7 percent against 10 peers this year before turning higher this month.
More neutral positioning signals room for dollar gains. Hedge funds and other large speculators cutting bets against the dollar this week after turning net bearish on the currency for the first time since 2014 at the end of April, data from the Commodity Futures Trading Commission show.
"The dollar cycle isn't old enough to die of old age," Saravelos wrote. "Recent weakness has likely run its course."
For Deutsche Bank, the dollar's biggest gains will be versus emerging markets, partly because they rely less on Fed expectations.
New York and Richmond Fed presidents both indicated this week that the central bank may look to raise rates as soon as June — a message also hinted at in minutes from its last meeting. Markets are pricing just a 30 percent likelihood of a hike next month and a 73 percent by the end of the year.
State Street Corp., with about $2.3 trillion under management, agrees. Emerging markets are likely to slump versus the dollar, while the performance of the greenback versus the euro and yen depends on the Fed.
"The dollar does go up against risky assets," Lee Ferridge, the Boston-based head of macro strategy for North America at State Street Global Markets, said in an interview at Bloomberg's New York headquarters. "But for euro and yen, it's much more subtle now because that's about policy divergence."
Daily Naira Exchange Rates; Thursday, May 6, 2021
Naira depreciated further at the parallel market on Thursday as the local currency traded at N485 to a United States Dollar. The Nigerian Naira exchanged at N676 to a British Pound and N585 to a Euro as shown below.
Naira Black Market Exchange Rates
Morning * Midday** Evening *** Final Rates
| | | | | | | |
| --- | --- | --- | --- | --- | --- | --- |
| Date | USD | GBP | EURO | YUAN | Canadian | Australian |
| NGN | BUY/SELL | BUY/SELL | BUY/SELL | BUY/SELL | BUY/SELL | BUY/SELL |
| 06/05/2021 | 480/485 | 665/676 | 575/585 | 62/69 | 395/405 | 292/320 |
Bureau De Change Naira Rates
| | | | |
| --- | --- | --- | --- |
| Date | USD | GBP | EURO |
| NGN | BUY/SELL | BUY/SELL | BUY/SELL |
| 06/05/2021 | 475/482 | 663/676 | 575/587 |
| 06/05/2021 | 475/482 | 663/676 | 575/587 |
Central Bank of Nigeria's Official Naira Rates
| Date | Currency | Buying(NGN) | Central(NGN) | Selling(NGN) |
| --- | --- | --- | --- | --- |
| 5/5/2021 | US DOLLAR | 379 | 379.5 | 380 |
| 5/5/2021 | POUNDS STERLING | 527.4164 | 528.1122 | 528.808 |
| 5/5/2021 | EURO | 455.179 | 455.7795 | 456.38 |
| 5/5/2021 | SWISS FRANC | 414.9786 | 415.5261 | 416.0736 |
| 5/5/2021 | YEN | 3.4663 | 3.4708 | 3.4754 |
| 5/5/2021 | CFA | 0.6755 | 0.6855 | 0.6955 |
| 5/5/2021 | WAUA | 541.9723 | 542.6873 | 543.4023 |
| 5/5/2021 | YUAN/RENMINBI | 58.541 | 58.6186 | 58.6963 |
| 5/5/2021 | RIYAL | 101.0559 | 101.1892 | 101.3225 |
| 5/5/2021 | SOUTH AFRICAN RAND | 26.2771 | 26.3118 | 26.3464 |
CBN Extends N5/$ Incentive Period to Boost Dollar Inflow
The Central Bank of Nigeria (CBN) has extended the N5 per US Dollar incentive on forex remittance indefinitely to boost liquidity and further deepen economic recovery.
The initiative was scheduled to end on May 8. It was introduced to encourage recipients of dollars to use formal banking channels and help the central bank capture such inflows to boost the stability of the local currency, which has been under pressure after oil prices plunged last year.
"We hereby announce the continuation of the scheme until further notice," the regulator said in a statement on its website on Thursday.
The naira has been devalued three times since last year after a sharp drop in oil earnings, which accounts for 90% of foreign-exchange inflows, and remittances from workers abroad led to a dollar crunch in the West African nation, which produces the most crude in Africa. The local unit traded for 410.31 on the investors and exporters window, also called Nafex, as of 8:51 a.m. in Lagos.
Dollar Falls as Risk Appetite Improves, Sterling Dips on BoE
The dollar dropped to its lowest point in three days on Thursday as global market risk appetite improved, while sterling zig-zagged after the Bank of England slowed the pace of its bond-buying, but left interest rates unchanged.
Fewer Americans filed new claims for unemployment benefits last week, data showed, as COVID-19 vaccination efforts and massive amounts of government stimulus led to a further reopening of the economy.
While the U.S. economy has been gaining steam, Federal Reserve speakers on Wednesday downplayed the risks of higher inflation.
Those statements reinforced "the lower-for-longer mentality with regards to interest rates," making the greenback less appealing, said Neil Jones, head of FX sales at Mizuho.
The safehaven U.S. dollar was last down 0.31% at 91.977 against a basket of peer currencies.
"What we've seen early in New York is a little bit of back-and-forth gyrations, just because of the Bank of England meeting," said Erik Bregar, director and head of FX strategy at the Exchange Bank of Canada.
The Bank of England said it would slow the pace of its bond-buying as it sharply increased its forecast for Britain's economic growth this year after its coronavirus slump, but it stressed it was not tightening monetary policy.
"They kept their QE target in place but they said they are going to reduce the weekly pace of purchases, but that's not a signal and so sterling has kind of gone up and down and done nothing at the end of the day," Bregar said.
The pound was last down 0.08% against the weaker dollar at $1.3900 .
The euro was up 0.47% versus the dollar at $1.2061 , and up 0.65% against the pound, at 86.88 pence per euro.
Investors were also paying attention to elections in Scotland that could herald a political showdown over a new independence referendum.
The Australian dollar fell sharply overnight when China said it would stop its economic dialogue with Australia, but the currency had recovered to trade close to flat on the day as European markets opened.
The Aussie was up 0.1% versus the U.S. dollar at 0.77515 at 1028 GMT, having hit as low of 0.7701 overnight.
The New Zealand dollar also dropped and was down 0.1% on the day.
"The announcements of the formal suspension of the economic dialogue between China and Australia should not have a lasting impact on markets given the already strained relationship between the two ahead of the event," wrote ING strategists in a note to clients.
The Canadian dollar hit a three-and-a-half year high, helped by oil price gains and the Bank of Canada's recent shift to more hawkish guidance.
In cryptocurrencies, ether traded around $3,500 after reaching a record high of $3,559.97 on Tuesday, skyrocketing nearly 800% this month.
Bitcoin declined 0.2% to $57,392.75.
The meme-based virtual currency Dogecoin soared on Wednesday to an all-time high, extending its 2021 rally to become the fourth-biggest digital coin.