The 2016 European Championships will feature some of the world's best — and most expensive — soccer players: Cristiano Ronaldo, Gareth Bale, Thomas Müller. Hungary's biggest stars will be there, too, for the first time since 1972, though in financial terms, they are in a different universe.
Hungary's 23-man squad would cost a combined $31 million in transfer fees, the least of any of the 24 countries competing. The 31-year-old Ronaldo alone would command $116 million, according to an analysis by Dutch bank ING Groep NV. The Spanish team is the most valuable overall at an estimated $736 million, followed by Germany at $633 million and France at $551 million.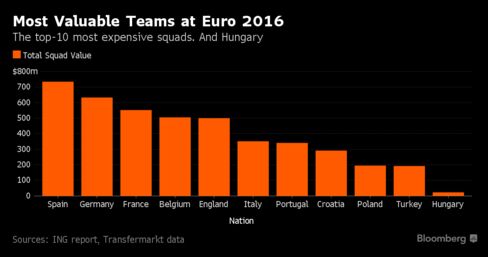 A record number of national teams will play in the quadrennial tournament, which begins June 10 in 10 cities across France. With the field expanded from 16 teams to 24, smaller nations including Wales, Northern Ireland, Iceland and Albania will make their debuts alongside traditional soccer powerhouses Spain, Germany, England and Italy.
ING called attention to the most expensive player on each of the 10 most expensive national squads. That excluded Bale, who moved to Real Madrid from Tottenham Hotspur for a record $113 million in 2013, because the Welsh team overall doesn't crack the top 10.
Among ING's MVPs, after Ronaldo comes Germany's Thomas Müller, 26, worth $79 million, followed by Belgian Eden Hazard and Poland's Robert Lewandowski, who are tied for third at $74 million apiece, ING said, citing data from Transfermarkt.com.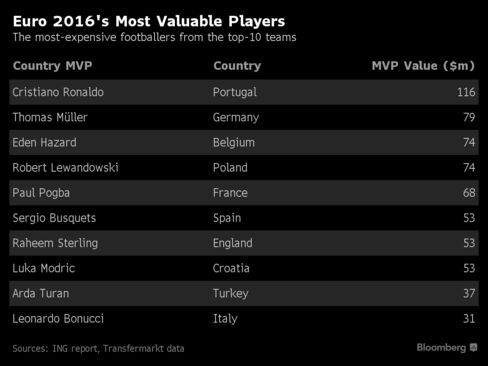 While Spain's players command the highest price as a group, fans and bookmakers favor Germany to win it all. Hungary is a 250-to-1 long shot, according to U.K. sports betting house Ladbrokes.