Oil's Revival to $50 a Barrel Boosts Producers as Dollar Drops
Brent crude surpassed $50 a barrel for the first time since November on signs a two-year surplus is coming to an end, lifting commodity companies and buoying currencies where oil is produced.
A drop in U.S. stockpiles and shrinking output in Nigeria and Venezuela contributed to the gains in Brent, which is up more than 80 percent from January's low of $27.10. The Bloomberg Commodity Index rose to the highest in a week as metals also advanced, and miners in the Stoxx Europe 600 Index headed for their biggest three-day jump in more than a month. The Norwegian krone led gains among major currencies, while Malaysia's ringgit was the best performer in emerging markets. Qatar bonds fell after the government raised $9 billion in a debt sale. The cost of insuring highly rated corporate debt against default fell for a fifth day, the longest run in six weeks.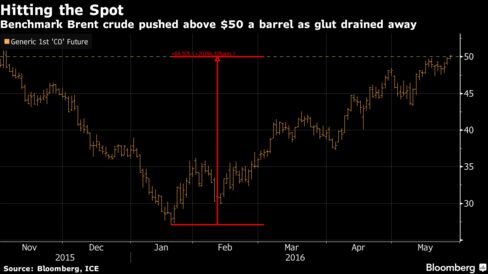 Brent is recovering after tumbling to a 12-year low in January that helped roil global financial markets and raise concern over the strength of the world economy. Now, the International Energy Agency and Goldman Sachs Group Inc. say a glut is dissipating as low prices take their toll on supplies. That may leave prices high enough to alleviate the threat of deflation and still low enough that they don't impinge on economic growth.
"It could well be that we have arrived at a 'sweet spot' — low enough to support consumers and curtail industry job cuts, but not high enough to rile central banks and bond markets." said Michael Ingram, a market strategist at BGC Partners.
Commodities
Brent crude rose 0.3 percent at $50.06 a barrel at 10:39 a.m. in London and West Texas Intermediate climbed as high as $49.97. Bloomberg's index of commodity returns gained 0.5 percent, rising for a second day.
U.S. inventories slid by 4.23 million barrels last week, exceeding an expected drop of 2 million barrels. Attacks in Nigeria have cut production to a 20-year low and Venezuela is struggling to maintain output amid power cuts. Producers in Canada are beginning to restart oil-sands operations halted by wildfires.
French power for delivery in June climbed as much as 3.4 percent to 25.70 euros a megawatt-hour, the highest price since March 31, as a strike that has halted refineries across the nation spread to nuclear power plants. Output at 11 reactors operated by Electricite de France SA was reduced by the protests against a new labor law.
Copper advanced 0.8 percent to $4,691 a metric ton, a third day of gains. The metal used in wires and cables is heading for the first weekly gain this month. Nickel added 0.6 percent and zinc rose 1.9 percent. Gold halted six days of losses to rebound from the lowest level in seven weeks as a rally in the dollar paused.
The U.S. has durable goods orders data for April due as well as weekly jobless claims figures. In addition, leaders from the Group of Seven nations are meeting in Japan to discuss topics including economic policy, climate change and boosting infrastructure investment.
Bonds
The yield on Qatar's $2 billion of bonds due 2022 rose three basis points to a two-month high of 2.67 percent. The nation sold $3.5 billion in five-year notes priced to yield 120 basis points more than U.S. Treasuries, the same amount in 10-year bonds at 150 basis points over Treasuries and $2 billion of 30-year paper at a 210 basis-point spread.
Treasuries were little changed before an auction of $28 billion of seven-year notes, having seen strong demand at sales earlier this week. A gauge of demand at a $34 billion sale of five-year notes Wednesday rose to the highest since 2014 as primary dealers were awarded the lowest percentage at an offering of the securities in data going back to 2003. That came a day after a $26 billion two-year note sale also left dealers with the lowest share on record.
The Markit iTraxx Europe Index of credit-default swaps on investment-grade companies dropped two basis point to 71 basis points in its longest losing run since April 14. A gauge of swaps on junk-rated companies fell four basis points to 304 basis points, a four-week low.
Currencies
Higher oil prices supported the Norwegian krone, which rose 0.9 percent versus the greenback, and Malaysia's ringgit, which advanced 0.5 percent. The MSCI Emerging Markets Currency Index rose 0.2 percent, led by currencies from commodity-producing countries. Russia's ruble climbed for a third day, advancing 0.4 percent.
The yen strengthened 0.2 percent. The Bloomberg Dollar Spot Index, a gauge of the greenback against 10 major peers, declined 0.2 percent following a 0.2 percent drop in the last session.
A measure of volatility in the pound versus the dollar covering the period when the result of the referendum on European Union membership will be known jumped to its highest level in six years. The pound was little changed.
The kiwi touched its weakest level since March after Fonterra Cooperative Group Ltd., the world's largest dairy exporter and New Zealand's biggest company, forecast a lower-than-expected payout to its farmer shareholders.
Stocks
World equities were little changed after the MSCI All-Country World Index staged a 2 percent recovery in the previous two days after weeks of stagnation.
The Stoxx 600 slipped less than 0.2 percent, after its biggest two-day jump in three months. Futures on the S&P 500 were little changed.
ArcelorMittal, Anglo American Plc, Antofagasta Plc and BHP Billiton Ltd. rose more than 3.8 percent, helping lead gains among commodity producers. European banks fell, with Banco Popular Espanol SA tumbling 20 percent after selling new shares. With a 0.7 percent slide, Spain's benchmark IBEX 35 Index was the biggest decliner among western-European markets.
The MSCI Emerging Markets Index added 0.4 percent. The Borsa Istanbul 100 Index dropped 1 percent and bonds retreated, sending the yield on 10-year notes up 11 basis points to 10.18 percent, the highest level this week. The lira slipped less than 0.1 percent.
Turkish markets fell amid signs of diminished powers for Deputy Prime Minister Mehmet Simsek in a cabinet reshuffle as President Recep Tayyip Erdogan extended his control of the government. Simsek is the last man standing in a team of officials credited for orchestrating Turkey's rapid growth years.
Naira Slides Against US Dollar as CBN Devalues Naira
Naira Remains Pressure Against US Dollar as CBN Devalues Naira by 5.54%
The Naira remained at a record low against the United States dollar on the black market amid broadly expected devaluation announcement from the central bank.
The Naira was exchanged at N461 to a US dollar on the black market on Tuesday and early morning of Wednesday. Its lowest in almost three years.
This decline continues against the British Pound as the local currency traded at N558, depreciated by N3 from the N555 it traded during the weekend.
Against the Euro common currency, the Naira opened the day from N504, representing N2 depreciation from the N502 it was exchanged on Tuesday.
On the Investors and Exporters' Forex Window, the local currency remained flat on Tuesday at N386.50 to a United States dollar. However, it opened at N387.32 on Wednesday and quickly hits N391.35 before pulling back at around 2:18 pm Nigerian time.
Accordingly, investors traded a total turnover of $103.37 million during the trading hours of Tuesday, according to the FMDQ Group.
The latest data on the FMDQ Group website shows that the Central Bank of Nigeria (CBN) official exchange rate was moved by 5.54 percent from N361 per US dollar to N381. This further validated the recent rumour that the International Monetary Fund (IMF) was forcing the Federal Government to abide by one of the main conditions of the $3.4 billion loan procured in April before it can access the $1.5 billion request presently before the Fund.
The IMF had requested for a unified foreign exchange rate across the market and demanded the apex bank allow market forces to dictate forex rates.
Therefore, despite the Federal Government reluctant to adjust the nation's foreign exchange, the weak foreign reserves amid rising demand for US dollars by foreign investors looking to abandon the economy has compelled the apex bank to move its official exchange rate from N360 to N380 per US dollar to investors and exporters.
CBN Devalues Naira Again, Official Rate Now N381/$ on the I&E Forex Window
CBN Devalues Naira by 5.54% Against the US Dollar
The Central Bank of Nigeria (CBN) has devalued the Nigerian Naira once again, according to the available data on the FMDQ Group.
The apex bank devalued the local currency by 5.54 percent from N361 to N381 against the United States dollar, making it the second time in the last six months that the Naira would be devalued to commodate the change in economic fundamentals and the nation's dwindling revenue generation.
The apex bank first devalued the Naira by 15 percent in March following more than 60 percent decline in global oil prices and substantial depreciation in the nation's foreign reserves due to COVID-19 disruption.
This coupled with Nigeria's weak fiscal buffer weighed on the nation's economic outlook as experts, investors and businesses immediately started projecting that at some point the apex bank would be forced to devalue the local currency again.
However, despite the central bank calling them speculators and hoarders with one motive, to profit from the nation's economic situation. They insisted that with crude oil projected to remain between $35 to $45 per barrel through 2021 and foreign reserves already weak at $36.151 billion in a nation where over 90 percent of what its citizen consumes are imported, the apex bank will lose its ability to intervene at the nation's foreign exchange, especially with foreign investors looking to move out about $5 billion.
While the central bank has not updated the quote on its official website from N360 to N380 as shown below, it has started selling to investors and exporters at N381, up from the old N361.
Again, this explained why the Naira-USD exchange rate slid to N461 on the black market in the last two weeks and remained between N460-N462 ever since.
CBN Starts Using N380/$ Official Rate, Expects to Make it Official Soon
CBN Moves Official Exchange Rate to N380 Per US Dollar
The Central Bank of Nigeria (CBN) has started using N380 as its official exchange rate for the United States dollar, according to a BusinessDay report.
The report noted that the apex bank recently disbursed the Federal Government's monthly allocation to the three tiers of government using the new forex rate. Therefore, resulting in over N70 billion extra payment.
While the apex bank is yet to make an official announcement and still have the N360 exchange rate stated on its website as the nation official rate, an anonymous senior official of the central bank interviewed by BusinessDay said "yes, it is aimed at moving the rate closer to that of the Investors and Exporters (I&E) window, which traded at N386/$1 yesterday.
"From time to time, adjustment would continue to happen, either upward or downward in line with market fundamentals. Certainly, no single rate can be achieved, but we would keep moving towards I&E rate."
It would be recalled that Godwin Emefiele, the Governor, CBN, about ten days ago told a group of foreign investors that the apex bank is working towards achieving a single foreign exchange rate around the Nigerian Autonomous Foreign Exchange Market (NAFEX)/Investors and Exporters' Forex window.
The CBN governor had stated that "what we mean by exchange rate unification is moving towards the NAFEX. NAFEX is our dominant market for the purchase and sale of forex and it is a free market where everybody is free to sell their dollars and those who want to buy are free to buy dollars.
"That means that whether you are a businessman, a bank, CBN, and you have dollars, you can bring it to the market to sell and if you want to buy dollars, you can come to the market.
"Like some of you must have seen, three years before 2019, we saw a relatively stable forex market because the NAFEX rate and even the rate at which the central bank transacts business outside the NAFEX were substantially close to each other. So, the CBN will continue to pursue unification around the NAFEX."
Meanwhile, the Nigerian Naira traded at a record low of N462 against the US dollar on the black market during the weekend.