Oil's Revival to $50 a Barrel Boosts Producers as Dollar Drops
Brent crude surpassed $50 a barrel for the first time since November on signs a two-year surplus is coming to an end, lifting commodity companies and buoying currencies where oil is produced.
A drop in U.S. stockpiles and shrinking output in Nigeria and Venezuela contributed to the gains in Brent, which is up more than 80 percent from January's low of $27.10. The Bloomberg Commodity Index rose to the highest in a week as metals also advanced, and miners in the Stoxx Europe 600 Index headed for their biggest three-day jump in more than a month. The Norwegian krone led gains among major currencies, while Malaysia's ringgit was the best performer in emerging markets. Qatar bonds fell after the government raised $9 billion in a debt sale. The cost of insuring highly rated corporate debt against default fell for a fifth day, the longest run in six weeks.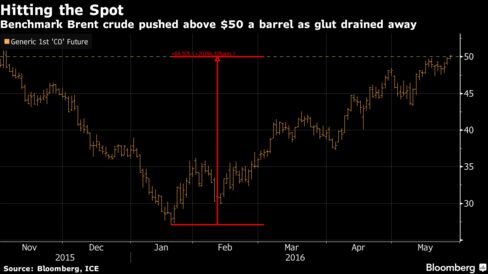 Brent is recovering after tumbling to a 12-year low in January that helped roil global financial markets and raise concern over the strength of the world economy. Now, the International Energy Agency and Goldman Sachs Group Inc. say a glut is dissipating as low prices take their toll on supplies. That may leave prices high enough to alleviate the threat of deflation and still low enough that they don't impinge on economic growth.
"It could well be that we have arrived at a 'sweet spot' — low enough to support consumers and curtail industry job cuts, but not high enough to rile central banks and bond markets." said Michael Ingram, a market strategist at BGC Partners.
Commodities
Brent crude rose 0.3 percent at $50.06 a barrel at 10:39 a.m. in London and West Texas Intermediate climbed as high as $49.97. Bloomberg's index of commodity returns gained 0.5 percent, rising for a second day.
U.S. inventories slid by 4.23 million barrels last week, exceeding an expected drop of 2 million barrels. Attacks in Nigeria have cut production to a 20-year low and Venezuela is struggling to maintain output amid power cuts. Producers in Canada are beginning to restart oil-sands operations halted by wildfires.
French power for delivery in June climbed as much as 3.4 percent to 25.70 euros a megawatt-hour, the highest price since March 31, as a strike that has halted refineries across the nation spread to nuclear power plants. Output at 11 reactors operated by Electricite de France SA was reduced by the protests against a new labor law.
Copper advanced 0.8 percent to $4,691 a metric ton, a third day of gains. The metal used in wires and cables is heading for the first weekly gain this month. Nickel added 0.6 percent and zinc rose 1.9 percent. Gold halted six days of losses to rebound from the lowest level in seven weeks as a rally in the dollar paused.
The U.S. has durable goods orders data for April due as well as weekly jobless claims figures. In addition, leaders from the Group of Seven nations are meeting in Japan to discuss topics including economic policy, climate change and boosting infrastructure investment.
Bonds
The yield on Qatar's $2 billion of bonds due 2022 rose three basis points to a two-month high of 2.67 percent. The nation sold $3.5 billion in five-year notes priced to yield 120 basis points more than U.S. Treasuries, the same amount in 10-year bonds at 150 basis points over Treasuries and $2 billion of 30-year paper at a 210 basis-point spread.
Treasuries were little changed before an auction of $28 billion of seven-year notes, having seen strong demand at sales earlier this week. A gauge of demand at a $34 billion sale of five-year notes Wednesday rose to the highest since 2014 as primary dealers were awarded the lowest percentage at an offering of the securities in data going back to 2003. That came a day after a $26 billion two-year note sale also left dealers with the lowest share on record.
The Markit iTraxx Europe Index of credit-default swaps on investment-grade companies dropped two basis point to 71 basis points in its longest losing run since April 14. A gauge of swaps on junk-rated companies fell four basis points to 304 basis points, a four-week low.
Currencies
Higher oil prices supported the Norwegian krone, which rose 0.9 percent versus the greenback, and Malaysia's ringgit, which advanced 0.5 percent. The MSCI Emerging Markets Currency Index rose 0.2 percent, led by currencies from commodity-producing countries. Russia's ruble climbed for a third day, advancing 0.4 percent.
The yen strengthened 0.2 percent. The Bloomberg Dollar Spot Index, a gauge of the greenback against 10 major peers, declined 0.2 percent following a 0.2 percent drop in the last session.
A measure of volatility in the pound versus the dollar covering the period when the result of the referendum on European Union membership will be known jumped to its highest level in six years. The pound was little changed.
The kiwi touched its weakest level since March after Fonterra Cooperative Group Ltd., the world's largest dairy exporter and New Zealand's biggest company, forecast a lower-than-expected payout to its farmer shareholders.
Stocks
World equities were little changed after the MSCI All-Country World Index staged a 2 percent recovery in the previous two days after weeks of stagnation.
The Stoxx 600 slipped less than 0.2 percent, after its biggest two-day jump in three months. Futures on the S&P 500 were little changed.
ArcelorMittal, Anglo American Plc, Antofagasta Plc and BHP Billiton Ltd. rose more than 3.8 percent, helping lead gains among commodity producers. European banks fell, with Banco Popular Espanol SA tumbling 20 percent after selling new shares. With a 0.7 percent slide, Spain's benchmark IBEX 35 Index was the biggest decliner among western-European markets.
The MSCI Emerging Markets Index added 0.4 percent. The Borsa Istanbul 100 Index dropped 1 percent and bonds retreated, sending the yield on 10-year notes up 11 basis points to 10.18 percent, the highest level this week. The lira slipped less than 0.1 percent.
Turkish markets fell amid signs of diminished powers for Deputy Prime Minister Mehmet Simsek in a cabinet reshuffle as President Recep Tayyip Erdogan extended his control of the government. Simsek is the last man standing in a team of officials credited for orchestrating Turkey's rapid growth years.
Bureau De Change Operators Begs CBN to Approve Electronic Forex Trading
BDCs Seek  CBN Approval Electronic Forex Trading
Bureau de change operators (BDCs) on Wednesday begged the Central Bank of Nigeria to approve the usage of electronic foreign exchange trading to ease demand pressure and facilitate comfort.
Alhaji Aminu Gwadabe, the President of Bureaux De Change Operators of Nigeria (ABCON), made the appeal during a webinar organised by its member with the theme 'The Impact and Roles of BDCs Challenges and Way Forward.'
Gwadabe urged bureau de change operators to adhere to the rules guiding forex transactions by selling at an appropriate rate stipulated by the CBN.
Gwadabe said: "Technology is a threat whether we like it or not and we have been urging the CBN to allow us operate within the payment space. Our request to the CBN and the federal government is to continue to empower us more especially in the payment space.
"The world is now in the fourth generation and it is no more in the traditional method of doing business even agriculture is digital, so we are appealing to the CBN to allow us be on the digital payment space. As this will deepen the economy, further converge the rate, further deepen liquidity and empower the BDC."
Continuing, Gwadabe said: "Some of us want to be ungodly and trading on parallel market rate is highly unacceptable. The CBN has said it is highly unacceptable, ABCON has said it is highly unacceptable and so we are calling on all the directors of BDCs to please ensure that you don't sell to willing customers. Any willing customer that says he wants to buy at N465 is not your customer and they would land you sanctions and get penalties."
He added that monies found on operators carrying out illegal trades would be seized by the relevant authorities.
He said: "Any dollar you found trading on the street is going to confiscated and would become federal government's property. Any dollar you try to courier via border movement at the airport is also government property."
Naira to Dollar Exchange Rate in 2020
Naira to dollar exchange rate in 2020 declined by N73 from N306 Central Bank of Nigeria sold it in the beginning of the year to N379 and N386 on the investors and exporters forex window.
The Naira to dollar exchange rate in 2020 has been marred by a series of economic uncertainties and weak macro fundamentals caused by the COVID-19 pandemic.
At the beginning of the year, the official Central Bank of Nigeria's naira to dollar exchange rate stood at N306 to a US dollar, while on the parallel market popularly known as the black market, the local currency was exchanged between N350 to N360 per US dollar.
On the investors and exporters' foreign exchange window instituted by the central bank to mirror a free market, the naira was exchanged at N325 to a United State dollar.
However, unclear economic direction amid a 50 percent increase in Value Added Tax from 5 percent to 7.5 percent and border closure hurt the Nigerian economic outlook and plunged investors' confidence in the economy even before COVID-19 outbreak.
This weak sentiment metamorphosed into broader economic decline when COVID-19 broke out in the country on February 27 2020 as investors that were doubting President Buhari economic path see no reason to wait any longer or believe Nigeria has what it takes, in terms of the health system, to contain an impending health catastrophe.
The surged in demand for US dollar by those looking to move their funds out of the country compelled Governor Godwin Emefiele led central bank to adjust the Nigerian Naira foreign exchange rate from N306 to a US dollar to N360 in order to discourage capital flight while simultaneously sustain dwindling foreign reserves.
But with global oil prices plunging to as low as $15 per barrel, below Nigeria's $17 per barrel cost of production and demand for the commodity, especially Nigeria's crude oil at almost zero during the peak of COVID-19, foreign investors were willing to lose N54 per US dollar to exit the Nigerian market.
According to a JPMorgan report, central bank forex backlog was over $5 billion, yet foreign reserves continues to drop. Left with little to no choice, the federal government approached the International Monetary Fund (IMF) for $3.4 billion financial assistance while the apex bank devalued the Naira again to the currency $379 to a US dollar and N386 on the investors and exporters window.
Despite the negative impacts of COVID-19 on the Nigerian people and the broad-based decline in economic activities that saw the nation's Gross Domestic Product (GDP) contracting by 6.10 percent in the second quarter of the year and the unemployment rising as high as 27.1 percent or 21.8 million people in an import-dependent economy, the apex bank did not just devalue the Naira twice, the Federal Government raised electricity tariffs and remove subsidy in an economy with very weak consumer spending.
With the series of economic uncertainties, investors in forex forward market in London started offering Naira future contracts for N545, saying the apex bank no longer have the resource to support the Naira given the current global situation.
True to their words, Naira to Dollar exchange rate in 2020 plunged to N480 on the black market amid persistent forex scarcity before recently moderating to N467 when the central bank resumed forex sales to the bureau de change operators across the country.
Also, with the economy expected to plunge into an economic recession for the second time in four years in the third quarter of 2020, the Naira to Dollar exchange rate is expected to suffer even further in 2020.
Naira Drops N2 on Black Market Even With 11.5% Interest Rate
Naira Declines on Black Market Despite Lower Interest Rate
Nigerian Naira traded at N467 to a US dollar on the back market on Wednesday despite the Central Bank of Nigeria's led monetary policy committee lowering the interest rate by 100 basis points after months of saying NO.
The local currency declined by N2 from N465 it exchanged on Tuesday to N467 on Wednesday as investors doubt the new interest rate would be effective given the size of the nation's economic woes.
Also, the central bank rate adjustment was seen by most as recession validation. Experts and even the apex bank had predicted that except the nation recorded strong growth in the third quarter, Nigeria would slide into recession for the second time in four years.
This was after Nigerian currency was devalued twice to accommodate the nation's weak foreign reserves in the wake of low oil prices and the drop in demand for the commodity.
Since then, the central bank has injected a total sum of N3.5 trillion into the economy to mitigate the negative impact of COVID-19 on the nation and support gradual improvement in productivity.
However, the decision of the Federal Government to raise electricity tariffs and remove petrol subsidy at a time when 27.1 percent of the working population or 21.8 million people are out of jobs with COVID-19 eroding consumer buying power, further weighed on sentiment and send the wrong message to potential investors and businesses.
Against, the British pounds the Nigerian Naira traded at N600 while it was exchanged at N545 to a European Union common currency.
With labour declaring a nationwide industrial action starting from Monday September 28, Nigeria's detoriating economic outlook may further plunge the Naira value against global counterparts.