Dangote Group Reigns Supreme as Nigeria's Most Valuable Brand
The Dangote Group has proudly asserted its position as Nigeria's most valuable brand, achieving a remarkable aggregate score of 86.2 percent on the Brand Strength Measurement (BSM) Index, a meticulous evaluation conducted by Top 50 Brands Nigeria as part of its comprehensive 2023 Top Brand Perception Assessment.
During a much-anticipated media briefing held in Lagos on Wednesday to unveil the 2023 Top 50 Brands Nigeria list, the organization lauded Dangote for its unwavering commitment to excellence, which has solidified its stature as a premier brand within the nation.
The conglomerate revealed that MTN, a formidable contender in the market, secured a closely contested second place, boasting an impressive 85 BSM index score.
This year's rankings saw Airtel Nigeria and Globacom securing the third and fourth positions, both earning significant BSM index scores of 77.9 and 77, respectively.
BUA Group made its inaugural appearance in the Top 10, capturing the attention of industry observers with a noteworthy BSM Index score of 70.8.
The illustrious list of the Top 10 brands further includes Access Bank, Zenith Bank, Coca-Cola, GTCO, and First Bank, each of which has maintained its exceptional reputation and resonance within the Nigerian market.
Commenting on the outcomes of this year's assessment, Taiwo Oluboyede, CEO of Top 50 Brands Nigeria, said, "A brand is akin to a person, embodying all the traits that define its personality to the audience. When you hear a person's name, you're likely not merely recalling their appearance or attire, but rather who they genuinely are and the significance they hold for you."
Oluboyede continued, "One may profess to be the best in the world and may even invest in extensive advertising to attract attention. However, the true perception of that individual is ultimately shaped by one's personal experience. Likewise, the perception of a brand can evolve from favor to disfavor, or vice versa. This dynamic holds true for both individuals and brands alike."
SnackFix From Bühler Adds Value to Local Grains in Nigeria and Boosts Food Security
The SnackFix small-scale cereal bar production system from Swiss technology group Bühler is the ideal solution for small and medium enterprises (SMEs) to add value to locally produced grains in Nigeria and assist the country to address food security, says Manuel Murrenhoff, Managing Director, Bühler Nigeria.
On-the-go snacking consumption in Nigeria is rising steadily, presenting opportunities for SMEs to enter the market. "In terms of bars, fruit, and sweet snacks alone, this market segment is expected to exceed half a million tonnes by 2025," says Murrenhoff. The main driver is the burgeoning population, estimated at 223.8 million in 2023, a 2.41% increase over 2022, and expected to grow to 377 million by 2050.
"The economically active part of the Nigerian population is quite sizeable and very mobile, which is boosting on-the-go snacking consumption," says Murrenhoff. In addition, with half of the population living below the poverty line, there is more than ever the need to drive consumption of the full range of locally grown grains to keep final product prices in check.
"With the price of wheat projected to rise to record heights, Nigeria cannot possibly feed the growing population by importing wheat and other products. On the one hand, there is a shortage of forex and on the other hand, prices are escalating globally. That is where innovation, using local grains, plays an important role in food security, especially as these can be successfully incorporated into ready-to-eat foods," says Murrenhoff.
Iyore Amadasun, Sales and Channel Business Manager at Bühler Nigeria, says that Bühler's Snackfix, designed for food producers seeking a share from the on-the-go snack segment, promotes the processing of locally sourced grains for snacks while maintaining the highest food safety standards.
SnackFix is a multi-grain solution that allows SMEs to innovate across the spectrum of locally produced grains in Nigeria. The technology presents an entry-level, plug-and-play solution that is compact, cost-effective, and easy to commission and operate.
SnackFix includes a continuous mixer, a cooling tunnel, and a cutting system, all in one – everything needed for quality production. The combination allows SMEs to manufacture a huge variety of cereal bars at a volume of up to 130 kg per hour.
Customers benefit from Bühler's experience in product development using a wide range of locally produced grains including, for example, sesame seeds, cashews, and peanuts. "We can help newcomers in the market achieve the best recipe to satisfy functional and indulgence consumer requirements in this segment and then supply them with a customised solution," says Amadasun. In addition, Bühler has an innovation centre and laboratory in Switzerland to assist with different formulations and product development.
"The ready-to-eat market is of strategic importance to Nigeria, as it can adapt local grains for snacking consumption, promote healthy eating habits, and at the same time assist with Food Security," says Amadasun.
With offices in Lagos and Kano, Bühler Nigeria is a leader in grain and food processing and offers solutions for grain drying and storage, flour milling, rice milling, cacao and chocolate processing, wafer and biscuit, pasta and noodles, feed, and aqua feed milling. Bühler Nigeria also provides support in the form of solutions for ink and coating applications and flexible packaging systems.
Access Bank is the Most Valuable Nigerian Brand, Valued at NGN205.6 Billion
Access Bank has become the most valuable Nigerian brand with a value of NGN205.6 billion. Despite a slight increase in costs throughout the year, the multinational commercial bank managed to boost its gross earnings in 2022, underscoring the brand's impressive growth trajectory.
Following an impressive year-on-year brand value growth of 31%, Access Bank has become the most valuable Nigerian brand with a value of NGN205.6 billion. Despite a slight increase in costs throughout the year, the multinational commercial bank managed to boost its gross earnings in 2022, underscoring the brand's impressive growth trajectory.
Every year, leading brand valuation consultancy Brand Finance puts 5,000 of the biggest brands to the test, and publishes over 100 reports, ranking brands across all sectors and countries. The world's top 25 most valuable and strongest Nigerian brands are included in the annual Brand Finance Nigeria 25, 2023 ranking.
Fellow banking brand, Zenith Bank, is Nigeria's second most valuable brand with a brand value of NGN201.5 billion, marginally behind leader Access Bank. Its brand value grew 45% year-on-year, making it the fifth fastest growing brand in the ranking.
Babatunde Odumeru, Managing Director, Brand Finance Nigeria commented:
"Nigeria's top banking brands' exceptional brand value growth is a testament to their strong financial performance, and sustained high levels of brand equity, even amidst challenging economic conditions. These results demonstrate the considerable resilience of Nigeria's banks, who continue to dominate the ranking, and reflects the industry's significant contributions to the country's economy."

BUA Cement is the fastest-growing Nigerian brand, up 64%
BUA Cement clinches the title as Nigeria's fastest growing brand in 2023 after an increase of 64% took it to a brand value of NGN43.9 billion. As demand for cement surged, the brand's revenues have increased by 40.5%, while its forecasts have also gone up. BUA Cement's increase in sales of bagged cement have help it offset the impacts of inflation and currency effects, which have been widely felt by many brands throughout 2022.

Banking is the most valuable sector in the ranking, up 29%
The collective brand value of the nine banking brands included in the ranking was up 29% year-on-year to NGN888 billion. This makes banking the most valuable sector in the ranking by a significant margin, worth almost NGN633 billion more than the next most valuable sector – Engineering & Construction (NGN255 billion).
As well as Access Bank (1st) and Zenith Bank (2nd), United Bank for Africa (brand value up 28% to NGN161.6 billion), GT Bank (brand value up 62% to NGN142.5 billion), and First Bank of Nigeria (brand value up 37% to NGN116.9 billion) were all firmly amongst the top-ten most valuable Nigerian brands.
Energy drink brand Fearless is the strongest Nigerian brand, earning AAA rating
In addition to calculating brand value, Brand Finance also determines the relative strength of brands through a balanced scorecard of metrics evaluating marketing investment, stakeholder equity, and business performance. Compliant with ISO 20671, Brand Finance's assessment of stakeholder equity incorporates original market research data from over 100,000 respondents in 38 countries and across 31 sectors.
Popular energy drink brand Fearless (brand value up 1% to NGN28.2 billion) is the strongest Nigerian brand with a Brand Strength Index score of 87 out of 100 and corresponding AAA rating. Fearless has a dominant four-point lead at the top of the ranking for brand strength over Nigeria's second strongest brand, United Bank for Africa (83/100, AAA-).

Zenith Bank has the highest Sustainability Perceptions Value, while GT Bank has the highest Sustainability Perception Score
As part of its analysis, Brand Finance assesses the role that specific brand attributes play in driving overall brand value. One such attribute, growing rapidly in its significance, is sustainability. Brand Finance assesses how sustainable specific brands are perceived to be, represented by a 'Sustainability Perceptions Score'. This is an indexed score that provides a view of the role of sustainability in driving positive brand reputation. The value that is linked to sustainability perceptions, the 'Sustainability Perceptions Value', is then calculated for each brand.
As well as being Nigeria's second most valuable brand, Zenith Bank also has the highest Sustainability Perceptions Value (SPV) of any brand included in the Nigeria 25 2023 ranking – NGN16.1 billion. Zenith Bank's position at the top of the SPV table is not an assessment of its overall sustainability performance. Rather, it indicates how much brand value it has tied up in sustainability perceptions. Zenith Bank also has the third highest Sustainability Perceptions Score in the ranking of 4.69 out of 10.
Fellow Banking brand, GT Bank has the highest Sustainability Perceptions Score in the Nigeria 25 2023 ranking at 5.03 out of 10. This equates to a Sustainability Perceptions Value of NGN12.2 billion.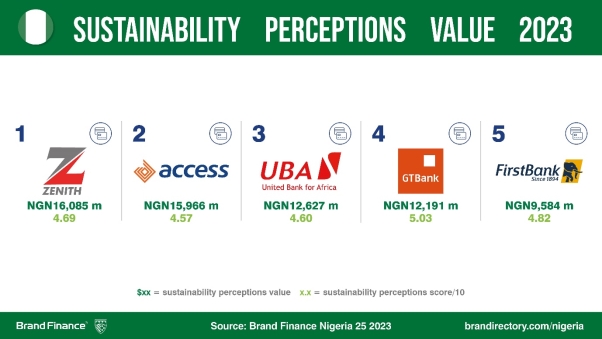 EV Manufacturer Rivan Post Q1 Earnings Results, Records Narrow Loss on Revenue
American electric vehicle manufacturer and automotive technology company Rivan posted First quarter (Q1) earnings results, recording a narrow loss in revenue.
Rivan produced 9,395 vehicles in the first quarter of 2023 and reported $661 million in revenue driven by the delivery of 7,946 vehicles, slightly beating expectations and falling from Q4.
It experienced a loss of operations in the first quarter (Q1) of 2023 totaling $1,433 million as compared to $1,579 million in the same period last year. Gross profits fell to negative $535 million in Q1, compared to negative $502 million last year. Overall, Rivan posted a net loss of $1.4 billion, down when compared to $1.6 billion in Q1 2022 and over $1.7 billion from last quarter.
In the first quarter of 2023, the company recognized a non-cash, stock-based compensation expense within operating expenses of $165 million as compared to $307 million in the first quarter of 2022, and depreciation and amortization expense within operating expenses of $58 million as compared to $38 million in the first quarter of 2022.
With cost-cutting measures, the company's operating expenses fell to $898 million compared to over $1 billion during the same period last year.
Speaking on the way forward the company said, "We continue to believe the supply chain will continue to be the main limiting factor of our normal facility output. Our team continues to work on the introduction of new engineering design changes and key technologies which will take effect during the second half of 2023 to help mitigate anticipated supply chain constraints. Our long-term success as a business will be determined by our ability to produce high volumes of vehicles profitably. The collective efforts across all our teams and functions are focused on delivering this goal. Our target of generating positive gross profit in 2024 is composed of several drivers across the business".
As the company looks forward to the remainder of 2023, it disclosed that it is maintaining its 50,000 EV production goal for 2023. The EV manufacturer says it remains focused on ramping production and implementing new technology to drive down costs throughout the year.