Pound Gains Support Before EU Vote as 'Remain' Lead Takes Hold
The pound is gathering supporters.
One month ago, the U.K. currency was seen ending June at $1.42, according to the median of analyst estimates in a Bloomberg survey. That forecast has now risen to $1.45, the highest in almost four months, even as the crucial June 23 vote that will decide the fate of Britain's membership in the European Union draws closer.
The winds of change are found in the increasing number of surveys that have signaled pro-European voters are pulling ahead of those wanting to break away from the bloc. Sterling has been the best performer among its Group-of-10 peers during the past two weeks, and has climbed from a seven-year low reached in February.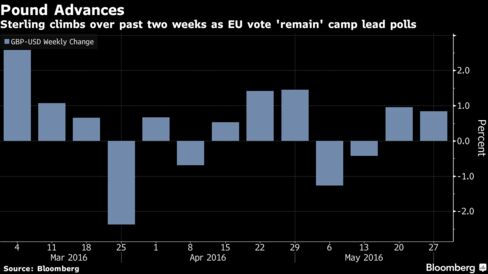 "There is still room for recovery in the pound," said Thu Lan Nguyen, a currency strategist at Commerzbank AG in Frankfurt. Sterling would be supported "if the market continues to price in that the U.K. will vote to stay in the EU, but it is a fragile state."
The pound rose 0.8 percent in the week to $1.4623 as of the 5 p.m. close in New York on Friday. It previously climbed 1 percent in period through May 20.
U.S. Factors
Factors outside of the U.K. could also prove important for sterling next week, according to Commerzbank's Nguyen. The pound fell on Friday after U.S. Federal Reserve Chair Janet Yellen said higher interest rates in the coming months look "appropriate."
Investor sentiment and jobs data from the U.S. could sway predictions on whether Fed officials will announce tighter monetary policy after meeting on June 15, just days before the U.K. referendum. U.S. non-farm payrolls are forecast to remain steady at 160,000 jobs in May, according to a Bloomberg survey of economists.
The odds of a Fed rate increase in June implied by federal funds futures more than doubled this month to 30 percent, as markets adjusted their view after hawkish remarks from U.S. policy makers. The chance of a rate hike by the end of 2016 is at 74 percent.
One-month sterling-dollar volatility rose to a six-year high Friday. Options to shield against a lower pound right after the EU vote, compared with hedging against an increase, were at their most expensive in records going back to 2003. This signals that despite polls predicting a victory for the "remain" camp, investors and traders still wanted protection against an upset.