Emerging Markets Slide as Dollar Strengthens
Financial markets are reawakening to the risk that the U.S. expedites interest-rate increases, and that's buoying the dollar while denting emerging markets and commodities.
The dollar climbed to a seven-week high and Treasuries fell, pushing two-year yields to highest since April, after Atlanta Federal Reserve President Dennis Lockhart and San Francisco's John Williams said Tuesday two rate hikes may be warranted this year. Chinese stocks tumbled to a two-month low, while the rand led the selloff versus the greenback amid mounting political tension in South Africa. Copper and gold fell for the first time in four days.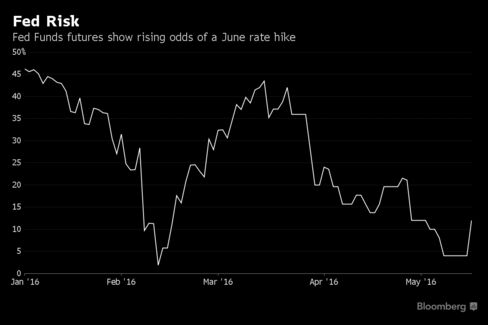 The dollar has rebounded in May after declining in the previous three months as the Fed pushed back expectations for rate increases this year. A strengthening U.S. economy and the biggest jump in consumer prices in three years have led traders to boost the odds of a move in June threefold to 12 percent. The Fed will release the minutes of its April policy meeting on Wednesday.
"Expectations appear to be that minutes will signal that a summer hike is on the cards," said Stuart Bennett, head of Group-of-10 currency strategy at Banco Santander SA in London. The "solidly hawkish" rhetoric from Fed non-voting members of late is proving to be dollar positive, as the possibility of a hike is not priced in by markets, he said.
Currencies
The Bloomberg Dollar Spot Index advanced 0.4 percent at 6:04 a.m in New York. Australia's dollar lost 0.8 percent. The yen slipped 0.3 percent to 109.43 per dollar, after earlier strengthening as much as 0.4 percent. The euro weakened 0.4 percent to $1.1268.
The MSCI Emerging Markets Currency Index fell 0.5 percent, the most in two weeks. South Korea's won, Russia's ruble, the Mexican peso and Malaysian ringgit dropped at least 0.8 percent.
The rand tumbled 1.6 percent to the weakest since March. South African Finance Minister Pravin Gordhan said rumors and accusations that he was involved with espionage are false and "malicious." The Sunday Times newspaper has reported, citing people it didn't identify, that Gordhan is at risk of being charged with espionage and fired.
Stocks
The Stoxx Europe 600 Index slipped 0.1 percent. Burberry Group Plc dropped 3.7 percent after the luxury-goods retailer added to the industry's gloom by posting a second straight drop in annual earnings. Sonova Holding AG tumbled 7.1 percent after the Swiss hearing-aid maker's second-half earnings missed estimates.
Futures on the S&P 500 were little changed after equities tumbled on Tuesday. Investors will look Wednesday to earnings from retailers including Target Corp., Staples Inc., Lowe's Cos. and Urban Outfitters Inc. for further indications on the health of U.S. consumers after a slew of disappointing results cast doubt on their willingness to spend.
Minutes from the Fed's April meeting will also be in focus for clues on the trajectory of interest rates after hawkish comments from regional presidents. The first month with even odds of higher borrowing costs also moved up to November from December.
The MSCI Asia Pacific Index lost 0.8 percent, led by declines in consumer-goods producers. Suzuki Motor Corp. plunged 9.4 percent in Tokyo after saying it used an improper method to test the fuel efficiency of its vehicles.
Chinese stock led declines in emerging markets, with the Hang Seng China Enterprises Index of mainland companies listed in Hong Kong losing 1.5 percent.
Commodities
Copper fell along with other metals amid rising supplies and an uncertain demand outlook in China, the world's top consumer. Antofagasta Plc, a Chilean copper producer, said it isn't counting on an improving global economy and expects low copper prices for another year or two, according to a statement from Chairman Jean-Paul Luksic.
Copper for delivery in three months slid 1.5 percent. Gold for immediate delivery lost 0.5 percent.
Oil fell 0.3 percent to $48.16 a barrel in New York after closing on Tuesday at the highest since Oct. 9. Government data Wednesday is forecast to show supplies slid for a second week.
Bonds
The yield on U.S. two-year Treasuries climbed to 0.84 percent, the most since April 27. The 10-year yield was little changed at 1.77 percent. That compares with a one-month low of 1.70 percent at the end of last week. Similar-maturity debt in Singapore declined by the most in three weeks, lifting the yield by five basis points to 2.01 percent.
Jan Hatzius, the chief economist at Goldman Sachs Group Inc., warned that bond investors aren't prepared for the Fed to raise interest rates despite officials having flagged the possibility of such a move.
"The market's underestimating their willingness to follow through on what they say," Hatzius said in an interview on Bloomberg Television. "If you look at where the yield curve is priced — how little normalization of monetary policy is discounted — that's very striking."
Heta Asset Resolution AG bonds jumped after creditors reached an agreement with the Austrian government to settle a dispute over 11 billion euros ($12.4 billion) of guaranteed debt. The 1.25 billion euros of 4.25 percent notes due Oct. 31 climbed about five cents on the euro to 88 cents, according to data compiled by Bloomberg.
A Nervy Start to the Week
By Craig Erlam, Senior Market Analyst, UK & EMEA, OANDA
What could have been a really positive week for equity markets is off to a much more nervy start, with stocks in Europe treading water and US futures slightly lower.
The inflation report on Friday was red hot once more, extinguishing any hope that investors could hop aboard the Fed pivot train and ride stock markets higher into year-end. Perhaps it's not quite so dramatic but it was a real setback, something we should be used to by now.
The wages component was the killer blow. That was not just a beat, it obliterated expectations and came in double the forecasted number. It may be a blip, but it's a huge one and it will almost certainly take more than one much cooler report in January to comfort those that still fear inflation becoming entrenched.
That's ultimately where we're now up to in the inflation story. Many accept that base effects and lower energy prices will drive the headline inflation figure much lower next year, among other things, while a slower economy – maybe recession – will eventually hit demand and contribute to the decline. But what the Fed fears now is fighting entrenched inflation and these wage numbers won't make for comfortable reading.
An economic victory for China amid gloomy PMIs
Chinese stocks were the clear outperformer overnight as authorities continued to work towards a softening of the country's zero-Covid stance with the end goal seemingly being the end of it altogether. It's thought that it will be downgraded to category B management as early as next month with officials claiming it's less threatening than previous strains, a huge move away from the rhetoric and approach of the last few years.
This came as the Caixin services PMI slipped to 46.7, much lower than anticipated. That said, I'm not sure anyone will be shocked given the record Covid surge, but the more targeted – albeit seemingly confused – approach being taken has ensured less disruption, as evidenced by how much better the PMI has performed compared with earlier this year.
And it's not just China that's seeing surveys underperforming and, in many cases, putting in sub-50 readings. Europe is either already in recession or heading for it and the surveys highlight just how pessimistic firms are despite the winter getting off to a warmer start.
Japan is among the few recording a growth reading, although having slipped from 53.2 in October to 50.3 last month, you have to wonder for how long. Input prices are punishing firms, with some now raising prices in order to pass those higher costs on. That won't help activity or convince the BoJ to declare victory, as higher energy and food costs are also hitting domestic demand. The one major outlier is India where the services PMI accelerated higher to 56.4 buoyed by domestic and external demand. An impressive feat in this global environment.
Oil higher as China looks to ease Covid restrictions
Oil prices are higher on Monday, rallying 2%, after the G7 imposed a $60 price cap on Russian oil and OPEC+ announced no new output cuts. Both bring a degree of uncertainty, with the details of the cap and the impact on Russian sales still unclear.
From the OPEC+ perspective, it can't be easy to make reliable forecasts against that backdrop and the constantly evolving Covid situation in China, which currently looks far more promising from a demand perspective. The decision to leave output unchanged was probably the right one for now and there's nothing to stop the group from coming together again before the next scheduled meeting should the situation warrant it.
A major setback
It goes without saying that the jobs report on Friday was a big setback for gold as it leaves huge uncertainty around where the terminal rate will land. Of course, we should be used to bumps in the road by now, having experienced many already this year. There's no reason why the path back to 2% should be any smoother.
But the yellow metal did recover those jobs report losses and even hit a new four-month high today. Perhaps the big difference now is momentum. It's run into strong resistance around those August highs around $1,810 and simply doesn't have the momentum it would have had the report been cooler. We're now more than four weeks into the recovery rally in gold and a corrective move of some kind may be on the cards.
Silence is bliss
Bitcoin continues to enjoy a mild relief rally and has even moved above $17,000 to trade at its highest level in almost a month. It's probably too early to celebrate yet though as these are very cautious gains that could be quickly and easily wiped out by more negative headlines related to FTX. Silence is currently bliss for the crypto community.
Nine Oil Producing States Pocket N625bn in 2 Years
The federal government has revealed that Nine oil-producing states pocket N625.43 billion as 13 percent oil derivation, subsidy, and SURE-P refunds in just two years.
This was made known in a statement released on Friday by the Senior Special Assistant to the President on Media and Publicity, Garba Shehu.
According to the statement, the states that benefited from the refunds include Abia, Akwa-Ibom, Bayelsa, Cross River, Delta, Edo, Imo, Ondo, and Rivers States. Garba Shehu, however, added that the states still have about N1.1 billion as outstanding benefits due to them. He added that the refund has been accumulated since 1999.
Making reference to the comments made by the Governor of Rivers State, the Presidency noted that the Buhari-led regime will continue to render equal service to all the states regardless of affiliation, Investors King learnt. 
Between October 2, 2021, and January 11, 2022, the presidential spokesman disclosed that the states were paid in eight instalments, while the ninth to 12th instalments are still outstanding. 
Meanwhile, Garba recalled that data obtained from the Federation Account Department, Office of the Accountant General of the Federation,  showed that a total of N477.2 billion was released to the nine states as a refund of the 13 percent derivation fund on withdrawal from Excess Crude Account (ECA), without deducting derivation from 2004 to 2019, leaving an outstanding balance of N287.04 billion.
"Abia State received N4.8 billion with an outstanding sum of N2.8 billion, Akwa-Ibom received N128 billion with an outstanding sum of N77 billion, Bayelsa with N92.2bn, leaving an outstanding of N55 billion".
"Cross River got a refund N1.3 billion with a balance N792 million, Delta State received N110 billion, leaving a balance of N66.2 billion, Edo State received N11.3 billion, with a balance of N6.8 billion, Imo State, N5.5 billion, with an outstanding sum of N3.3 billion, Ondo State, N19.4 billion with an outstanding sum of N11.7bn while Rivers State was paid 103.6 billion, with an outstanding balance of N62.3 billion" the statement read. 
According to the presidential spokesperson, states also got N64.8 billion as a refund of the 13 percent derivation fund on deductions made by Nigeria National Petroleum Company Limited without payment of derivation to Oil Producing states from 1999 to December.
Garba concluded that the president has approved the outstanding payment of N860.59 billion from the refunds which will soon be released to the benefiting states. 
Flashing Green
Oil prices have rebounded strongly over the last few days – up around 10% from the lows – buoyed by the prospect of a lower price cap on Russian crude
By Craig Erlam, Senior Market Analyst, UK & EMEA, OANDA
We're seeing green flashing across the board on Thursday, with sentiment buoyed by positive signals on Fed rate hikes and China's Covid response.
While it could be argued that Jerome Powell's comments on Wednesday were relatively balanced – slower tightening now but rates high for longer – the last year has proven that anticipating the path of inflation even a short period ahead is incredibly difficult. Knowing what the Fed intends to do next is far more valuable than what it thinks it may do 6-12 months down the line.
And anything that is perceived to reduce to possibility of an interest rate recession is going to be a positive for equity markets. The Fed has every opportunity to tighten more in the months ahead if the data doesn't play ball. What's far more difficult is undoing the damage caused by moving too fast now with little to no visibility on how impactful past tightening has been.
Positive signals
The signals coming from China also look very positive. While we shouldn't expect a dramatic shift in policy from the leadership, particularly before the March Congress, any modest softening in its Covid-zero policy will and should be welcomed. The approach has been extremely damaging to growth and confidence and the protests highlight how public opinion towards it is changing.
We shouldn't be naive to the fact that a move away from the policy won't be easy and there'll be plenty of setbacks. But it's certainly a step in the right direction that, along with the measures announced to revive the property market, could put the economy on a much better path.
A huge few days for oil markets
Oil prices have rebounded strongly over the last few days – up around 10% from the lows – buoyed by the prospect of a lower price cap on Russian crude, another large production cut from OPEC+ this weekend, and China's evolving Covid stance. There remains considerable uncertainty surrounding all of the above though which will likely ensure prices remain volatile going into the weekend. That could carry more risk than normal if the OPEC+ meeting does go ahead as planned on Sunday and the EU hasn't agreed to the price cap level by the close of play Friday. The range of possibilities on these two things alone is huge which will make rumours and speculation over the coming day or two all the more impactful.
Gold testing range highs
Gold bulls were particularly happy with Powell's comments on Wednesday with the yellow metal rallying strongly to trade at the upper end of its recent range. It faces strong resistance around $1,780 though which was a significant level of support in the first half of the year. With so much data to come over the next day or so, it may not prove particularly resilient if traders are given further hope that rates will rise more slowly and peak lower.
Some relief for cryptos
The risk relief rally is coming at just the right time for bitcoin, helping it to recover from the lows to trade around $17,000. This is around the highs of the last few weeks since it settled after its latest plunge. Whether it will be enough to revive interest in the cryptocurrency, I'm not sure. The FTX fallout is continuing to weigh heavily on the space and the prospect of more contagion or scandals is hard to ignore.