Emerging Markets Slide as Dollar Strengthens
Financial markets are reawakening to the risk that the U.S. expedites interest-rate increases, and that's buoying the dollar while denting emerging markets and commodities.
The dollar climbed to a seven-week high and Treasuries fell, pushing two-year yields to highest since April, after Atlanta Federal Reserve President Dennis Lockhart and San Francisco's John Williams said Tuesday two rate hikes may be warranted this year. Chinese stocks tumbled to a two-month low, while the rand led the selloff versus the greenback amid mounting political tension in South Africa. Copper and gold fell for the first time in four days.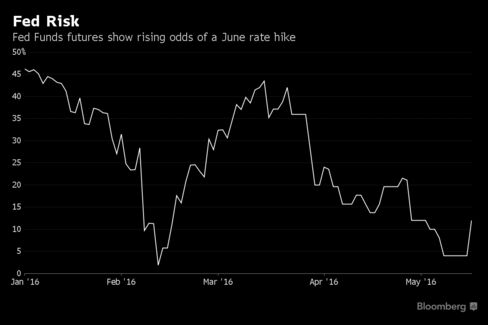 The dollar has rebounded in May after declining in the previous three months as the Fed pushed back expectations for rate increases this year. A strengthening U.S. economy and the biggest jump in consumer prices in three years have led traders to boost the odds of a move in June threefold to 12 percent. The Fed will release the minutes of its April policy meeting on Wednesday.
"Expectations appear to be that minutes will signal that a summer hike is on the cards," said Stuart Bennett, head of Group-of-10 currency strategy at Banco Santander SA in London. The "solidly hawkish" rhetoric from Fed non-voting members of late is proving to be dollar positive, as the possibility of a hike is not priced in by markets, he said.
Currencies
The Bloomberg Dollar Spot Index advanced 0.4 percent at 6:04 a.m in New York. Australia's dollar lost 0.8 percent. The yen slipped 0.3 percent to 109.43 per dollar, after earlier strengthening as much as 0.4 percent. The euro weakened 0.4 percent to $1.1268.
The MSCI Emerging Markets Currency Index fell 0.5 percent, the most in two weeks. South Korea's won, Russia's ruble, the Mexican peso and Malaysian ringgit dropped at least 0.8 percent.
The rand tumbled 1.6 percent to the weakest since March. South African Finance Minister Pravin Gordhan said rumors and accusations that he was involved with espionage are false and "malicious." The Sunday Times newspaper has reported, citing people it didn't identify, that Gordhan is at risk of being charged with espionage and fired.
Stocks
The Stoxx Europe 600 Index slipped 0.1 percent. Burberry Group Plc dropped 3.7 percent after the luxury-goods retailer added to the industry's gloom by posting a second straight drop in annual earnings. Sonova Holding AG tumbled 7.1 percent after the Swiss hearing-aid maker's second-half earnings missed estimates.
Futures on the S&P 500 were little changed after equities tumbled on Tuesday. Investors will look Wednesday to earnings from retailers including Target Corp., Staples Inc., Lowe's Cos. and Urban Outfitters Inc. for further indications on the health of U.S. consumers after a slew of disappointing results cast doubt on their willingness to spend.
Minutes from the Fed's April meeting will also be in focus for clues on the trajectory of interest rates after hawkish comments from regional presidents. The first month with even odds of higher borrowing costs also moved up to November from December.
The MSCI Asia Pacific Index lost 0.8 percent, led by declines in consumer-goods producers. Suzuki Motor Corp. plunged 9.4 percent in Tokyo after saying it used an improper method to test the fuel efficiency of its vehicles.
Chinese stock led declines in emerging markets, with the Hang Seng China Enterprises Index of mainland companies listed in Hong Kong losing 1.5 percent.
Commodities
Copper fell along with other metals amid rising supplies and an uncertain demand outlook in China, the world's top consumer. Antofagasta Plc, a Chilean copper producer, said it isn't counting on an improving global economy and expects low copper prices for another year or two, according to a statement from Chairman Jean-Paul Luksic.
Copper for delivery in three months slid 1.5 percent. Gold for immediate delivery lost 0.5 percent.
Oil fell 0.3 percent to $48.16 a barrel in New York after closing on Tuesday at the highest since Oct. 9. Government data Wednesday is forecast to show supplies slid for a second week.
Bonds
The yield on U.S. two-year Treasuries climbed to 0.84 percent, the most since April 27. The 10-year yield was little changed at 1.77 percent. That compares with a one-month low of 1.70 percent at the end of last week. Similar-maturity debt in Singapore declined by the most in three weeks, lifting the yield by five basis points to 2.01 percent.
Jan Hatzius, the chief economist at Goldman Sachs Group Inc., warned that bond investors aren't prepared for the Fed to raise interest rates despite officials having flagged the possibility of such a move.
"The market's underestimating their willingness to follow through on what they say," Hatzius said in an interview on Bloomberg Television. "If you look at where the yield curve is priced — how little normalization of monetary policy is discounted — that's very striking."
Heta Asset Resolution AG bonds jumped after creditors reached an agreement with the Austrian government to settle a dispute over 11 billion euros ($12.4 billion) of guaranteed debt. The 1.25 billion euros of 4.25 percent notes due Oct. 31 climbed about five cents on the euro to 88 cents, according to data compiled by Bloomberg.
Gold Prices Rise as Soft Dollar Supports Safe-haven Appeal
Gold prices firmed on Monday, propped up by a subdued dollar and slight retreat in the U.S. Treasury yields, with investors gearing up for a week of speeches from U.S. Federal Reserve policymakers for cues on the central bank's rate hike path.
Spot gold was up 0.5% at $1,759.06 per ounce, as of 0400 GMT, while U.S. gold futures were up 0.4% at $1,759.00.
While the dollar index softened, the benchmark 10-year Treasury yields eased after hitting their highest since early-July. A weaker dollar offered support to gold prices, making bullion cheaper for holders of other currencies.
"Gold is still looking slightly precarious where it is right now, and it's probably bouncing off key technical level around $1,750," IG Market analyst Kyle Rodda said.
"Gold remains an yield story and that yield story is very much tied back to the tapering story."
A slew of Fed officials are due to speak this week including Chairman Jerome Powell, who will testify this week before Congress on the central bank's policy response to the pandemic.
"There'll be a lot of questions being put to Fed speakers about what the dot plots implied last week and weather there is higher risk of heightened inflation going forward and that rate hikes could be coming in the first half of 2022," Rodda added.
A pair of Federal Reserve policymakers said on Friday they felt the U.S. economy is already in good enough shape for the central bank to begin to withdraw support for the economy.
Gold is often considered a hedge against higher inflation, but a Fed rate hike would increase the opportunity cost of holding gold, which pays no interest.
Investors also kept a close watch on developments in debt-laden property giant China Evergrande saga as the firm missed a payment on offshore bonds last week, with further payment due this week.
Holdings of SPDR Gold Trust, the world's largest gold-backed exchange-traded fund, increased 0.1% to 993.52 tonnes on Friday from 992.65 tonnes in the prior session.
Silver rose 0.9% to $22.61 per ounce.
Platinum climbed 1.3% to $994.91, while palladium gained 0.7% to $1,985.32.
Brent Crude Oil Near $80 Per Barrel Amid Supply Constraints
Oil prices rose for a fifth straight day on Monday with Brent heading for $80 amid supply concerns as parts of the world sees demand pick up with the easing of pandemic conditions.
Brent crude was up $1.14 or 1.5% at $79.23 a barrel by 0208 GMT, having risen a third consecutive week through Friday. U.S. Oil added $1.11 or 1.5% to $75.09, its highest since July, after rising for a fifth straight week last week.
"Supply tightness continues to draw on inventories across all regions," ANZ Research said in a note.
Rising gas prices as also helping drive oil higher as the liquid becomes relatively cheaper for power generation, ANZ analysts said in the note.
Caught short by the demand rebound, members of the Organization of the Petroleum Exporting Countries and their allies, known as OPEC+, have had difficulty raising output as under-investment or maintenance delays persist from the pandemic.
China's first public sale of state oil reserves has barely acted to cap gains as PetroChina and Hengli Petrochemical bought four cargoes totalling about 4.43 million barrels.
India's oil imports hit a three-month peak in August, rebounding from nearly one-year lows reached in July, as refiners in the second-biggest importer of crude stocked up in anticipation of higher demand.
Oil Holds Near Highest Since 2018 With Global Markets Tightening
Oil held steady near the highest close since 2018, with the global energy crunch set to increase demand for crude as stockpiles fall from the U.S. to China.
Futures in London headed for a third weekly gain. Global onshore crude stocks sank by almost 21 million barrels last week, led by China, according to data analytics firm Kayrros, while U.S. inventories are near a three-year low. The surge in natural gas prices is expected to force some consumers to switch to oil, tightening the market further ahead of the northern hemisphere winter.
China on Friday sold oil to Hengli Petrochemical Co. and a unit of PetroChina Co. in the first auction of crude from its strategic reserves said traders with the knowledge of the matter. Grades sold included Oman, Upper Zakum and Forties.
Oil has rallied recently after a period of Covid-induced demand uncertainty, with some of the world's largest traders and banks predicting prices may climb further amid the energy crisis. Global crude consumption could rise by an additional 370,000 barrels a day if natural gas costs stay high, according to the Organization of Petroleum Exporting Countries.
"Underpinning the latest bout of price strength is a tightening supply backdrop," said Stephen Brennock, an analyst at PVM Oil Associates Ltd.
Various underlying oil market gauges are also pointing to a strengthening market. The key spread between Brent futures for December and a year later is near $7, the strongest since 2019. That's a sign traders are positive about the market outlook.
At the same time, the premium options traders are paying for bearish put options is the smallest since January 2020, another indication that traders are less concerned about a pullback in prices.