Emerging Markets Slide as Dollar Strengthens
Financial markets are reawakening to the risk that the U.S. expedites interest-rate increases, and that's buoying the dollar while denting emerging markets and commodities.
The dollar climbed to a seven-week high and Treasuries fell, pushing two-year yields to highest since April, after Atlanta Federal Reserve President Dennis Lockhart and San Francisco's John Williams said Tuesday two rate hikes may be warranted this year. Chinese stocks tumbled to a two-month low, while the rand led the selloff versus the greenback amid mounting political tension in South Africa. Copper and gold fell for the first time in four days.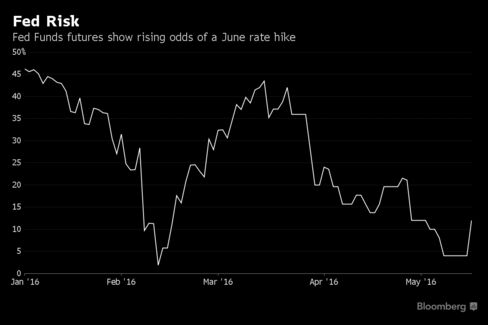 The dollar has rebounded in May after declining in the previous three months as the Fed pushed back expectations for rate increases this year. A strengthening U.S. economy and the biggest jump in consumer prices in three years have led traders to boost the odds of a move in June threefold to 12 percent. The Fed will release the minutes of its April policy meeting on Wednesday.
"Expectations appear to be that minutes will signal that a summer hike is on the cards," said Stuart Bennett, head of Group-of-10 currency strategy at Banco Santander SA in London. The "solidly hawkish" rhetoric from Fed non-voting members of late is proving to be dollar positive, as the possibility of a hike is not priced in by markets, he said.
Currencies
The Bloomberg Dollar Spot Index advanced 0.4 percent at 6:04 a.m in New York. Australia's dollar lost 0.8 percent. The yen slipped 0.3 percent to 109.43 per dollar, after earlier strengthening as much as 0.4 percent. The euro weakened 0.4 percent to $1.1268.
The MSCI Emerging Markets Currency Index fell 0.5 percent, the most in two weeks. South Korea's won, Russia's ruble, the Mexican peso and Malaysian ringgit dropped at least 0.8 percent.
The rand tumbled 1.6 percent to the weakest since March. South African Finance Minister Pravin Gordhan said rumors and accusations that he was involved with espionage are false and "malicious." The Sunday Times newspaper has reported, citing people it didn't identify, that Gordhan is at risk of being charged with espionage and fired.
Stocks
The Stoxx Europe 600 Index slipped 0.1 percent. Burberry Group Plc dropped 3.7 percent after the luxury-goods retailer added to the industry's gloom by posting a second straight drop in annual earnings. Sonova Holding AG tumbled 7.1 percent after the Swiss hearing-aid maker's second-half earnings missed estimates.
Futures on the S&P 500 were little changed after equities tumbled on Tuesday. Investors will look Wednesday to earnings from retailers including Target Corp., Staples Inc., Lowe's Cos. and Urban Outfitters Inc. for further indications on the health of U.S. consumers after a slew of disappointing results cast doubt on their willingness to spend.
Minutes from the Fed's April meeting will also be in focus for clues on the trajectory of interest rates after hawkish comments from regional presidents. The first month with even odds of higher borrowing costs also moved up to November from December.
The MSCI Asia Pacific Index lost 0.8 percent, led by declines in consumer-goods producers. Suzuki Motor Corp. plunged 9.4 percent in Tokyo after saying it used an improper method to test the fuel efficiency of its vehicles.
Chinese stock led declines in emerging markets, with the Hang Seng China Enterprises Index of mainland companies listed in Hong Kong losing 1.5 percent.
Commodities
Copper fell along with other metals amid rising supplies and an uncertain demand outlook in China, the world's top consumer. Antofagasta Plc, a Chilean copper producer, said it isn't counting on an improving global economy and expects low copper prices for another year or two, according to a statement from Chairman Jean-Paul Luksic.
Copper for delivery in three months slid 1.5 percent. Gold for immediate delivery lost 0.5 percent.
Oil fell 0.3 percent to $48.16 a barrel in New York after closing on Tuesday at the highest since Oct. 9. Government data Wednesday is forecast to show supplies slid for a second week.
Bonds
The yield on U.S. two-year Treasuries climbed to 0.84 percent, the most since April 27. The 10-year yield was little changed at 1.77 percent. That compares with a one-month low of 1.70 percent at the end of last week. Similar-maturity debt in Singapore declined by the most in three weeks, lifting the yield by five basis points to 2.01 percent.
Jan Hatzius, the chief economist at Goldman Sachs Group Inc., warned that bond investors aren't prepared for the Fed to raise interest rates despite officials having flagged the possibility of such a move.
"The market's underestimating their willingness to follow through on what they say," Hatzius said in an interview on Bloomberg Television. "If you look at where the yield curve is priced — how little normalization of monetary policy is discounted — that's very striking."
Heta Asset Resolution AG bonds jumped after creditors reached an agreement with the Austrian government to settle a dispute over 11 billion euros ($12.4 billion) of guaranteed debt. The 1.25 billion euros of 4.25 percent notes due Oct. 31 climbed about five cents on the euro to 88 cents, according to data compiled by Bloomberg.
Markets Today – Under Pressure, US Data, Oil, Gold, Bitcoin
By Craig Erlam, Senior Market Analyst, UK & EMEA, OANDA
Stock markets have fallen heavily in June so it seems only fitting that they're ending the month with big losses as reality continues to bite.
There's no getting away from recession chat and while the heads of the Fed, ECB and BoE didn't exactly fuel that during their panel discussion on Wednesday, they didn't do anything to dispel it either. They all know that there's a strong likelihood of recession this year or next and investors are increasingly accepting that fate as well.
There's been a plethora of economic data from across Europe this morning, mostly tier two and three, and it was a bit of a mixed bag. The labour market figures, for example, remain strong with the anomaly being Germany but this was heavily distorted by the integration of Ukrainian refugees into the labour market. Underlying numbers remain in good shape even if across the bloc, employment growth is expected to slow.
It's impossible to ignore the fact that households are being squeezed and we're seeing that appear in the data, particularly in the UK which will probably fall into recession later this year. But it is unlikely to be alone in that which is why bear-market rallies are proving to be so short-lived.
US inflation boost but spending slips
US inflation data was unusually encouraging ahead of the open. Perhaps that's getting a little carried away but it didn't deliver another crushing below so maybe this feeling is actually relief rather than joy. The core reading was a little better than expected at 0.3%, in line with April, while the headline also fell a little short of expectations at 0.6%.
The income and spending data were arguably less encouraging. Earnings rose 0.5% as expected, a slight acceleration from April, while spending rose only 0.2%, a big drop from 0.9% a month earlier and half the forecast. Another sign of the squeeze taking a toll on households? The US economy is among the best positioned to fend off a recession but it's not completely immune to the cost-of-living crisis. It may be catching up.
Oil lower as OPEC+ sticks to August target
Oil prices are modestly lower on Thursday, further paring recent gains following yesterday's reversal. As expected, OPEC+ stuck to its planned 648,000 barrel increase in August and refrained from any decision beyond then which could add an element of uncertainty to future targets, particularly given recent reports that even Saudi Arabia and UAE are running near capacity.
The global economic uncertainty doesn't make planning ahead any easier, either. The prospect of a recession has created more two-way price action in recent weeks, preventing any unsustainable surges in the price of crude as China reopened and the OPEC+ deficit increased. ​
Gold slightly buoyed by inflation data
Gold has been trending lower over the last couple of weeks but remains in its early summer range between $1,800 and $1,870. It's really struggled for direction over the last couple of months despite the volatility in the broader financial markets. It has been like a deer in the headlights, unable to process and respond to the wicked combination of higher inflation, faster monetary tightening and recession fears.
It received a boost from the slightly softer PCE reading from the US, a rare bit of good news when it comes to inflation data. It's not exactly a massive win, especially when paired with weak spending but it could be worse. Yields fell a little after the data, enabling gold to get back into positive territory for a while.
Bitcoin crumbling
Bitcoin has been hanging on in there around $20,000 but its resilience may finally be crumbling under pressure, with the cryptocurrency sliding more than 5% today to trade at around $19,000. This could be really bad news for the crypto space and may even trigger much more severe declines in the coming weeks.
The forced liquidation of Three Arrows Capital may have contributed to the latest decline as traders are left to wonder what other leveraged firms will follow in its footsteps. The fear alone could deliver another hammer blow to crypto valuations before the dust settles.
Oil Prices Sustain Bullish Run for Fourth Consecutive Session
Global oil prices appreciated for a fourth consecutive session after it became clear OPEC and allies can not meet their production targets any time soon.
Global oil prices appreciated for a fourth consecutive session after it became clear OPEC and allies can not meet their production targets any time soon.
Brent crude oil, against which Nigerian oil is priced, appreciated to $120 a barrel as of 3:20 pm Nigerian time on Wednesday. Representing an increase of $12 from $108 a barrel traded a week ago.
The U.S. West Texas Intermediate (WTI) rose to $112.37 per barrel, up from $99.33 per barrel a week ago.
The increase in prices was a result of sanctions imposed on about 1/5 of global supply by western nations. Russia, one of the world's largest crude oil producers, was sanctioned for waging war against Ukraine, and eventually, disrupting the global economy.
"Given that almost 1/5 of global oil producing capacity today is under some form of sanctions (Iran, Venezuela, Russia), we believed there is no practical way to keep these barrels out of a market that was already exceptionally tight," JP Morgan said in a research note.
This concern over global supply outweighed worries about a weaker global economy ahead of the projected economic recession in developed nations, especially with developed economies raising interest rates to curb escalating inflation numbers.
"Investors made position adjustments, but remained bullish on expectations that Saudi Arabia and the United Arab Emirates would not be able to raise output significantly to meet recovering demand, driven by a pick-up in jet fuels," said Hiroyuki Kikukawa, general manager of research at Nissan Securities.
Oil Price Rally as Major Producers Flag Capacity Limits
Oil prices rallied for a third day on Tuesday as major producers Saudi Arabia and the United Arab Emirates looked unlikely to be able to boost output significantly, while political unrest in Libya and Ecuador added to supply concerns.
U.S. West Texas Intermediate (WTI) crude futures rose $1.8, or 1.6%, to $111.36 a barrel by 0644 GMT, extending a 1.8% gain in the previous session.
Brent crude futures climbed $1.9, or 1.7%, to $116.99, adding to a 1.7% rise in the previous session.
The UAE and Saudi Arabia have been seen as the only two countries in the Organization of the Petroleum Exporting Countries (OPEC) with spare capacity available to make up for lost Russian supply and weak output from other member nations.
"A seam of tight supply news bolstered the market. Two major producers, Saudi Arabia and the UAE, are said to be at, or very close to, near‑term capacity limits," Commonwealth Bank commodities analyst Tobin Gorey said in a note.
UAE Energy Minister Suhail al-Mazrouei said on Monday UAE was producing near maximum capacity based on its quota of 3.168 million barrels per day (bpd) under the agreement with OPEC and its allies, together called OPEC+.
His comments confirmed remarks by French President Emmanuel Macron who told U.S. President Joe Biden on the sidelines of the Group of Seven nations meeting that the UAE was producing at maximum capacity and that Saudi Arabia could increase output by only 150,000 bpd, well below its nameplate spare capacity of around 2 million bpd.
Analysts also warned political unrest in Ecuador and Libya could tighten supply further.
Libya's National Oil Corp said on Monday it might have to declare force majeure in the Gulf of Sirte area within the next three days unless production and shipping resume at oil terminals there.
Ecuador's Energy Ministry said the country could suspend oil output completely within the next two days amid anti-government protests. The former OPEC country was pumping around 520,000 barrels per day before the protests.
Those factors underscore shortages in the market, which have led to a rebound this week, countering recession jitters that weighed on prices over the previous two weeks.
But analysts from Haitong Futures said market sentiment remains fragile with people waiting for clearer guidance for the next move and geopolitical factors in focus.
Leaders of the G7 are discussing a potential price cap on Russian oil that would hit President Vladimir Putin's war chest while also lowering energy prices.
A French presidential official also called on global powers to explore all options to alleviate a Russian squeeze on energy supplies that has spiked prices, including talks with producing nations like Iran and Venezuela.