Emerging Markets Slide as Dollar Strengthens
Financial markets are reawakening to the risk that the U.S. expedites interest-rate increases, and that's buoying the dollar while denting emerging markets and commodities.
The dollar climbed to a seven-week high and Treasuries fell, pushing two-year yields to highest since April, after Atlanta Federal Reserve President Dennis Lockhart and San Francisco's John Williams said Tuesday two rate hikes may be warranted this year. Chinese stocks tumbled to a two-month low, while the rand led the selloff versus the greenback amid mounting political tension in South Africa. Copper and gold fell for the first time in four days.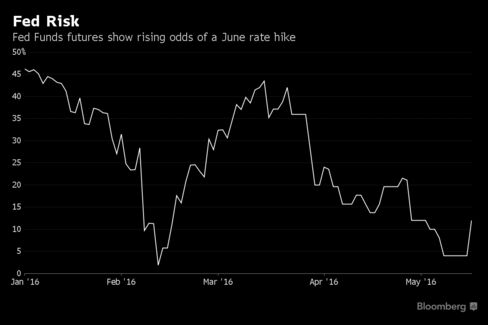 The dollar has rebounded in May after declining in the previous three months as the Fed pushed back expectations for rate increases this year. A strengthening U.S. economy and the biggest jump in consumer prices in three years have led traders to boost the odds of a move in June threefold to 12 percent. The Fed will release the minutes of its April policy meeting on Wednesday.
"Expectations appear to be that minutes will signal that a summer hike is on the cards," said Stuart Bennett, head of Group-of-10 currency strategy at Banco Santander SA in London. The "solidly hawkish" rhetoric from Fed non-voting members of late is proving to be dollar positive, as the possibility of a hike is not priced in by markets, he said.
Currencies
The Bloomberg Dollar Spot Index advanced 0.4 percent at 6:04 a.m in New York. Australia's dollar lost 0.8 percent. The yen slipped 0.3 percent to 109.43 per dollar, after earlier strengthening as much as 0.4 percent. The euro weakened 0.4 percent to $1.1268.
The MSCI Emerging Markets Currency Index fell 0.5 percent, the most in two weeks. South Korea's won, Russia's ruble, the Mexican peso and Malaysian ringgit dropped at least 0.8 percent.
The rand tumbled 1.6 percent to the weakest since March. South African Finance Minister Pravin Gordhan said rumors and accusations that he was involved with espionage are false and "malicious." The Sunday Times newspaper has reported, citing people it didn't identify, that Gordhan is at risk of being charged with espionage and fired.
Stocks
The Stoxx Europe 600 Index slipped 0.1 percent. Burberry Group Plc dropped 3.7 percent after the luxury-goods retailer added to the industry's gloom by posting a second straight drop in annual earnings. Sonova Holding AG tumbled 7.1 percent after the Swiss hearing-aid maker's second-half earnings missed estimates.
Futures on the S&P 500 were little changed after equities tumbled on Tuesday. Investors will look Wednesday to earnings from retailers including Target Corp., Staples Inc., Lowe's Cos. and Urban Outfitters Inc. for further indications on the health of U.S. consumers after a slew of disappointing results cast doubt on their willingness to spend.
Minutes from the Fed's April meeting will also be in focus for clues on the trajectory of interest rates after hawkish comments from regional presidents. The first month with even odds of higher borrowing costs also moved up to November from December.
The MSCI Asia Pacific Index lost 0.8 percent, led by declines in consumer-goods producers. Suzuki Motor Corp. plunged 9.4 percent in Tokyo after saying it used an improper method to test the fuel efficiency of its vehicles.
Chinese stock led declines in emerging markets, with the Hang Seng China Enterprises Index of mainland companies listed in Hong Kong losing 1.5 percent.
Commodities
Copper fell along with other metals amid rising supplies and an uncertain demand outlook in China, the world's top consumer. Antofagasta Plc, a Chilean copper producer, said it isn't counting on an improving global economy and expects low copper prices for another year or two, according to a statement from Chairman Jean-Paul Luksic.
Copper for delivery in three months slid 1.5 percent. Gold for immediate delivery lost 0.5 percent.
Oil fell 0.3 percent to $48.16 a barrel in New York after closing on Tuesday at the highest since Oct. 9. Government data Wednesday is forecast to show supplies slid for a second week.
Bonds
The yield on U.S. two-year Treasuries climbed to 0.84 percent, the most since April 27. The 10-year yield was little changed at 1.77 percent. That compares with a one-month low of 1.70 percent at the end of last week. Similar-maturity debt in Singapore declined by the most in three weeks, lifting the yield by five basis points to 2.01 percent.
Jan Hatzius, the chief economist at Goldman Sachs Group Inc., warned that bond investors aren't prepared for the Fed to raise interest rates despite officials having flagged the possibility of such a move.
"The market's underestimating their willingness to follow through on what they say," Hatzius said in an interview on Bloomberg Television. "If you look at where the yield curve is priced — how little normalization of monetary policy is discounted — that's very striking."
Heta Asset Resolution AG bonds jumped after creditors reached an agreement with the Austrian government to settle a dispute over 11 billion euros ($12.4 billion) of guaranteed debt. The 1.25 billion euros of 4.25 percent notes due Oct. 31 climbed about five cents on the euro to 88 cents, according to data compiled by Bloomberg.
Communities in Delta State Shut OML30 Operates by Heritage Energy Operational Services Ltd
The OML30 operated by Heritage Energy Operational Services Limited in Delta State has been shut down by the host communities for failing to meet its obligations to the 112 host communities.
The host communities, led by its Management Committee/President Generals, had accused the company of gross indifference and failure in its obligations to the host communities despite several meetings and calls to ensure a peaceful resolution.
The station with a production capacity of 80,000 barrels per day and eight flow stations operates within the Ughelli area of Delta State.
The host communities specifically accused HEOSL of failure to pay the GMOU fund for the last two years despite mediation by the Delta State Government on May 18, 2020.
Also, the host communities accused HEOSL of 'total stoppage of scholarship award and payment to host communities since 2016'.
The Chairman, Dr Harrison Oboghor and Secretary, Mr Ibuje Joseph that led the OML30 host communities explained to journalists on Monday that the host communities had resolved not to backpedal until all their demands were met.
Crude Oil Recovers from 4 Percent Decline as Joe Biden Wins
Oil Prices Recover from 4 Percent Decline as Joe Biden Wins
Crude oil prices rose with other financial markets on Monday following a 4 percent decline on Friday.
This was after Joe Biden, the former Vice-President and now the President-elect won the race to the White House.
Global benchmark oil, Brent crude oil, gained $1.06 or 2.7 percent to $40.51 per barrel on Monday while the U.S West Texas Intermediate crude oil gained $1.07 or 2.9 percent to $38.21 per barrel.
On Friday, Brent crude oil declined by 4 percent as global uncertainty surged amid unclear US election and a series of negative comments from President Trump. However, on Saturday when it became clear that Joe Biden has won, global financial markets rebounded in anticipation of additional stimulus given Biden's position on economic growth and recovery.
"Trading this morning has a risk-on flavor, reflecting increasing confidence that Joe Biden will occupy the White House, but the Republican Party will retain control of the Senate," Michael McCarthy, chief market strategist at CMC Markets in Sydney.
"The outcome is ideal from a market point of view. Neither party controls the Congress, so both trade wars and higher taxes are largely off the agenda."
The president-elect and his team are now working on mitigating the risk of COVID-19, grow the world's largest economy by protecting small businesses and the middle class that is the backbone of the American economy.
"There will be some repercussions further down the road," said OCBC's economist Howie Lee, raising the possibility of lockdowns in the United States under Biden.
"Either you're crimping energy demand or consumption behavior."
Nigeria, Other OPEC Members Oil Revenue to Hit 18 Year Low in 2020
Revenue of OPEC Members to Drop to 18 Year Low in 2020
The United States Energy Information Administration (EIA) has predicted that the oil revenue of members of the Organisation of the Petroleum Exporting Countries (OPEC) will decline to 18-year low in 2020.
EIA said their combined oil export revenue will plunge to its lowest level since 2002. It proceeded to put a value to the projection by saying members of the oil cartel would earn around $323 billion in net oil export in 2020.
"If realised, this forecast revenue would be the lowest in 18 years. Lower crude oil prices and lower export volumes drive this expected decrease in export revenues," it said.
The oil expert based its projection on weak global oil demand and low oil prices because of COVID-19.
It said this coupled with production cuts by OPEC members in recent months will impact net revenue of the cartel in 2020.
It said, "OPEC earned an estimated $595bn in net oil export revenues in 2019, less than half of the estimated record high of $1.2tn, which was earned in 2012.
"Continued declines in revenue in 2020 could be detrimental to member countries' fiscal budgets, which rely heavily on revenues from oil sales to import goods, fund social programmes, and support public services."