Nigeria Economic Growth to Slow Down to 2.7% in 2023, Forecasts GlobalData
Decline in oil production, insecurity ahead of 2023 general elections and high inflationary pressure remain the major areas of concern for Nigeria.
Against this backdrop, the real GDP growth of the country is forecast to slow down from 3% in 2022 to 2.7% in 2023, reveals GlobalData, a leading data and analytics company.
GlobalData's latest report, "Macroeconomic Outlook Report: Nigeria," reveals that broadening inflationary pressure had triggered a cost-of-living crisis. Inflation rate is projected to further rise to 19.2% in 2023 from 19.1% in 2022. According to the National Bureau of Statistics, Multidimensional Poverty Index Survey (2022), as of 17 November 2022, 133 million people, equivalent to 63% of the nation's population, were experiencing multidimensional poverty in the country.
Nigeria is categorized as a high-risk nation and ranks 133rd out of 153 nations in GlobalData Country Risk Index (GCRI Q3 2022). The country's risk score is higher in the parameters of political environment, macroeconomic, social, technological, and environmental risk when compared to the average of Middle East and African nations.
Puja Tiwari, Economic Research Analyst at GlobalData, comments: "Nigeria's oil output rose to 1.4 billion barrels per day (bpd) in December 2022 from below one bpd in August 2022, according to Nigerian Upstream Petroleum Regulatory Commission. However, it is significantly below what it was last decade ago (above two million bpd). Oil theft and prolonged repair work at Forcados, a key oil terminal which is expected to continue till September 2023, will result in Nigeria's under production of crude oil in 2023. Meanwhile, the violent attacks on the election commission offices raise questions on the security in the country ahead of elections."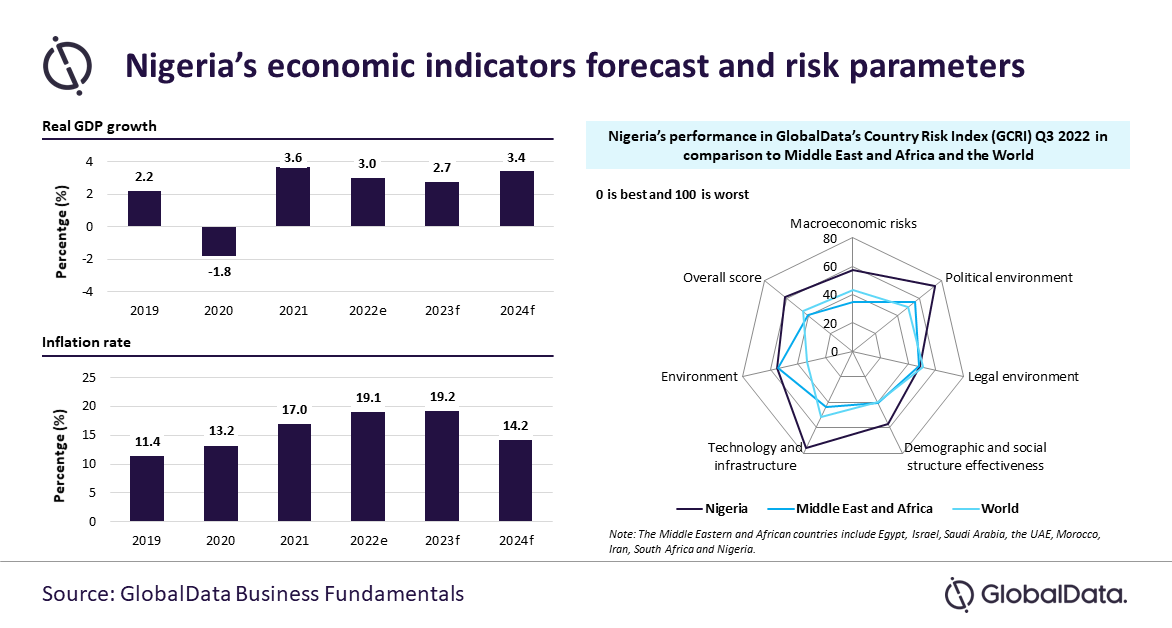 According to GlobalData, agriculture, industry and services sectors contributed 23.6%, 32.2% and 44.2%, respectively, to the gross values added (GVA) in 2022. The three sectors are forecast to grow by 12.2%, 14% and 12.2% in 2023, compared to 13%, 14.9% and 12.9%, respectively, in 2022.
In October 2022, the country allocated a budget of NGN20.5 trillion ($51.5 billion) for the 2023 fiscal year, of which more than 60% will be used to finance debt repayments. This will curtail the expenditure on other developmental sectors.
The naira per US dollar depreciated by 8.7% year-on-year on 2 January 2023. Furthermore, GlobalData estimates the exchange rate to depreciate to NGN420.6 per $ in 2023 from 415.3 per $ in 2022. Nigeria's foreign exchange (forex) remained depressed amid the dwindling crude oil production and lower exports revenue.
Tiwari concludes: "Introducing measures to reduce poverty as well as monetary measures to curb the mounting prices continue to be the need of the hour for the Nigerian economy. Moreover, the government also needs to work towards policies to control rising gross debt, depreciating currency, and increasing unemployment to reactivate the economy."
IPMAN Accuses NNPC of Worsening Fuel Scarcity Through Supply Shortage
Independent Petroleum Marketers Association of Nigeria (IPMAN) has blamed the Nigerian National Petroleum Company Limited (NNPCL) for the worsening crisis in the oil industry.
Contrary to NNPCL's claim of having enough Premium Motor Spirit (PMS), popularly called petrol to make the country get out of the current fuel crisis rocking the nation, the oil marketers said the national petroleum company has been short-supplying depots and in turn starving retailers of the product.
According to the oil marketers, filling stations across the country still experience lack of product because their efforts to get fuel at depots proved abortive owing to very low supply.
NNPC had recently disclosed it had over one billion litres of PMS, enough to go around the nation's retailing outlets in order to tackle the scarcity and hike in price of fuel.
The Group Chief Executive Officer of NNPC, Mele Kyari, had said that it had 831 million litres in marine cargo, loaded in shuttle vessels.
He said there is up to 738 million litres of fuel that are documented on the platform of the regulator of the industry, which is the Nigerian Mainstream and Downstream Petroleum Regulatory Authority (NMDPRA), adding that the company had enough products to supply to tye country.
Also, the NMDPRA had recently noted that the NNPC had PMS sufficiency of over 1.6 billion litres as of January 26, 2023 both on land and marine.
But, faulting the claim of NNPC and NMDPRA on the availability of surplus PMS in the country, IPMAN National President, Debo Ahmed, said there has been supply shortage by the door PMS importer, stressing that fuel scarcity and crisis have worsened because of it.
Ahmed noted that the products are not available at filing stations because the oil marketers couldn't get any from the depots.
He said in Lagos, Calabar, Port Harcourt and other cities that have depots have not been having the commodity because they didn't get supply from NNPC.
According to him, a lot of trucks have been at depots including Pinnacle in Lagos without loading furl because the depots told them there is no fuel.
IPMAN President said it was not true that NNPC has the over one billion litres of petrol it claimed, saying such announcement was not new.
Assuming that petrol is available as claimed by NNPC, Ahmed said a good number of depots would have got fuel at the depots they had visited.
Before now, he said that the nation's petroleum company would ask oil marketers to approach any depots for the product but currently, it has limited it to a few depots and efforts of getting this product from the scanty depots have failed.
For instance, he said there are many depots in Lagos where one can put products and marketers will access it without hassle, but it's only one that is having petrol as the depot had exhausted its petrol.
Ahmed also said it's only one depot that is operating in Port Harcourt, as against what was obtainable where NNPC would distribute products to multiple depots across the country for easy supply.
He urged the federal government through NNPC to ensure that it distributes the products it claimed is available to more depots in order for it to get to the retailers.
While lamenting that oil marketers had already pumped a lot of money in the system, Ahmed said there are no products.
Speaking in the same vein, the Deputy National President, IPMAN, Zarma Mustapha, said marketers had yet to feel an improvement in PMS supply because if it has improved, oil marketers would have been accessing the products easily.
He said he wasn't doubting the volume and the stock NNPC have, but noted that marketers had been facing challenges getting the products at depots.
Rice Producers Reveal Reasons For Price Hike, Seek Govt's Subsidy
Rice producers in the North East region of Nigeria have revealed reasons why price of rice continues to rise.
The rice farmers and processors described multiple taxes, high costs of electricity, and transportation of the food item to other parts of the state among others as causes of the incessant rise in price of the staple food.
Findings by Investors King showed that rice had been sold in 2018 in Nigeria at the rate of N14,000 per 50-kilogramme bag before it moved to N17,000 in 2019. But the price had gone up to N33,000.
The Federal Government had banned importation of foreign rice, thus giving a boost to the production of local rice that is positioned to replace foreign ones on Nigeria's dietary palate.
Nigerians had thought that the price of rice would reduce since local production had been supported by the Federal Government, but the reverse appears to be case as farmers have identified government as one of the reasons for the continuous increase in the price of rice.
According to one of the rice farmers, Musa Arab, government bombarded producers of rice with multiple taxations, saying that it was creating more hardship for consumers in buying the item.
Arab, a leading rice farmer and processor in Gombe State and Northeast region, while explaining the peculiarities of rice production in Gombe, said multiple taxations were affecting flow of business in the state, adding that the industrial cluster area in Nasarawa were being inundated with different taxes by the state and local government officials.
According to him, once taxes were considered in the value chain of production, production prices automatically jacked up.
He advised the government to harmonise some of the taxes, so that once producers pay once, they don't need to pay for another one.
Arab further explained that 50kg of rice is produced at the rate of N24,000, adding that after adding the cost of settling taxes from different quarters, it would add up to N26,000.
He said other factors that make rice price to increase are expensive transportation of the goods, saying that producers used to pay N800 per bag to Port Harcourt but now it is N2,500 per bag as a result of the high price of gas. He added that high cost of transportation also force the producers and retailers to review upward the price of the rice.
The farmer also decried epileptic power supply and high cost of electricity bill as reasons for skyrocketing price of rice.
He said in December, 2022, the rice farmers had an issue with Jos Electricity Distribution Company (JEDC) about the power supply, adding that the company installed prepaid metres for them instead of the old method of metering.
The rice producer said the cost of using prepaid metre was adding more pain to the farmers and that the electricity suppliers had been increasing electricity bills on the postpaid metres.
He called on the Federal and State Governments to subsidise the production of rice in the country for the ease of Nigerian Masses.
NNPC Identifies Reasons for Nationwide Fuel Crisis, Takes Steps to Tackle Menace
NNPC revealed that another reason for the crisis was that some corrupt marketers were smuggling petrol to neighbouring countries
The Nigerian National Petroleum Company Limited (NNPCL) has identified shortage in the evacuation and distribution of Premium Motor Spirit (PMS) popularly called petrol to marketers as one of the reasons for fuel crisis in Nigeria.
Investors King had reported that long queues had been recorded at petrol stations across the country in the last few months as retailers sell at exorbitant rates ranging between N350 and N600 per litre.
The crisis in the petroleum industry had also forced commercial transporters to jack up their fares as Nigerians, especially commuters, groan owing to the negative effects the crisis has brought on prices of food and other items.
Also, NNPC revealed that another reason for the crisis was that some corrupt marketers were smuggling petrol to neighbouring countries and poaching investors to these countries to sell the smuggled commodity to them.
These were disclosed by the Group Chief Executive Officer, NNPC, Mele Kyari, while
explaining the fuel supply data for the country since January 2022, during a meeting with stakeholders in Abuja.
He announced that the queues being witnessed at filing stations across the nation would soon clear as the petroleum company has released about 67 million litres of PMS to marketers.
Explaining further how the fuel crisis came to being, Kyari said the moment NNPC goes down below 60 million litres of evacuation consistently for more than three days, there would be a crisis in the sector.
For him, there may be no valid consumption figure, but the evacuation figure is always known, stressing that anytime the evacuation figure goes below 60 million litres daily, crisis would be inevitable across the country.
He recalled when the company recorded the contaminated fuel in early 2022, saying that evacuation came down to 56 million litres on average and that was what caused a crisis then.
Normalcy was then returned, according to the Group Chief Executive Officer when the company ramps up by adding volumes to the market to fill the gaps.
Ever since then, Kyari said NNPC had done everything possible to keep the supply or evacuation above 60 million litres consistently, as he argued that there was no shortage of fuel going into the market, rather the products might be in the wrong destination.
Speaking on the smuggling of the product to neighbouring countries, Kyari said NNPC officials and oil marketers were responsible.
Kyari said the company has evidence that fuel was being smuggled out of Nigeria in marine containers and that some of its customers take investors to other countries.
While promising to investigate the illegal acts and get to the root of it, Kyari assured that appropriate government security agencies would deal with it.
He said there is cross-border smuggling, either in form of round-tripping or whatever name m, stressing that fuel leaves Nigeria through smugglers and thus creating scarcity in the country.
Meanwhile, with the release of the fresh 67 million litres to oil marketers to circulate across the nation, it was observed that long queues that had been the hallmark of most filing stations have been phasing out, even though the price is yet to reduce.