PwC to Add 100,000 Jobs in $12 Billion Strategic Revamp
PricewaterhouseCoopers LLP is investing $12 billion across its global business in an overhaul targeting better audits, digitization of services and greener operations.
The professional-services provider will hire 100,000 employees and develop the skills of existing staff over the next five years as it seeks to respond to the post-pandemic operating environment, it said in an emailed statement on Tuesday.
"We will continue to evolve our ways of working, and expand our capabilities in the areas that matter most for the future, while remaining steadfast in our commitment to quality," PwC Chairman Bob Moritz said. "We want our people to be the most sought after in the market."
Auditors are grappling with managing quality amid a shift in ways of working introduced by the Covid-19 pandemic. The International Auditing and Assurance Standards Board has revised standards for auditors, coming into effect in 2022, to boost technology use, help manage new risks, and improve quality management.
PwC is also seeking ways to address growing calls for transparency in the profession from stakeholders after several accounting scandals among the Big Four auditing firms knocked public trust. In South Africa, for example, KPMG has put in place a variety of reforms after it came under fire in 2017 for work done for a politically connected family accused of plundering the government's coffers.
The South African unit of PwC will add at least 2,500 new employees over the next five years, Chief Executive Officer in the region Dion Shango told reporters in a conference call. Across Africa, where it has a presence in 34 countries, the firm plans to bulk up its operations with a $400 million investment. The company is also interviewing for non-executive directors to strengthen audit oversight.
PwC has also set aside $3 billion of its total global investment to help double the scale of its Asia-Pacific operations, it said. The firm's spending will also focus on responding to environmental, social and governance trends across its operations.
South Africa Encourages Nigerian Businesses to Expand to the Country
In an effort to improve trade relations between Nigeria and South Africa, the South African High Commissioner to Nigeria Thamsanqa Dennis Mseleku has implored more Nigerian businesses (especially financial institutions) to expand their businesses to South Africa.
The South African representative revealed that the South African consulate was currently working on issuing Nigerian business owners (or operators) visas valid for ten years, in order to further bolster business relationship between both countries.
This was mentioned by Mseleku yesterday on 'The Morning Show', a programme which is monitored closely by Arise news, on which he also noted that the bilateral agreements being signed by both countries would be fully executed in the coming years.
According to Mseleku, Nigerian businesses are operating in South Africa, with the issue being raised back in 2019 when President Buhari was present in South Africa specifically talking about Access Bank and Air Peace. Mseleku stated that Access Bank has since opened up a branch in South Africa, and Air Peace is now making flights to and from South Africa.
Mseleku then said,"So, the issue is that we must encourage more businesses that want to go to South Africa from Nigeria to do so particularly in the financial sector."
This prospective deal between both countries is promising, because the encouragement of Nigerian businesses to come into South Africa may eventually lead to more South African businesses coming into Nigeria to operate. The moves will undoubtedly boost the economies of both countries.
It may also encourage other African countries to engage in trades and have bilateral or multilateral agreements with other African countries, boosting economies across the entire continent.
Mseleku also noted that some South African countries were pulling out of Nigeria, which he cited as one of the reasons for the visit of the South African President.
He also addressed the inaccessibility of visa to business personnel, saying that the country is agreeing and would go on implementing longer term visas for them. He then mentioned the 10 years visa which the country is considering.
All Business Stakeholders Will Benefit from Stronger ESG Policies, Says GlobalData
The age-old view that addressing environmental, social and governance (ESG) issues will make a dent in profits is a myth, says GlobalData. The leading data and analytics company notes that businesses that embrace all three elements of ESG will actually outperform their peers.
Cyrus Mewawalla, Head of Thematic Research at GlobalData, comments: "The reluctance of many CEOs to fully engage with sustainability can be attributed to the age-old view that it will hurt profits. However, GlobalData's research suggests the opposite: CEOs that are too slow to improve their company's approach to ESG will see an exodus of customers and a drop in profits far sooner than they ever imagined."
GlobalData's latest thematic report, 'Thematic Research: ESG – Top Trends by Sector', notes that, while saving the planet used to just equate to implementing sustainable practices such as 'limiting the use of plastics' and 'reducing carbon footprint', 'sustainability' has morphed into an umbrella term that includes all aspects of ESG issues. The company proposes an ESG framework that identifies key areas in which companies should invest. One of these is climate change.
Luke Gowland, Analyst in the Thematic team at GlobalData, comments: "With COP26 setting the agenda on climate change, companies are focusing their efforts on tackling carbon emissions by switching to renewable energy and undertaking energy efficiency projets. However, companies must excel across all three aspects of ESG, and not overlook the importance of strong social performance and having the correct governance structures in place to achieve ESG goals."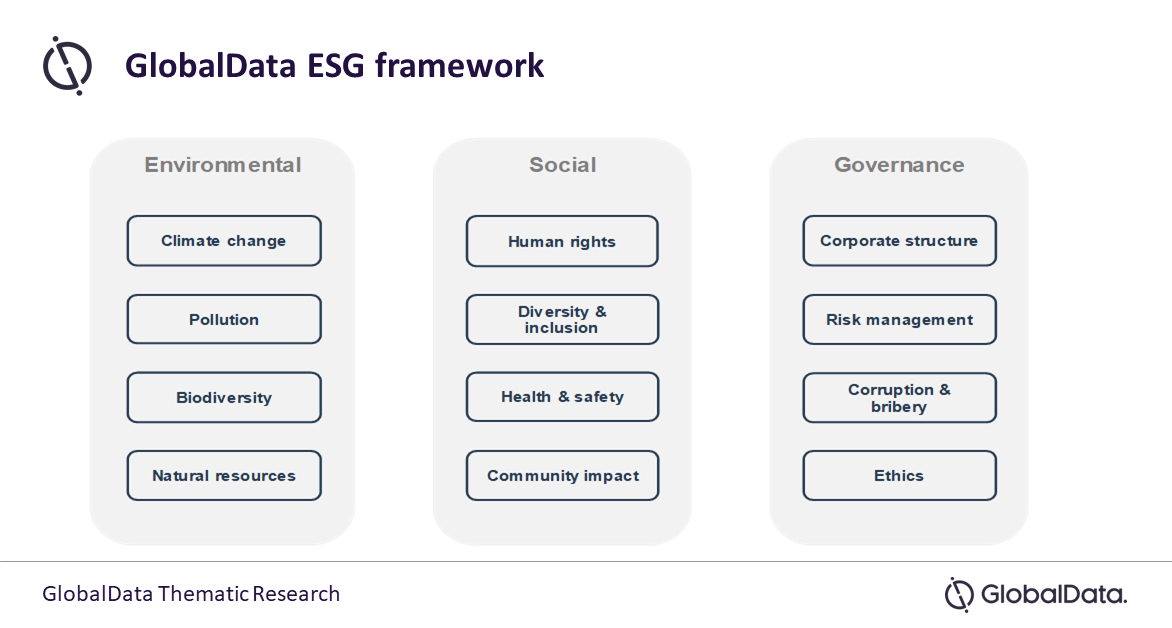 Citizens, governments, regulators, and the media are turning the spotlight on corporations and demanding action. Social inequality, corruption, tax avoidance, and a lack of action on climate change are all issues that companies must now address head-on, in full public view.
Since Q1 2021,GlobalData has been asking respondents to detail their company's approach to ESG goals In Thematic Sentiment Analysis, Q3 2021, conducted in Q3 2021, nearly a quarter of respondents thought that, for most companies, ESG was just a marketing exercise.
Gowland continues: "Our latest sentiment analysis report shows that more companies have changed their behavior to meet ESG goals (33%) than not (22%). While the attitudes towards ESG are improving, there is a long way to go."
Nvidia's Arm Acquisition Now Highly Unlikely to Go Through
Gartner semiconductor analyst Alan Priestly has said that Nvidia's planned $40 billion acquisition of United Kingdom Chip Designer Arm is becoming more unlikely to be successful.
Priestly attributed this possible failure to the increasing number of regulatory inquiries which the deal is facing, also making mention of concerns in the United Kingdom, the European Union, the United States of America and China. Priestly said this to CNBC on Wednesday, with both Nvidia and Arm failing to respond immediately to a request for comment by CNBC.
The deal had previously eyed a completion date of March 2022, but the CEO of Nvidia Jensen Huang had admitted in August that the deal may go beyond the anticipated date.
Arm was born out of an old computing company known as Acorn Computers back in 1990. The energy-efficient chips designed by the company are used in about 95% of smartphones around the world and 95% of chips designed in China. The company was bought by Japan-owned SoftBank in 2016 for about 24 billion pounds ($32 billion), authorizes its chip designs to over 500 companies who use these chips when making their own semiconductors.
Critics have concerns that the merger with Nvidia – who is responsible for designing its own chips – could hinder Arm's semiconductor designs which have been dubbed neutral, and may then lead to increased prices, less available choices and reduced innovation across the industry. Nvidia however argues that the deal will result in more innovation and that Arm will benefit from an increase in investment.
American chip giant Broadcom has publicly shown support for the deal, but many others remain against it.
Qualcomm has stated that Nvidia could proceed to limit the supply of Arm's technology to competitors, or even raise prices. Bloomberg reports that Google and Microsoft have raised similar concerns with regulators.
The United Kingdom announced back in November that it would be launching a full investigation into the takeover of Arm by Nvidia, with the Competition and Markets Authority (CMA) investigating antitrust concerns and national security issues over the period of 24 weeks.