Job Opportunities for Npower Exited Beneficiaries
Jobs Npower Exited Beneficiaries Can Start
Following the Federal Government's decision to let go of Batch A and B beneficiaries of the N-power program, it is important they engage in something productive and viable now that their monthly stipend has been stopped.
Investors King, that has been advocating for permanent placement for both exited batches, has compiled jobs exited beneficiaries can start doing or learn to do pending when the government will finalise their plans for permanent placement if they ever will.
First is self-assessment, what skills do you have or what do you have passion for? You need to know your strengths and weaknesses to venture into our list of businesses as it would help you better navigate the usual challenges that come with startups or self-employment. Nobody said is going to be a walk in the park.
Also, a lot of exited beneficiaries have skills they have not monetised or don't know how to turn them to money just yet. Therefore, it is imperative to conduct a personal evaluation before venturing into another training when this set of people can focus on monetizing present skills. Please note that it does not matter what kind of skill you have, everything is sellable with the right strategy and approach.
Here is a list of jobs exited beneficiaries can start.
Freelancing
There are several Nigerians freelancing for businesses abroad and are earning a reasonable amount, especially with the Naira-dollar exchange rate at N386 (bank rate) and N465 on the black market.
How Can You Become a Freelancer
This is why I said self-assessment is imperative as you will need a skill to sell to potential clients in order to earn money online. The easiest, perhaps the most common is writing articles and creating content for businesses that are looking for creative writers to craft a unique content or tell a story that sells their brands better.
However, there are other jobs like administrative role, where you work with businesses or become a Personal Assistant to an executive person and help them with administration, like get there schedules right, remind them of appointments, fill orders, call clients, send emails, reply emails and do other administrative jobs for a salary. Please note that while this seems easy it is not as most of these businesses and executives prefer persons that are conversant with excels (expert level), ms word, google documents, pdf to word conversion etc.
Also, there are freelance jobs for graphic designers, app developers, programmers, web developers etc. if you already have the skills and if not, you may want to get one.
How Do You Apply for Jobs or Register for Offers
Open an account on any or all of the listed websites with a unique profile that sells your offerings.
www.upwork.com
www.Fiverr.com
www.Freelancer.com
Currency Exchange
This is perhaps the easiest niche exited Npower beneficiaries with little cash can get into and start making money because of the huge demand.
First, what is currency exchange? A currency exchange business is a business that sells and buys currencies. However, in this case, we are buying and selling digital currencies but the concept is not different from the regular bureau de change but easier given that all you need is your phone and to set up an account on free forums or join groups were people trade digital currencies like Bitcoin, Perfect Money, Payoneer, PayPal, etc without regulatory approval. It is a peer-to-peer business.
Like I always say, your biggest money is in the informal sector also known as the underground economy or gray economy. It is gray because despite its huge potential, it is not classified as a normal source of income. The next question is how do you get involved.
How to Start a Currency Exchange Business
Open bitcoin wallets on blockchain, LocalBitcoins and other bitcoin wallets. Also, open a perfect money account and set up a Paypal that can send and receive money in Nigeria (contact me on how to open it).
If you already have an account on Nairaland join currency exchange thread or sign up to join the forum so you can participate in trading. Also, join various chat groups of currency traders and post on your WhatsApp status, you will be shocked at the number of people that deals in digital currencies or those looking to sell their earnings from Fiverr and Upwork. I buy from them too and pay them in Naira.
Mini-restaurant
To be self-employed, you have to be creative. A lot of unemployed graduates think they need a shop or fancy space to get started. However, what I found out is that you only need your present space, yes that current place you live!.
Do a feasibility study to assess your vicinity and bridge the gap between eating out and having nicely prepared food delivered at home within a few minutes.
I discovered that most people that eat out, especially during this raining season won't mind home delivery with extra cost.
Also, note that you do not need millions, you need just a few thousand to do flyers, buy takeaway packs and ingredients. Gbam off you go!.
Laundry Service
This is one of the easiest services to start but can be a bit tough without a washing machine. Still, if you are not scared to wash jeans, clothes and even rug this might be it for you.
As important, simple and in demand as dry cleaning service is, it is not readily available in most localities. Therefore, Npower exited beneficiaries can address this need by adding a little bit of class to the traditional dry cleaning service and make adjustments as they evolve in the business.
Forex Trading
Foreign exchange trading is the world's largest market with over $5 trillion daily turnovers. Yes, you've heard that much before but also it is the most complicated and tough market to trade if you do not have the right instructor to walk you through market complexity.
However, this same complicated market holds numerous potential and after almost 20 years in the global financial market, I can tell you with the right training, discipline and dedication you can earn a living from foreign exchange trading.
If you want to learn how to trade forex 'PROFESSIONAlly', please note the word professionally, get in touch with me. I used the word professionally because the name forex has been bastardised in Nigeria, therefore, undermining the numerous opportunities in the forex market.
I will not just teach you how to trade but teach you how to be a real student/analyst of the market. This will give you an opportunity to be both an analyst and also a trader like myself and work for companies like investorsking, nairametrics, businessday, etc if you enjoy breaking down market complexity in a unique way. A clue, Nigeria has a lot of journalists but not a lot of business analysts/ writers that are now in demand.
You can contact me via samed@investorsking.com.
Ecobank Group Appoints Jubril Mobolaji Lawal as Regional Executive and Managing Director Designate for Ecobank Nigeria
Ecobank Group, the leading pan-African banking group, announces that Jubril Mobolaji Lawal has been appointed as Regional Executive and Managing Director designate of Ecobank Nigeria, subject to the approval of the Central Bank of Nigeria.
The appointment is made ahead of Patrick Akinwuntan's upcoming retirement, due to him reaching retirement age in January 2022.
Mobolaji Lawal joins Ecobank having been a versatile senior banking executive and digital transformation specialist for over 28 years with Guaranty Trust Bank Plc. He has deep involvement and experience in digital and retail banking, corporate and commercial banking, credit risk management and corporate finance. His previous experience includes being Executive Director at GTBank Plc Nigeria, and Non-Executive Director roles at both GTBank Ghana Limited and Nigeria Interbank Settlement Systems Plc. Mobolaji led the team that envisioned and implemented GTBank Plc's retail and digital banking strategy to achieve industry-wide leadership over a ten-year period and he introduced new products and solutions that have helped to deepen payments and access to digital financial services in Nigeria.
Mobolaji was selected and appointed as Managing Director designate following a keenly contested selection process, which included both internal and external candidates.
Mobolaji Lawal holds a Bachelor of Law degree from the Obafemi Awolowo University, Nigeria; B.L. from the Nigerian Law School and a Master of Business Administration from Oxford University, United Kingdom. He has also attended several executive management and banking specific developmental programmes at leading educational institutions including Harvard Business School, Stanford Graduate School of Business and Institut Européen d'Administration des Affaires (INSEAD).
Commenting on the appointment, Ade Ayeyemi, CEO, Ecobank Group said: "We welcome Mobolaji Lawal to the Ecobank Group and we stand to benefit from the extensive experience that he has acquired in various fields across banking, which will play a major role in continuing to rebuild our franchise in Nigeria. Nigeria is a key market for us, in which we have seen significant improvement over the past three years as we reposition and leverage upon our pan-African strengths in digital products and services, payments and as the go-to-bank for businesses seeking to grasp the growth opportunities being created by the AfCFTA, across all our markets on the continent. I wish Mobolaji the best and assure him of both my support and that of the entire Ecobank Group."
Mrs. Bola Adesola, the Chairman of the Board of Ecobank Nigeria said: "We look forward to working with Mobolaji and assure him of the full support of the Board, Management and all the staff of Ecobank Nigeria. The business in Nigeria is on the path of transformation and we are confident that Mobolaji will have significant impact in advancing our positive trajectory."
Mobolaji Lawal will assume the position of Managing Director, Ecobank Nigeria, upon receiving the approval of the Central Bank of Nigeria and after Patrick Akinwuntan retires.
South Africa Encourages Nigerian Businesses to Expand to the Country
In an effort to improve trade relations between Nigeria and South Africa, the South African High Commissioner to Nigeria Thamsanqa Dennis Mseleku has implored more Nigerian businesses (especially financial institutions) to expand their businesses to South Africa.
The South African representative revealed that the South African consulate was currently working on issuing Nigerian business owners (or operators) visas valid for ten years, in order to further bolster business relationship between both countries.
This was mentioned by Mseleku yesterday on 'The Morning Show', a programme which is monitored closely by Arise news, on which he also noted that the bilateral agreements being signed by both countries would be fully executed in the coming years.
According to Mseleku, Nigerian businesses are operating in South Africa, with the issue being raised back in 2019 when President Buhari was present in South Africa specifically talking about Access Bank and Air Peace. Mseleku stated that Access Bank has since opened up a branch in South Africa, and Air Peace is now making flights to and from South Africa.
Mseleku then said,"So, the issue is that we must encourage more businesses that want to go to South Africa from Nigeria to do so particularly in the financial sector."
This prospective deal between both countries is promising, because the encouragement of Nigerian businesses to come into South Africa may eventually lead to more South African businesses coming into Nigeria to operate. The moves will undoubtedly boost the economies of both countries.
It may also encourage other African countries to engage in trades and have bilateral or multilateral agreements with other African countries, boosting economies across the entire continent.
Mseleku also noted that some South African countries were pulling out of Nigeria, which he cited as one of the reasons for the visit of the South African President.
He also addressed the inaccessibility of visa to business personnel, saying that the country is agreeing and would go on implementing longer term visas for them. He then mentioned the 10 years visa which the country is considering.
All Business Stakeholders Will Benefit from Stronger ESG Policies, Says GlobalData
The age-old view that addressing environmental, social and governance (ESG) issues will make a dent in profits is a myth, says GlobalData. The leading data and analytics company notes that businesses that embrace all three elements of ESG will actually outperform their peers.
Cyrus Mewawalla, Head of Thematic Research at GlobalData, comments: "The reluctance of many CEOs to fully engage with sustainability can be attributed to the age-old view that it will hurt profits. However, GlobalData's research suggests the opposite: CEOs that are too slow to improve their company's approach to ESG will see an exodus of customers and a drop in profits far sooner than they ever imagined."
GlobalData's latest thematic report, 'Thematic Research: ESG – Top Trends by Sector', notes that, while saving the planet used to just equate to implementing sustainable practices such as 'limiting the use of plastics' and 'reducing carbon footprint', 'sustainability' has morphed into an umbrella term that includes all aspects of ESG issues. The company proposes an ESG framework that identifies key areas in which companies should invest. One of these is climate change.
Luke Gowland, Analyst in the Thematic team at GlobalData, comments: "With COP26 setting the agenda on climate change, companies are focusing their efforts on tackling carbon emissions by switching to renewable energy and undertaking energy efficiency projets. However, companies must excel across all three aspects of ESG, and not overlook the importance of strong social performance and having the correct governance structures in place to achieve ESG goals."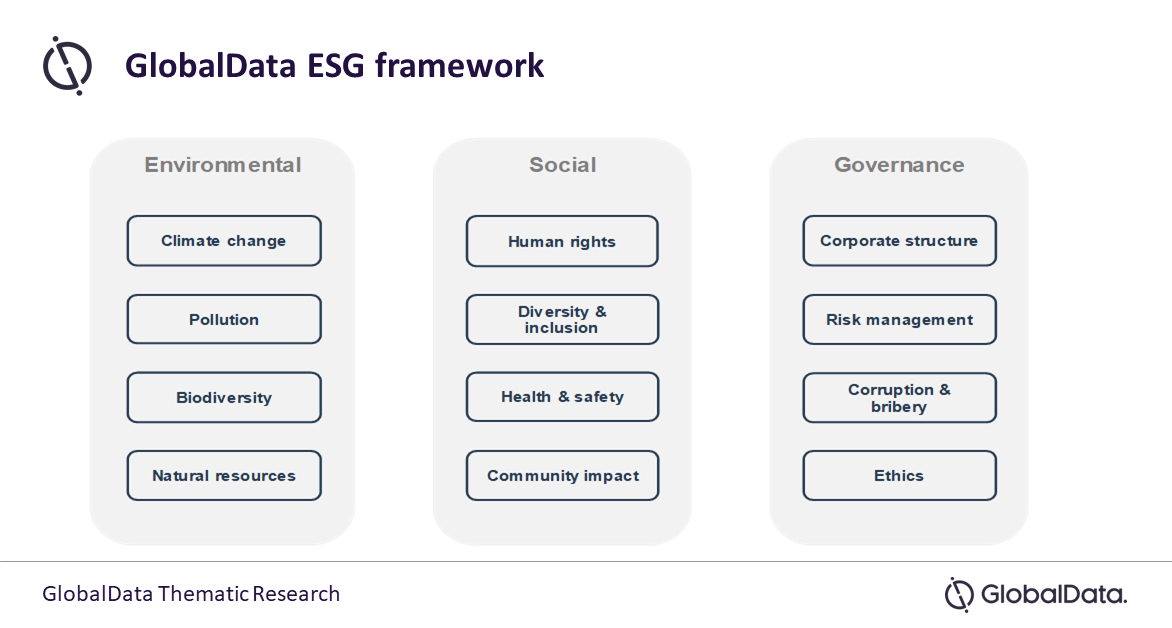 Citizens, governments, regulators, and the media are turning the spotlight on corporations and demanding action. Social inequality, corruption, tax avoidance, and a lack of action on climate change are all issues that companies must now address head-on, in full public view.
Since Q1 2021,GlobalData has been asking respondents to detail their company's approach to ESG goals In Thematic Sentiment Analysis, Q3 2021, conducted in Q3 2021, nearly a quarter of respondents thought that, for most companies, ESG was just a marketing exercise.
Gowland continues: "Our latest sentiment analysis report shows that more companies have changed their behavior to meet ESG goals (33%) than not (22%). While the attitudes towards ESG are improving, there is a long way to go."