Strong Revenue Boosts Zoom's Sentiments in Q2
Zoom's sentiments have rebounded in Q2, driven by its skyrocketing revenue growth after facing declines due to privacy concerns.
The company's coherent strategies on end-to-end (E2E) encryption are paying off as the flagship conferencing app developer generated more revenue in Q2 2020 (fiscal Q2 2021 for Zoom: ended July 2020) than in the entirety of 2019, says GlobalData, a leading data and analytics company.
Rinaldo Pereira, Senior Analyst at GlobalData, says: "Zoom gained virtual ubiquity due to the pandemic and has given us a peek into the future of video conferencing due to the work-from-home boom. This rise in potential users has supercharged competition, yet it seems that counterparts lack the traction to compete with Zoom. The app continues to be the most sought-after among corporates, educational institutions and general users. Yet, Google Meet remains a major threat to Zoom, as it is easier to set up and administer from an IT perspective."
Despite privacy concerns, Zoom continued to be the benefactor of high-value deals with several companies. The number of customers (with more than ten employees) more than quadrupled (458%) during Q2 2020, while deferred revenue grew by around 310% year-on-year. Shares also reached all-time highs on the back of its meteoric performance.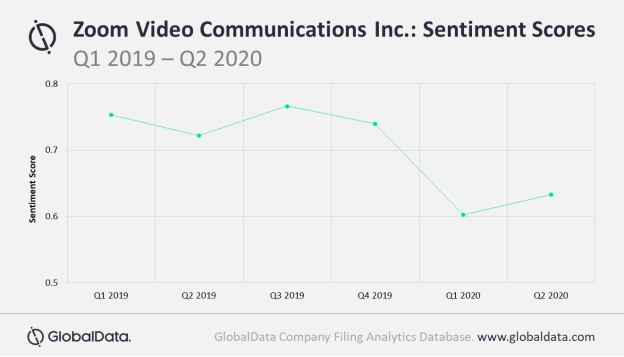 Pereira continues: "The rise in virtual fandom for sports events has created newer revenue generation avenues for video conferencing apps. Zoom has sought out to collaborate with the United States Tennis Association for a VIP Virtual experience partnership. Several Major League Soccer (MLS) clubs are also using Zoom to host virtual fan watch parties."
Microsoft Teams swooped up the NBA, yet Zoom has the capability to undeniably prosper in the age of virtual fandom. FY2021 revenue outlook updates also buoyed Zoom's sentiments. At the same time, the company signed its largest Zoom Phone deal in Q2.
Pereira concludes: "It's hard to see Zoom lose out to competition anytime soon, as several counterparts also lack E2E encryption. Zoom is struggling to maintain a balance between its UI features and E2E security. However, it will be interesting to see Zoom's future strategies on the E2E forefront as it continues to gain corporate confidence amidst prolonged work-from-home policies."
Interswitch is the Most Valuable African Startup
Interswitch, the leading payment processing company headquartered in Lagos, Nigeria, is Africa's most valuable start-up at a US$ 1 billion valuation.
Founded in 2002, Interswitch uses switching infrastructure to connect different banks in Nigeria and powered banks' ATM cards. Presently, the company has over 11,000 ATMs on its network.
In 2010, Helios Investment Partners bought two-thirds of the company and in the following year, Interswitch bought a 60 percent stake in Bankom in Uganda.
Interswitch owns Verve, Nigeria's most used payment card, and accounted for 18 million of 25 million cards in circulation in Nigeria. The company also owns Quickteller and recently purchased VANSO, a mobile-focused technology provider to banks.
Like Interswitch, Stripe, the company that acquired Nigeria's Paystack for over US$200 million, is the most valuable startup in the USA at over US$70 billion valuation.
Klarna, Nubank, Paytm and Grab leads in Europe, Latin America, India and Southeast Asia with valuations of US$10.65 billion, US$10 billion, US$16 billion and US$14 billion, respectively.
E-commerce Black Friday Sales Estimated to Surge by 40% to 10.2 Billion
The 2020 holiday shopping season will be unique, as the pandemic shifted consumer behavior from retail stores to online shopping. In response, many retailers moved their services online to not miss out on this year's profits. Atlas VPN team decided to look into how e-commerce sales are set to perform in the upcoming long weekend.
Researchers predict that the US e-commerce revenue will exceed last year's earnings by 49.5% on Thanksgiving day, totaling $6.18 billion in revenue. Black Friday is calculated to reach $10.2 billion in sales, exceeding last years numbers by 39.4%
Rachel Welch, COO of Atlas VPN, shares her tips on how to stay safe when shopping online during the holiday season:
"Watch out for too-good-to-be-true deals from unknown sellers, as cybercriminals will also expect to turn a profit during the holiday season, even though they are not selling anything, except maybe a bag full of disappointment."
 Finally, analysis shows that on the last day of the long and full of special offers Thanksgiving weekend, consumers will go all out to bring record sales for e-commerce businesses, adding up to $12.89 billion.
To look at these five days from a wider perspective, e-commerce companies can expect to earn around 39.72% more than they did last year.
Alibaba Merchants Sell $40B in First Half Hour of Singles Day 2020, More than 2019 Event Full Sales
Singles Day 2020 was a roaring success, cementing its position as the world's biggest shopping holiday. Sales across Alibaba's platforms during the event totaled $74.1 billion, up from $38 billion in 2019.
According to the research data analyzed and published by Stock Apps, within the first 30 minutes of the event, the gross merchandise volume (GMV) surpassed 2019's full-event sales, reaching $40.87 billion.
Moreover, instead of live events, Alibaba had 400 company executives and 30 celebrities hosting livestreams. Based on a study by Coresight, the Chinese livestream market is set to rack in sales worth $125 billion in 2020, compared to $63 billion in 2019. The US livestream market is a small fraction of that, valued at $5 billion.
China's Tech Heavyweights Lose $280 Billion in Market Cap
Alibaba Singles Day 2020 dwarfed other major shopping holidays as has been the trend in previous years.
According to Practical eCommerce, Amazon Prime Day 2020 sales totaled $10.4 billion up from $7.16 billion in 2019. Cyber Monday sales in the US amounted to $7.9 billion in 2020 according to Statista. Black Friday and Thanksgiving added $9.7 billion to the figure to make $17.6 billion for the weekend.
Similarly, in 2018, Singles Day sold $30.8 billion while Prime Day sold $4.19 billion and Thanksgiving weekend got $14.2 billion.
However, the 2020 Singles Day event came in the wake of Ant Group's suspension of a $37 billion listing. The suspension resulted in a $76 billion drop in Alibaba's market cap, as the tech giant owns a two-thirds stake in Ant Group. Moreover, China's regulators released anti-trust draft rules prior to the event, aimed at controlling monopolistic behavior.
Following the release, Alibaba shares plunged by 9.8%, as JD.com shed off 9.2%. Tencent similarly saw a 7.39% drop and Xiaomi fell by 8.18%. For the five companies, there was a combined loss of $280 billion in market capitalization.