Strong Revenue Boosts Zoom's Sentiments in Q2
Zoom's sentiments have rebounded in Q2, driven by its skyrocketing revenue growth after facing declines due to privacy concerns.
The company's coherent strategies on end-to-end (E2E) encryption are paying off as the flagship conferencing app developer generated more revenue in Q2 2020 (fiscal Q2 2021 for Zoom: ended July 2020) than in the entirety of 2019, says GlobalData, a leading data and analytics company.
Rinaldo Pereira, Senior Analyst at GlobalData, says: "Zoom gained virtual ubiquity due to the pandemic and has given us a peek into the future of video conferencing due to the work-from-home boom. This rise in potential users has supercharged competition, yet it seems that counterparts lack the traction to compete with Zoom. The app continues to be the most sought-after among corporates, educational institutions and general users. Yet, Google Meet remains a major threat to Zoom, as it is easier to set up and administer from an IT perspective."
Despite privacy concerns, Zoom continued to be the benefactor of high-value deals with several companies. The number of customers (with more than ten employees) more than quadrupled (458%) during Q2 2020, while deferred revenue grew by around 310% year-on-year. Shares also reached all-time highs on the back of its meteoric performance.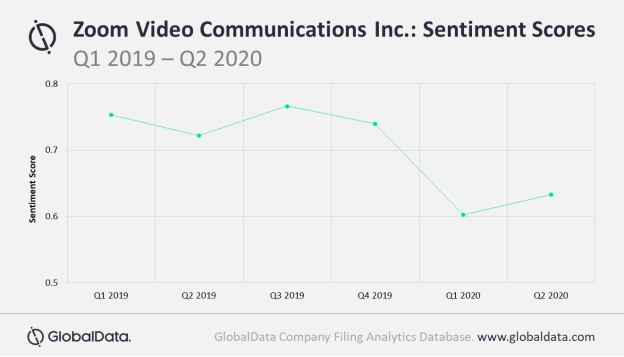 Pereira continues: "The rise in virtual fandom for sports events has created newer revenue generation avenues for video conferencing apps. Zoom has sought out to collaborate with the United States Tennis Association for a VIP Virtual experience partnership. Several Major League Soccer (MLS) clubs are also using Zoom to host virtual fan watch parties."
Microsoft Teams swooped up the NBA, yet Zoom has the capability to undeniably prosper in the age of virtual fandom. FY2021 revenue outlook updates also buoyed Zoom's sentiments. At the same time, the company signed its largest Zoom Phone deal in Q2.
Pereira concludes: "It's hard to see Zoom lose out to competition anytime soon, as several counterparts also lack E2E encryption. Zoom is struggling to maintain a balance between its UI features and E2E security. However, it will be interesting to see Zoom's future strategies on the E2E forefront as it continues to gain corporate confidence amidst prolonged work-from-home policies."
Alibaba Faces Rare Downgrade as PDD Surpasses It in Market Value
Bolt Expels Over 5,000 Drivers in Kenya to Enhance Safety Measures
Fintech Company, Grey, Unveils New Look to Support its Global Expansion Strategy
Grey, a leading cross-border fintech company, has embarked on a significant global brand rebranding initiative, revealing a fresh logo and website design.
This strategic move aligns with the company's dynamic plans to expand its footprint in the global market.
The company's transformation was unveiled on its social media platforms on Monday, November 27, 2023. Grey aims to leverage this fresh identity to reach a broader audience and solidify its international presence. The updated brand assets visually represent Grey's commitment to innovation, excellence, and global connectivity.
The rebranding initiative follows closely on the heels of Grey celebrating a milestone achievement of surpassing 500,000 users. The company's rapid growth and expanding user base have spurred this bold step towards rebranding, symbolizing success and underlining its dedication to remaining at the forefront of global fintech innovation. Furthermore, the previous logo was not usable in some foreign markets due to trademark conflicts with another company.
Idee Obong, The CEO and founder of Grey, shared insights into the rationale behind the rebranding, stating, "As we chart our course toward serving a global audience, we recognized the need for trademarks and related processes. We identified similarities with existing marks during this evaluation, prompting a deliberate rebrand. The new logo and website signify our forward trajectory, emphasizing global connectivity and our commitment to creating a more interconnected world. Our focus remains on being people-centric and cultivating a lasting community."
Grey's brand evolution is occurring at a crucial juncture for the fintech industry, which is positioned for significant opportunities despite recent economic uncertainties. The fintech sector has faced challenges in the past year; notwithstanding, Grey has rapidly scaled, adeptly responding to the heightened demand for its services.
The company has also established key partnerships across both B2B and B2C sectors across Africa over the past months, solidifying its reputation as a trusted and reliable cross-border payments company.
Femi Aghedo, Co-founder of Grey, emphasized the strategic timing of the brand evolution, stating, "The timing simply felt right to evolve our brand. Our growth and evolution as a business needed to be reflected tangibly. We are dedicated to ongoing innovation, adapting our services to meet the dynamic needs of our customers. Our core mission is to provide seamless and secure cross-border payment solutions, empowering businesses and individuals in the global economy. We eagerly anticipate the future of fintech and the opportunities it presents for us to impact the industry positively."
Furthermore, customers can expect a more innovative and interconnected user experience when engaging on their platforms. As Grey ventures into this exciting new chapter, the team remains committed to providing cutting-edge and secure cross-border payment solutions, fostering global connectivity, and contributing to the evolving landscape of the fintech industry.