Strong Revenue Boosts Zoom's Sentiments in Q2
Zoom's sentiments have rebounded in Q2, driven by its skyrocketing revenue growth after facing declines due to privacy concerns.
The company's coherent strategies on end-to-end (E2E) encryption are paying off as the flagship conferencing app developer generated more revenue in Q2 2020 (fiscal Q2 2021 for Zoom: ended July 2020) than in the entirety of 2019, says GlobalData, a leading data and analytics company.
Rinaldo Pereira, Senior Analyst at GlobalData, says: "Zoom gained virtual ubiquity due to the pandemic and has given us a peek into the future of video conferencing due to the work-from-home boom. This rise in potential users has supercharged competition, yet it seems that counterparts lack the traction to compete with Zoom. The app continues to be the most sought-after among corporates, educational institutions and general users. Yet, Google Meet remains a major threat to Zoom, as it is easier to set up and administer from an IT perspective."
Despite privacy concerns, Zoom continued to be the benefactor of high-value deals with several companies. The number of customers (with more than ten employees) more than quadrupled (458%) during Q2 2020, while deferred revenue grew by around 310% year-on-year. Shares also reached all-time highs on the back of its meteoric performance.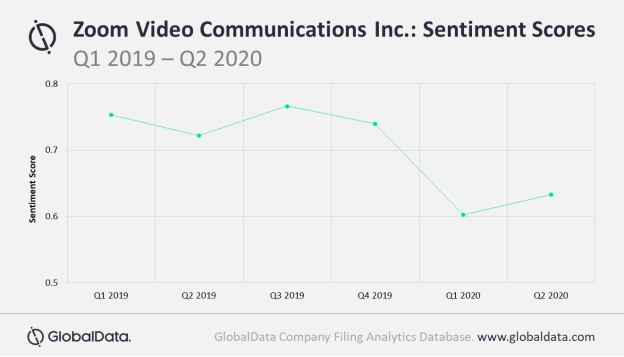 Pereira continues: "The rise in virtual fandom for sports events has created newer revenue generation avenues for video conferencing apps. Zoom has sought out to collaborate with the United States Tennis Association for a VIP Virtual experience partnership. Several Major League Soccer (MLS) clubs are also using Zoom to host virtual fan watch parties."
Microsoft Teams swooped up the NBA, yet Zoom has the capability to undeniably prosper in the age of virtual fandom. FY2021 revenue outlook updates also buoyed Zoom's sentiments. At the same time, the company signed its largest Zoom Phone deal in Q2.
Pereira concludes: "It's hard to see Zoom lose out to competition anytime soon, as several counterparts also lack E2E encryption. Zoom is struggling to maintain a balance between its UI features and E2E security. However, it will be interesting to see Zoom's future strategies on the E2E forefront as it continues to gain corporate confidence amidst prolonged work-from-home policies."
Releaf Secures $4.2M in Seed Funding Plans To Drive Industrialisation of Food Processing in Africa
Nigerian agritech start-up, Releaf, has just announced a $2.7 million seed funding led by Samurai Incubate Africa, Future Africa and Consonance Investment Managers with participation from Stephen Pagliuca, Chairman of Bain Capital and Justin Kan (Twitch).
In addition to the seed round, Releaf also secured $1.5 million in grants from The Challenge Fund for Youth Employment (CFYE) and USAID.
The seed funding will enable the development of industrial food processing technology in Nigeria's smallholder-driven Oil Palm sector, while the grant will enable Releaf to provide working capital and other value-added services for smallholders and small-scale processors. Grant funding will support the training, recruitment and retention of more women and youth in Nigeria's Oil Palm sector by creating both digital and technical jobs.
Nigeria's oil palm industry is dominated by smallholder farmers, with 80 percent of the local market share. However, production rates are low because many still rely on inefficient processes for de-shelling, including the use of rocks and inappropriate hardware. These ineffective processes also lead to low-quality palm kernels, largely unfit as input for high-quality vegetable oil manufacturing. As a result, food factories are unable to purchase these raw materials and operate significantly under capacity. On average, food factories have 3X more installed capacity than utilisation, which impacts the cost of food and further investment into processing capacity.
Releaf acts as a bridge between smallholder farmers and food manufacturing companies with its proprietary patent-pending machinery, Kraken. Kraken can process any quality of palm nut into premium quality (95 percent purity) inputs for food factories. Releaf's software connects the start-up to more than 2,000 smallholder farmers, ensuring consistent, large-scale supply. While palm kernel oil production is not foreign to Nigeria, Releaf's technology and scale mean it can process 500 tonnes of palm nuts per week. The software offerings also allow the start-up to receive inbound supply requests from farmers via USSD, provide working capital financing, and collect proprietary data on supply availability.
Speaking about the new funding, Ikenna Nzewi, CEO and co-founder of Releaf, said, "our mandate is to industrialise Africa's food processing industry. This round of funding enables us to develop and prove our technology with smallholder farmers in the oil palm sector. Given Nigerians spend ~60 percent of their income on food and Africa's population is set to increase by 100,000 people per day over the next three decades, we're presented with an incredible opportunity to feed more people, reduce consumer costs, and supply the fastest-growing food market in the world. Releaf is committed to harnessing technology to accelerate the economic wealth of rural, agrarian societies throughout the Continent. We firmly believe that a robust real economy is the foundation for long-lasting and shared prosperity for Africans and are excited to deepen partnerships with like-minded organisations, governments, and firms."
Rena Yoneyama, Managing Partner at Samurai Incubate Africa who led the round, commented, "Releaf's novel approach to operating within the value chain with proprietary technology set it aside from many agritech startups we have spoken about to. We believe the firm's thesis on decentralizing food processing would strongly match Africa's economic development landscape for the next few decades. Ikenna and Uzo are the perfect founders to disrupt this market in Nigeria and beyond. We are thrilled to back them as they innovate in providing both agro-processing and financial services to rural communities and farmers."
Iyin Aboyeji, General Partner at Future Africa noted, "more than 50% of the goods in supermarkets globally contain glycerine – an extract made from palm oil – a cash crop that is passed down from generation to generation. The team at Releaf is building the agro-allied industry of the future from the ground up, starting with palm oil which they have developed a novel technology to aggregate, deshell and process into critical ingredients like vegetable oil and glycerine. Future Africa is delighted to back Releaf to build the future of modern agriculture."
Dr. Nneka Enwonwu, Country Relationship Manager, from The Challenge Fund for Youth Employment (CFYE), said, "We are thrilled to partner with Releaf on their mission to improve efficiency and profitability for farmers and food factories in Africa. The founders' vision and the team's enthusiasm gave us confidence that Releaf will deliver real value for rural communities and create digital/technical jobs for women and youth. We are looking forward to their results and success over the coming years and continuing to support their work."
54gene closes $25M Series B to Advance Global Drug Discovery Capabilities
African genomics startup 54gene has secured $25M in a Series B round, led by Cathay AfricInvest Innovation Fund. The round also included participation from Adjuvant Capital, KdT Ventures, Plexo Capital, Endeavor Capital, Ingressive Capital and others. This round brings the company's total investment to date to more than $45M since being founded in 2019.
The new capital raised will be deployed to expand 54gene's capabilities in sequencing, target identification and validation, and precision medicine clinical trials enabling drug discovery in Africa for both Africans and the global population. The new capital will also enable the company to begin its expansion across the African continent.
Dr. Abasi Ene-Obong, CEO, 54gene, commented: "It's truly incredible to witness the impact of African scientists in global research, and it is critical to global health that this continues. We want to scale our contribution to global drug discovery by extensively developing life science capabilities on the continent, and this additional capital will catalyse our endeavours."
Dr Ene-Obong continued: "In this round, we have brought in partners that keep us true to our mission of equalising healthcare and who can help us replicate our success throughout Africa. We believe the world will benefit from an African global drug discovery company that leverages the deep insights found in genomics research in diverse populations and ensures true equity for the African population. It's exciting to see our company shift into the next gear as it targets becoming one of the top global companies in genomics research."
54gene will also be expanding its genomics and molecular diagnostics division across Africa, ensuring that African patients get access to accurate diagnostics and enabling the application of precision medicine in the clinical setting throughout the continent. To lead this new business unit, the company has brought in Michelle Ephraim as General Manager Diagnostics Pan-Africa. Michelle has held various sales leadership roles across Africa for Leica Biosystems, PerkinElmer, and Merck Millipore.
Yassine Oussaifi, Partner at Cathay AfricInvest, commented: "As a pioneer in genomics and precision medicine in Nigeria, 54gene has built a unique health technology platform leveraging African resources to unlock scientific discoveries for the benefit of African and global communities. At Cathay AfricInvest Innovation, we're dedicated to backing innovative, inclusive solutions that connect African technology and research with global innovation ecosystems to help them scale. 54gene works across drug discovery, molecular diagnostics and clinical trials, boosting access and affordability of various healthcare solutions that will positively impact worldwide. We look forward to working with the 54gene team on their development on the continent and beyond."
Nokia and African Telecommunications Union (ATU) to Speed up Digital Transformation and the Knowledge Economy in Africa
Collaboration to leverage the power of ICT including 5G for Industry 4.0 (IR 4.0), connecting the unconnected and transforming lives; Both organizations reiterate commitment to shape policy, develop talent, and promote inclusion and diversity in Africa.
Nokia has signed a Memorandum of Understanding (MoU) with the African Telecommunications Union (ATU) to drive digital transformation and the knowledge economy for socio-economic development across the continent. The two parties will leverage the power of telecommunications, including 5G networks, to connect the unconnected and identify innovative use cases, as well as business models. In addition, the MoU will lay ground for both organizations to better help governments shape telecom policy, develop talent and promote inclusion and diversity. This includes women, as well as the underprivileged in both rural and urban areas.
The MoU was signed in Nairobi, Kenya, by John OMO, Secretary General at ATU and Rajiv Aggarwal, Nokia Representative and Head of Central, East and West Africa Market Unit at Nokia.
Announcing the partnership, Rajiv Aggarwal, Head of Central, East and West Africa Market Unit at Nokia, said: "We remain keen on supporting Africa's digital transformation journey and by collaborating with the ATU, we strengthen this commitment. We will leverage our global technology expertise and insights on policy matters to positively impact the universal socio-economic development in the continent."
Co-signing the MoU with Mr. Rajiv, John OMO, Secretary General of the African Telecommunications Union (ATU), said: "Our vision is to make Africa a full and active participant in the global information and knowledge society by enabling universal access to ICT systems and services across Africa. Collaboration with a global industry leader such as Nokia is therefore crucial in this regard and will help us accelerate towards a digital transformation and knowledge economy."
The MoU framework is guided by six tenets designed to facilitate this acceleration. These are:
Sharing of best practices on telecom technology trends and developments
Identification of innovative industrial use cases toward the Fourth Industrial Revolution
Recommendation on implementation of emerging technologies and business models
Promotion of connecting the unconnected with broadband
Development of emerging talent for digital innovation
Promotion of inclusion and diversity
Nokia has a long history of collaboration with international organizations and bodies across the globe. Regionally in MEA, Nokia recently partnered with UN Women to promote inclusion and diversity in Middle East and Africa. Nokia is also working with UNICEF as part of a shared-value partnership in Kenya to connect schools with broadband and empower children in rural as well as disadvantaged urban areas. In November 2020, Nokia supported the Forge Academy in South-Africa with the launch of a fully inclusive artificial intelligence (AI) laboratory to help students to become entrepreneurs in the Fourth Industrial Revolution and the global digital economy.