Ronaldo Is Worth Four Times the Hungarian National Team
The 2016 European Championships will feature some of the world's best — and most expensive — soccer players: Cristiano Ronaldo, Gareth Bale, Thomas Müller. Hungary's biggest stars will be there, too, for the first time since 1972, though in financial terms, they are in a different universe.
Hungary's 23-man squad would cost a combined $31 million in transfer fees, the least of any of the 24 countries competing. The 31-year-old Ronaldo alone would command $116 million, according to an analysis by Dutch bank ING Groep NV. The Spanish team is the most valuable overall at an estimated $736 million, followed by Germany at $633 million and France at $551 million.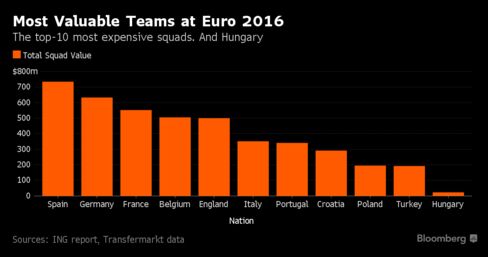 A record number of national teams will play in the quadrennial tournament, which begins June 10 in 10 cities across France. With the field expanded from 16 teams to 24, smaller nations including Wales, Northern Ireland, Iceland and Albania will make their debuts alongside traditional soccer powerhouses Spain, Germany, England and Italy.
ING called attention to the most expensive player on each of the 10 most expensive national squads. That excluded Bale, who moved to Real Madrid from Tottenham Hotspur for a record $113 million in 2013, because the Welsh team overall doesn't crack the top 10.
Among ING's MVPs, after Ronaldo comes Germany's Thomas Müller, 26, worth $79 million, followed by Belgian Eden Hazard and Poland's Robert Lewandowski, who are tied for third at $74 million apiece, ING said, citing data from Transfermarkt.com.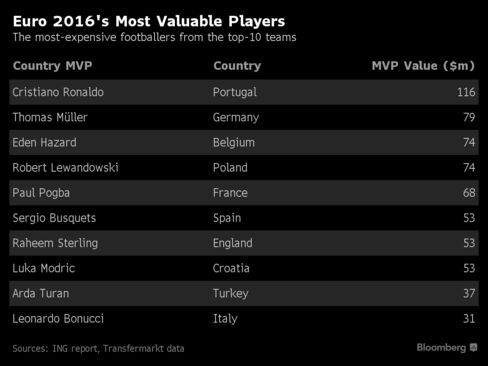 While Spain's players command the highest price as a group, fans and bookmakers favor Germany to win it all. Hungary is a 250-to-1 long shot, according to U.K. sports betting house Ladbrokes.
Sterling Homes Plans To Reduce Housing Deficit
Sterling Homes Limited has said it is committed to working with the government through private public partnership to reduce housing deficit in all the geo-political zones in the country.
The Managing Director, Mr Kunle Adeyemi, said this during an event on the company's rebranding organised as part of its 10th year anniversary in Lagos on Friday.
During the event, the company while expressing commitment to excellence and customer satisfaction, unveiled its new logo with colours to define its mission and objections.
"We want to be present in all the six geo-political zones on Nigeria by providing affordable luxury homes, excellent torch. So for us, there is a need for us to rebrand and have a new direction and vision.
"We want to partner with the government on the present housing deficit; we want to embrace a public, private partnership with the government to reduce the deficit in every geo-political zone."
The managing director said that one of its unique selling points was its after sales services which was top notch.
He said it ensured that its customers were taken through the journey of actualising their dreams of becoming home owners.
While noting that everyone deserved to have a comfortable home despite the economic situation, he said it had designed a structure payment plan with zero interest in some cases to help intending home owners.
He said it also had provisions for high breed options and developing areas to accommodate various income levels.
Before the end of the year, he said, Sterling Homes would be establishing new presence and projects in other regions.
Mutual Benefits Drives Financial Inclusion
Mutual Benefits Assurance Plc says it is committed to deepening financial inclusion and creating easy accessibility for insurance in the country.
A statement from the firm on Friday said it expressed this commitment when it inaugurated its South-West region franchise operations in Ibadan, Oyo State.
The Managing Director, Mr Femi Asenuga, said this was part of its efforts to develop the insurance business and create values.
He said, "The role we all have to play is to be ambassadors of Mutual Benefits.
"A franchise is a well-known word and the way Mutual Benefits practices franchise is in our normal style of creating and adding value; we never rest."
Asenuga said that the firm was working with stakeholders to increase awareness and take its message to the grassroots.
In developed economies, he said, insurance firms owned banks. He regretted that this was not the situation in Nigeria.
He said the firm would provide stakeholders with the platform and support to make them excel as a member.
The Managing Director, Mutual Benefits Life Assurance Limited, Mr Ademola Ifagbayi, appreciated the stakeholders and urged them to take advantage of the franchise.
The Group Managing Director, Odua Group, Mr Adewale Raji, in his address, advised stakeholders to be committed and showcase good character and integrity.
He said, "The Odua investment is owned by the six South-West governments and it is in our interest when economic, businesses and investment spreads across the South-West states.
"This is an opportunity for us to strengthen insurance penetration within the South-West states."
CAC Sets Three-Hour Circle For Company Registration
The Corporate Affairs Commission on Sunday stated that following the successful deployment of an end-to-end registration module, it was now prioritising the reduction of the registration circle for new companies to just three hours before the end of year 2021.
Registrar-General of the commission, Garba Ababukar, gave the indication at a dinner in honour of the Chairman, Governing Board, CAC and Nigerian Ambassador Designate to the Kingdom of Spain, Ademola Seriki.
The commission disclosed this in series of tweets posted via its Twitter handle on Sunday.
"To achieve the target, the registrar-general said the commission was making arrangements to empower over 400 approving officers with working tools to process and approve registration applications either from home or anywhere necessary," the agency stated.
Abubakar noted that the challenges of COVID-19 pandemic had adversely hampered CAC's delivery timeline.
He, however, said the CAC was resolutely committed to serving its customers despite being forced to operate with less than 50 per cent of its workforce.
While bidding farewell to Seriki, the registrar-general said he received the news of his appointment with mix feelings as CAC was going to miss his tremendous support and guidance.
The Minister of Industry, Trade and Investment, Niyi Adebayo, described the outgoing CAC Chairman as a man of immense pedigree and endowed with enormous potential to justify the confidence reposed in him by the president.