Nigeria Oil Output Drops Further as Leak Compounds Security Woes
At least a fifth of Nigerian oil output, equivalent to almost 400,000 barrels a day, has been shut down as a pipeline closure added to disruptions caused by militant attacks.
Royal Dutch Shell Plc declared force majeure — a legal clause that allows it to stop shipments without breaching contracts — on exports of Bonny Light crude following the discovery Tuesday of a leak on the Nembe Creek Trunk Line, according to a statement Wednesday. The incident comes amid escalating attacks by militants operating in the Niger delta, which have already halted shipments from the Forcados terminal and the Okan oil platform.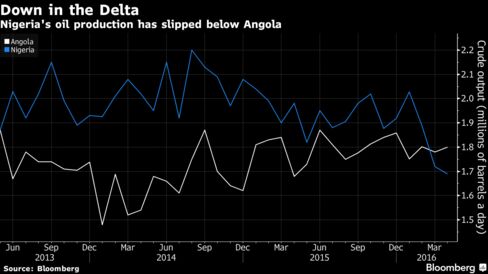 "'We don't know if it's an attack or sabotage" on the Nembe Creek line, Lagos-based Sola Omole, a spokesman for Aiteo Exploration and Production Co., the operator of the pipeline, said by phone. "It is only when the contractor gets to the site and takes a look at it that we can say definitively that this is the cause of the problem. "
 A resurgence of attacks on oil infrastructure caused Nigerian production to drop to the lowest in 20 years last month, compounding the impact of slumping crude prices on Africa's largest economy. Formerly the continent's largest oil producer, the nation has slipped into second place after Angola, according to data compiled by Bloomberg.
Production Halt
The Nembe Creek Trunk Line runs for 100 kilometers (62 miles) through the Nigeria's oil producing region to the Bonny crude oil terminal and has a capacity of 600,000 barrels a day, according to Shell's website. At least 78,000 barrels a day of Aiteo's crude output has been shut down because of the leak, Omole said. Shell said the force majeure covers all Bonny Light shipments — scheduled at 217,000 barrels a day next month — without specifying how much production could be disrupted.
The shutdown last week of Chevron Corp.'s Okan platform, which feeds the Escravos export facility, affected 90,000 barrels a day of production. About 200,000 barrels a day of output has been halted at Shell's Forcados terminal since February.
Oil futures recouped losses following the Bonny Light force majeure, with international benchmark Brent crude gaining as much as 1.3 percent to $46.13 a barrel on the London-based ICE Futures Europe exchange.
Delta Avengers
A group calling itself the Niger Delta Avengers said on its website that it was responsible for the attack on the Chevron facility. The authenticity of the claim could not be verified by Bloomberg News.
Nigeria's armed forces are aware of a new group "who have vowed to cripple economic activities," Brigadier General Rabe Abubakar said in a statement on Tuesday. "The military will employ all available means and measures within its rule of engagement to crush any individual or group that engages in the destruction of strategic assets and facilities of the government."
International producers including Shell and Chevron began evacuating non-essential workers and contractors from major oil production facilities as part of safety measures, Chika Onuebgu, Rivers state chairman of the Trade Union Congress of Nigeria, said by phone Tuesday. "It is not a lock-down, it is just a precautionary measure" and oil operations continue in areas not affected by attacks.
The current attacks echo a similar wave of violence between 2006 and 2009, which ended after militants accepted an amnesty from late-President Umaru Musa Yar'Adua, disarming in exchange for cash payments. The militants have been frustrated by current President Muhammadu Buhari's decision to scale back the allowances.
The International Energy Agency estimated last month that Nigeria could lose an estimated $1 billion in revenue by May, when it expects repairs on Forcados to be completed. The terminal may not restart until June, Kachikwu said April 20.
"The government needs to address this very quickly," Onuegbu says. "Insecurity is becoming a big problem in the Niger delta with the return of these attacks."