All Business Stakeholders Will Benefit from Stronger ESG Policies, Says GlobalData
The age-old view that addressing environmental, social and governance (ESG) issues will make a dent in profits is a myth, says GlobalData. The leading data and analytics company notes that businesses that embrace all three elements of ESG will actually outperform their peers.
Cyrus Mewawalla, Head of Thematic Research at GlobalData, comments: "The reluctance of many CEOs to fully engage with sustainability can be attributed to the age-old view that it will hurt profits. However, GlobalData's research suggests the opposite: CEOs that are too slow to improve their company's approach to ESG will see an exodus of customers and a drop in profits far sooner than they ever imagined."
GlobalData's latest thematic report, 'Thematic Research: ESG – Top Trends by Sector', notes that, while saving the planet used to just equate to implementing sustainable practices such as 'limiting the use of plastics' and 'reducing carbon footprint', 'sustainability' has morphed into an umbrella term that includes all aspects of ESG issues. The company proposes an ESG framework that identifies key areas in which companies should invest. One of these is climate change.
Luke Gowland, Analyst in the Thematic team at GlobalData, comments: "With COP26 setting the agenda on climate change, companies are focusing their efforts on tackling carbon emissions by switching to renewable energy and undertaking energy efficiency projets. However, companies must excel across all three aspects of ESG, and not overlook the importance of strong social performance and having the correct governance structures in place to achieve ESG goals."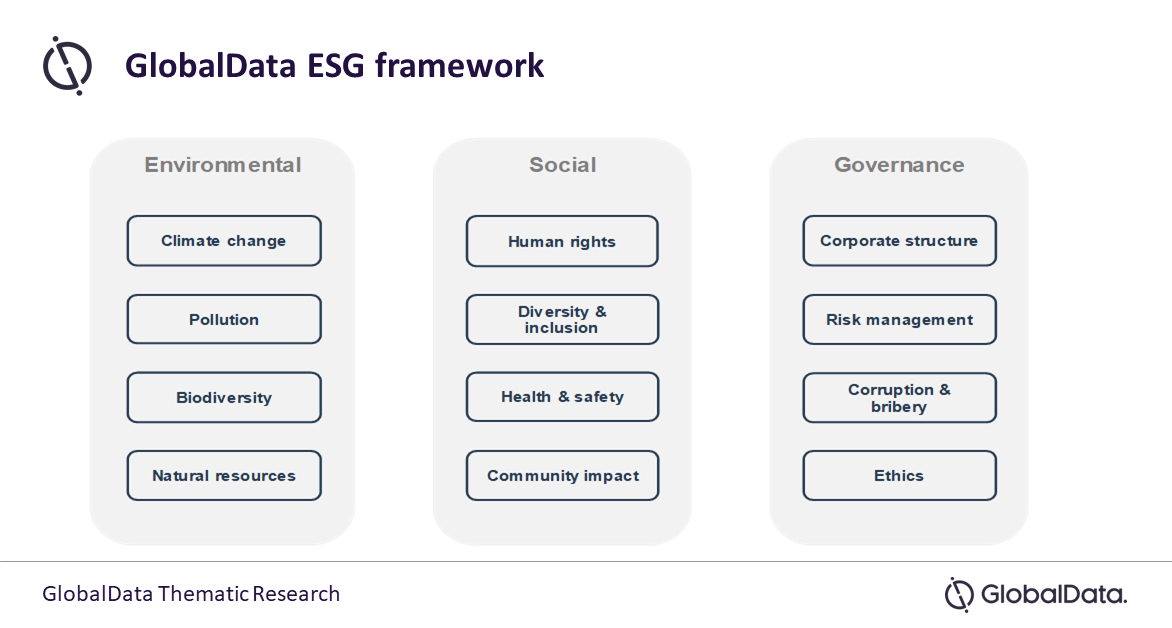 Citizens, governments, regulators, and the media are turning the spotlight on corporations and demanding action. Social inequality, corruption, tax avoidance, and a lack of action on climate change are all issues that companies must now address head-on, in full public view.
Since Q1 2021,GlobalData has been asking respondents to detail their company's approach to ESG goals In Thematic Sentiment Analysis, Q3 2021, conducted in Q3 2021, nearly a quarter of respondents thought that, for most companies, ESG was just a marketing exercise.
Gowland continues: "Our latest sentiment analysis report shows that more companies have changed their behavior to meet ESG goals (33%) than not (22%). While the attitudes towards ESG are improving, there is a long way to go."
C & I Leasing Appoints Ugoji Lenin Ugoji as Group Managing Director/CEO
C & I Leasing Plc has appointed Mr. Ugoji Lenin Ugoji as the Group Managing Director and Chief Executive Officer following the retirement of Mr. Andrew Otike-Odibi on 31 of December 2021.
The company disclosed in a statement signed by Mbanugo Udenze & Co Company Secretary and seen by Investors King. Ugoji, the company's chief operating officer, is now the Managing Director/CEO, effective 1 January 2022.
Ugoji Lenin Ugoji Profile
Ugoji holds a Bachelors' Degree in Estate Management from the University of Lagos, and an MBA in Banking & Finance from the ESUT Business School, Enugu. He is also a Chartered Pension professional, and an associate of the Certified Pension Institute of Nigeria.
Ugoji joins C & I Leasing with over 20 years experience in Commercial/Investment Banking, Leasing and Asset Management.
His last assignment was with The Mellanby Trust Company, a Commodity focused Asset Management Company registered with the Securities & Exchange Commission (SEC), where he was a founding Director and the Chief Investment Officer responsible for directing the company's Investment Portfolio structure for purposes of its corporate and individual clients.
Ugoji's extensive experience in the Leasing Industry commenced in 2005 as a Pioneer member of the Aquila Capital Group where he served as the pioneer Group Head Treasury & Wealth Management. He was responsible for creating the Group's, Equipment Leasing focused Funding and Investment structure, which was targeted at attracting Capital from Private Equity, Foreign Development Financial Institutions and Local sources.
From 2010 to 2015, he served as the pioneer Managing Director for 'Aquila Asset Management Ltd', a Management Buy-Out firm from the Aquila Group. Prior to his time at the Aquila Group, Ugoji worked at Continental Trust Bank (now UBA) and NAL Bank Plc (now Sterling Bank) in the Treasury, International Operations and Domestic operations groups respectively.
Ugoji is happily married with children. He is passionate about ideas creation, investment and deal structuring, and enjoys volunteering for laudable causes. When not at work or volunteering, he enjoys spending time with his family, reading, music and photography.
C&I Leasing Appoints Cordros Registrars as its Registrar
C&I Leasing Plc, a Nigerian leading maritime company, has appointed Cordros Registrars Limited as its registrar for share registration and data management service provider.
The company disclosed this in a statement filed with the Nigerian Exchange Limited and obtained by Investors King.
Cordros Registrars Limited has now replaced Centurion Registrars Limited and takes over the Register of Members of C & I Leasing Plc effective 1st January, 2022.
The statement reads "C&I Leasing Plc hereby notifies Nigerian Exchange Limited (NGX), its shareholders and the investing public of the appointment of Cordros Registrars Limited as its REGISTRARS – SHARE REGISTRATION AND DATA MANAGEMENT SERVICE PROVIDER.
"Cordros Registrars Limited replaces Centurion Registrars Limited and takes over the Register of Members of C & I Leasing Plc effective 1st January, 2022."
Speaking at a virtual press conference at the weekend, the Chief Executive Officer, C & I Leasing Plc, Ugoji Ugoji, revealed the company's plans to explore opportunities in the digital space to improve its revenue despite the negative effects of the pandemic.
Explaining how the company planned to achieve this, he said by increasing and enhancing its collaboration and the creation of new business models to navigate the impact of the COVID-19 crisis, the company will remain more profitable and competitive in the industry.
He also stated that the company would continue to look at the existing businesses to identify areas of improvement.
"We must be able to adapt and manage the resources of the company to improve on our processes to reduce the cost of transactions and grow our topline revenue," he said.
Netflix Increases US, Canada Subscription Fees…Nigerian Subscribers To Suffer Same Fate
With the increase in inflation rates and the unstable foreign exchange, Netflix is likely to hike its subscription fee in Nigeria.
This is following the latest increase in its subscription fee in the United States and Canada, effective immediately for new subscribers.
Usually, when the inflation rate rises, prices of goods and services also increases, and consequently, banks raise their interest rates as well to cope and maintain their profit margin.
In the U.S., subscribers to Netflix's basic plan, which allows for one stream on one screen at a time and does not have HD streaming, will now be charged $9.99 a month, up from $8.99.
The standard plans, which allow for users to stream on two screens at the same time now costs $15.49 per month, an increase from $13.99, while premium plans have also increased to $19.99 a month.
Investors King gathered that this is the third time Netflix will raise its prices in three years and the first since October 2020 for streamers residing in the U.S. and Canada.
Presently in Nigeria, Netflix's subscription rate ranges from about  3,300 to about 5,800 per month.
Investors King recalls that Netflix, in 2020, officially launched its presence in Nigeria and since its launch, the streaming company has dominated Nigeria's relatively new video-on-demand market with some hit movies and web series like King of Boys, Òlòtūré, Citation, Lionheart, Namaste Wahala, among others.
Today, Netflix has over 151 million paying subscribers in more than 190 countries.
Meanwhile, the Federal Government of Nigeria is making plans to force international social network services and digital platforms to register and open offices in Nigeria.
This means that media services, social media platforms and digital streaming platforms like Netflix and the others must register and pay tax in Nigeria and register with the National Broadcasting Corporation (NBC).
This move, according to the government, is to ensure that all these platforms register with the NBC, apply for a broadcasting license and pay tax.