Boomplay Partners with Airtel Nigeria, Offers Affordable Music Streaming Service
Africa's leading streaming platform, Boomplay and telecommunications leading telecommunications services provider, Airtel Nigeria, have announced a strategic partnership that will offer subscribers access to more affordable streaming on Boomplay.
The Airtel-Boomplay partnership rides on the Airtel Streaming Data Plan, this will give music lovers the opportunity to save more on streaming data cost, as music lovers will enjoy 500MB exclusive data for spending only N100.
While unveiling the new partnership, General Manager, Boomplay Nigeria, Oladele Kadiri, affirmed the company's commitment of making music more accessible, stating that, "We are very optimistic about the partnership with Airtel, which will enhance music streaming and downloading for our users, through affordable data packages, while also cementing the business relationship between the two companies."
Commenting on the partnership, Airtel Nigeria's Chief Commercial Officer, Dinesh Balsingh, said Airtel is delighted to offer a platform that will connect more Nigerians to the music they love at a much more affordable cost.
"At Airtel, we are always exploring opportunities that will make life better and more enjoyable for our valued customers. With this partnership with Boomplay, music lovers need not worry about exorbitant streaming cost as we have simplified the experience and made it much more affordable for everyone."
Access Bank is the Most Valuable Nigerian Brand, Valued at NGN205.6 Billion
Access Bank has become the most valuable Nigerian brand with a value of NGN205.6 billion. Despite a slight increase in costs throughout the year, the multinational commercial bank managed to boost its gross earnings in 2022, underscoring the brand's impressive growth trajectory.
Following an impressive year-on-year brand value growth of 31%, Access Bank has become the most valuable Nigerian brand with a value of NGN205.6 billion. Despite a slight increase in costs throughout the year, the multinational commercial bank managed to boost its gross earnings in 2022, underscoring the brand's impressive growth trajectory.
Every year, leading brand valuation consultancy Brand Finance puts 5,000 of the biggest brands to the test, and publishes over 100 reports, ranking brands across all sectors and countries. The world's top 25 most valuable and strongest Nigerian brands are included in the annual Brand Finance Nigeria 25, 2023 ranking.
Fellow banking brand, Zenith Bank, is Nigeria's second most valuable brand with a brand value of NGN201.5 billion, marginally behind leader Access Bank. Its brand value grew 45% year-on-year, making it the fifth fastest growing brand in the ranking.
Babatunde Odumeru, Managing Director, Brand Finance Nigeria commented:
"Nigeria's top banking brands' exceptional brand value growth is a testament to their strong financial performance, and sustained high levels of brand equity, even amidst challenging economic conditions. These results demonstrate the considerable resilience of Nigeria's banks, who continue to dominate the ranking, and reflects the industry's significant contributions to the country's economy."

BUA Cement is the fastest-growing Nigerian brand, up 64%
BUA Cement clinches the title as Nigeria's fastest growing brand in 2023 after an increase of 64% took it to a brand value of NGN43.9 billion. As demand for cement surged, the brand's revenues have increased by 40.5%, while its forecasts have also gone up. BUA Cement's increase in sales of bagged cement have help it offset the impacts of inflation and currency effects, which have been widely felt by many brands throughout 2022.

Banking is the most valuable sector in the ranking, up 29%
The collective brand value of the nine banking brands included in the ranking was up 29% year-on-year to NGN888 billion. This makes banking the most valuable sector in the ranking by a significant margin, worth almost NGN633 billion more than the next most valuable sector – Engineering & Construction (NGN255 billion).
As well as Access Bank (1st) and Zenith Bank (2nd), United Bank for Africa (brand value up 28% to NGN161.6 billion), GT Bank (brand value up 62% to NGN142.5 billion), and First Bank of Nigeria (brand value up 37% to NGN116.9 billion) were all firmly amongst the top-ten most valuable Nigerian brands.
Energy drink brand Fearless is the strongest Nigerian brand, earning AAA rating
In addition to calculating brand value, Brand Finance also determines the relative strength of brands through a balanced scorecard of metrics evaluating marketing investment, stakeholder equity, and business performance. Compliant with ISO 20671, Brand Finance's assessment of stakeholder equity incorporates original market research data from over 100,000 respondents in 38 countries and across 31 sectors.
Popular energy drink brand Fearless (brand value up 1% to NGN28.2 billion) is the strongest Nigerian brand with a Brand Strength Index score of 87 out of 100 and corresponding AAA rating. Fearless has a dominant four-point lead at the top of the ranking for brand strength over Nigeria's second strongest brand, United Bank for Africa (83/100, AAA-).

Zenith Bank has the highest Sustainability Perceptions Value, while GT Bank has the highest Sustainability Perception Score
As part of its analysis, Brand Finance assesses the role that specific brand attributes play in driving overall brand value. One such attribute, growing rapidly in its significance, is sustainability. Brand Finance assesses how sustainable specific brands are perceived to be, represented by a 'Sustainability Perceptions Score'. This is an indexed score that provides a view of the role of sustainability in driving positive brand reputation. The value that is linked to sustainability perceptions, the 'Sustainability Perceptions Value', is then calculated for each brand.
As well as being Nigeria's second most valuable brand, Zenith Bank also has the highest Sustainability Perceptions Value (SPV) of any brand included in the Nigeria 25 2023 ranking – NGN16.1 billion. Zenith Bank's position at the top of the SPV table is not an assessment of its overall sustainability performance. Rather, it indicates how much brand value it has tied up in sustainability perceptions. Zenith Bank also has the third highest Sustainability Perceptions Score in the ranking of 4.69 out of 10.
Fellow Banking brand, GT Bank has the highest Sustainability Perceptions Score in the Nigeria 25 2023 ranking at 5.03 out of 10. This equates to a Sustainability Perceptions Value of NGN12.2 billion.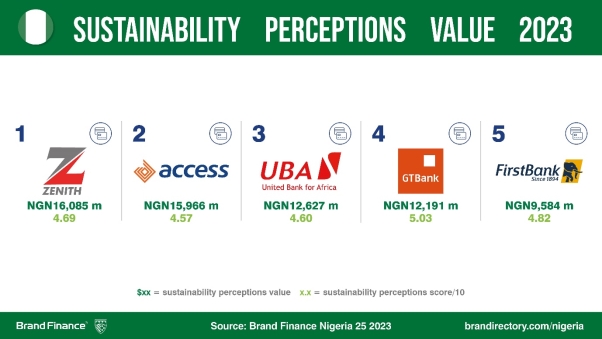 EV Manufacturer Rivan Post Q1 Earnings Results, Records Narrow Loss on Revenue
American electric vehicle manufacturer and automotive technology company Rivan posted First quarter (Q1) earnings results, recording a narrow loss in revenue.
Rivan produced 9,395 vehicles in the first quarter of 2023 and reported $661 million in revenue driven by the delivery of 7,946 vehicles, slightly beating expectations and falling from Q4.
It experienced a loss of operations in the first quarter (Q1) of 2023 totaling $1,433 million as compared to $1,579 million in the same period last year. Gross profits fell to negative $535 million in Q1, compared to negative $502 million last year. Overall, Rivan posted a net loss of $1.4 billion, down when compared to $1.6 billion in Q1 2022 and over $1.7 billion from last quarter.
In the first quarter of 2023, the company recognized a non-cash, stock-based compensation expense within operating expenses of $165 million as compared to $307 million in the first quarter of 2022, and depreciation and amortization expense within operating expenses of $58 million as compared to $38 million in the first quarter of 2022.
With cost-cutting measures, the company's operating expenses fell to $898 million compared to over $1 billion during the same period last year.
Speaking on the way forward the company said, "We continue to believe the supply chain will continue to be the main limiting factor of our normal facility output. Our team continues to work on the introduction of new engineering design changes and key technologies which will take effect during the second half of 2023 to help mitigate anticipated supply chain constraints. Our long-term success as a business will be determined by our ability to produce high volumes of vehicles profitably. The collective efforts across all our teams and functions are focused on delivering this goal. Our target of generating positive gross profit in 2024 is composed of several drivers across the business".
As the company looks forward to the remainder of 2023, it disclosed that it is maintaining its 50,000 EV production goal for 2023. The EV manufacturer says it remains focused on ramping production and implementing new technology to drive down costs throughout the year.
Apple Fiscal Second Quarter Earnings Beat Wall Street Expectations
Giant tech company Apple announced its fiscal second quarter (Q2) earnings on Thursday, beating Wall Street expectations, which was driven by stronger-than-anticipated iPhone sales.
For the quarter that ended April 1, 2023, Apple recorded $94.8 billion in revenue, and quarterly earnings per share of $1.52 remained unchanged. Both figures were higher than Wall Street expectations, leading to Apple's shares rising around 2% in extended trading.
Speaking on the report, Apple CEO Tim Cook said, "We are pleased to report an all-time record in services and a March quarter record for iPhone despite the challenging macroeconomic environment and to have our installed base of active devices reached an all-time high. We continue to invest for the long term and lead with our values, including making major progress toward building carbon-neutral products and supply chains by 2030".
It is worth noting that the driving force behind Apple's quarterly performance was its increased iPhone sales, which amounted to a whopping $51.3 billion. This figure was higher than analyst expectations of $48.84 billion.
Investors King understands that a major reason for Apple's improved performance in the reported quarter was China, as sales in the country were better than expected as consumer spending increased after Covid restrictions were lifted in 2022.
Meanwhile, Apple's Mac and iPad businesses didn't perform well. The company had already warned last quarter that both business segments would decline, partially due to parts shortages but they fell further than expected. Apple Mac sales were off more than 31% to just over $7.17 billion.
Cook disclosed that there are two reasons for that, one is the macro situation in general and the other is where the company is still comparing to the very difficult compare of the M1 MacBook Pro 14 and 16-inch from the year-ago quarter. The company's CEO however disclosed that unlike other tech companies that have downsized their workforce, layoffs would be Apple's last resort.