The Evolving EU-Nigeria Social, Economic Alliance
The Evolving EU-Nigeria Social, Economic Alliance
The European Union (EU) has had a lot of successes since it was founded on November 1, 1993, in Maastricht, The Netherlands.
Although the body's activities actually started as far back as the 1950s with a different nomenclature, it formerly became a union in 1993.
Beginning as a pretty much amorphous geo-political entity with only six countries as members, it now covers a large portion of the European continent.
It was founded upon numerous treaties and has undergone expansions that have taken it from the founding six member states to 28, a majority of the states in Europe.
However, with the result of the Brexit, the number of member states is more accurately fixed at twenty-seven and half, pending when the negotiation of socio-economic and political relations between the EU and the United Kingdom is completed.
There is also growing global apprehension that with the surprising Brexit outcome, the shocking election of Donald Trump as the United States president and other seeming nationalist positions being taken by more prosperous nations around the world, the era of globalisation may be ebbing out, leaving regional bodies like the EU in need of urgent strategic reforms to remain relevant.
Conversely though, for its relationship with Africa, the EU has achieved quite a bit. From the EU observer missions to the various elections within the African continent which have tacitly forced many African dictators to play fairly during electioneering, to massive economic aids and cooperation, Europe has to a considerable extent shown commitment the well being of Africa.
Apart from Nigeria which has put up an argument against some provisions of the Economic Partnership Agreement (EPA) between the EU and Africa, Caribbean and Pacific (ACP) countries, most of the other countries and regions have endorsed the EPA, paving the way for massive trading between them and Europe.
EU Effort in Nigeria
The primary instrument for EU assistance is the European Development Fund (EDF). The current allocation to Nigeria from this global fund is around €512 million over the period 2014 to 2020. In addition, the EU provides funding from a number of other aid instruments such as humanitarian aid, support for civil society and assistance to fight terrorism.
The three priority sectors for the current development EU assistance are: In the social sector, improving access to quality primary health care, the fight against malnutrition and measures to strengthen resilience and promote social protection. Included here are support for routine and polio immunization campaigns, activities to improve access to clean water and sanitation, and reinforce livelihoods and revenue generation in rural populations through food and nutrition security.
As for the economy, the EU is helping to increase access to sustainable electricity, supporting efforts to improve conditions for economic growth with a focus on improving competitiveness and diversification, development of renewable energy and energy efficiency measures and strengthening public finance systems at state and federal levels, to create a stable environment for trade and investment activities.
In the governance sector, there is continued support for action to strengthen democracy in Nigeria, the fight against corruption, the fight against trafficking of human beings, drugs and small arms, the reform of the justice system, measures to manage migration more efficiently and effectively, and capacity building for civil society organisations.
All current European Union (EU) development cooperation activities in Nigeria are funded primarily through the allocation of EUR 689 million from the 10th European Development Fund (EDF) to the EU/Nigeria National Indicative Programme (NIP).
The only 11th EDF operations that are already being implemented are those funded from the Bridging Facility.
These are primarily an additional EUR 15 million towards the electoral process leading up to the elections in February 2015, an additional EUR 8.5 million towards the campaign to eradicate polio in Nigeria and EUR 1.5 million to provide psycho-social support and schools in a box to communities directly affected by Boko Haran violence in Borno and especially those in the Chibok area.
Operations in Nigeria funded under the EU Instrument contributing to Stability and Peace (IcSP) formerly called the Instrument for Stability and from various EU Thematic Budget lines are also included as is EU funded humanitarian assistance in Nigeria.
A Fresh Euro 44bn Fund
Also, last weekend, the EU announced that it has launched a €44 billion Africa economic development fund aimed at helping Nigeria and other African countries drive economic growth and development.
The Vice President, EU, Digital Single Market, Andrus Ansip, said the EU is already developing a strategic framework for the implementation and disbursement of the fund, maintaining that the EU is also designing security measures to ensure the fund is effectively and efficiently disbursed.
Ansip during a press briefing in Lagos explained that the fund which would be made available for disbursements in first quarter 2018 as credit money, was designed to help developing economies cover identified risks to attract foreign direct investments (FDIs).
The fund is also going to help the digital industry in Nigeria which the EU sees as one of the areas with the strongest growth potential.
He said: "Our aim is to help developing economies. We have decided to create the European external investment fund which is targeted at covering main risks to attract private investment. This kind of fund was really efficient in the European union (EU) where we created investment for strategic investment and we believe this fund will go a long way to help the African economy."
According to him, the fund would go a long way in reducing the number of refugees who seek greener pastures in European countries, saying that in the last two years, Europe has experienced the greatest mass movement of people since the second World war.
He pointed out that more than 1 million refugees and migrants have arrived in the EU, adding that EU has agreed on a range of measures to deal with the crisis.
"This fund meant for supporting development in African countries will be beneficial to the European countries as you know today that most people in Africa prefer to leave African countries to seek greener pastures in European countries. We are faced with lots of refugee crisis. To tackle this menace, we can provide some help to those countries to help build their economies instead of seeking refuge in Europe," he said.
He said: "Our aim is to support digital development in Africa and also help to build healthy economies in developing countries. The EU is the biggest donor of digital development aids. We believe the fragment of digital aid is little in developing countries, this is where we are.
The European Union wants to support digital development in Africa. We will like to provide financing to build strong and healthier economies in developing countries in Africa."
He said digital development in Nigeria and in other African countries has grown rapidly, noting that internet penetration has grown to over 80 per cent where 100 per cent of Nigerians now has access to Internet services.
"The development was much more rapid when compared to Europe. I believe in digital development for the bright future of Africa," he said.
He said funds are important for economic development, but stressed that ideas and how to cooperate with other African countries is even more critical to get more assistance of development funds.
He said African countries must create the right environment for digital development, create an effective regulatory environment that would have a much bigger influence than funds in the future of African countries.
Ecobank Group Appoints Jubril Mobolaji Lawal as Regional Executive and Managing Director Designate for Ecobank Nigeria
Ecobank Group, the leading pan-African banking group, announces that Jubril Mobolaji Lawal has been appointed as Regional Executive and Managing Director designate of Ecobank Nigeria, subject to the approval of the Central Bank of Nigeria.
The appointment is made ahead of Patrick Akinwuntan's upcoming retirement, due to him reaching retirement age in January 2022.
Mobolaji Lawal joins Ecobank having been a versatile senior banking executive and digital transformation specialist for over 28 years with Guaranty Trust Bank Plc. He has deep involvement and experience in digital and retail banking, corporate and commercial banking, credit risk management and corporate finance. His previous experience includes being Executive Director at GTBank Plc Nigeria, and Non-Executive Director roles at both GTBank Ghana Limited and Nigeria Interbank Settlement Systems Plc. Mobolaji led the team that envisioned and implemented GTBank Plc's retail and digital banking strategy to achieve industry-wide leadership over a ten-year period and he introduced new products and solutions that have helped to deepen payments and access to digital financial services in Nigeria.
Mobolaji was selected and appointed as Managing Director designate following a keenly contested selection process, which included both internal and external candidates.
Mobolaji Lawal holds a Bachelor of Law degree from the Obafemi Awolowo University, Nigeria; B.L. from the Nigerian Law School and a Master of Business Administration from Oxford University, United Kingdom. He has also attended several executive management and banking specific developmental programmes at leading educational institutions including Harvard Business School, Stanford Graduate School of Business and Institut Européen d'Administration des Affaires (INSEAD).
Commenting on the appointment, Ade Ayeyemi, CEO, Ecobank Group said: "We welcome Mobolaji Lawal to the Ecobank Group and we stand to benefit from the extensive experience that he has acquired in various fields across banking, which will play a major role in continuing to rebuild our franchise in Nigeria. Nigeria is a key market for us, in which we have seen significant improvement over the past three years as we reposition and leverage upon our pan-African strengths in digital products and services, payments and as the go-to-bank for businesses seeking to grasp the growth opportunities being created by the AfCFTA, across all our markets on the continent. I wish Mobolaji the best and assure him of both my support and that of the entire Ecobank Group."
Mrs. Bola Adesola, the Chairman of the Board of Ecobank Nigeria said: "We look forward to working with Mobolaji and assure him of the full support of the Board, Management and all the staff of Ecobank Nigeria. The business in Nigeria is on the path of transformation and we are confident that Mobolaji will have significant impact in advancing our positive trajectory."
Mobolaji Lawal will assume the position of Managing Director, Ecobank Nigeria, upon receiving the approval of the Central Bank of Nigeria and after Patrick Akinwuntan retires.
South Africa Encourages Nigerian Businesses to Expand to the Country
In an effort to improve trade relations between Nigeria and South Africa, the South African High Commissioner to Nigeria Thamsanqa Dennis Mseleku has implored more Nigerian businesses (especially financial institutions) to expand their businesses to South Africa.
The South African representative revealed that the South African consulate was currently working on issuing Nigerian business owners (or operators) visas valid for ten years, in order to further bolster business relationship between both countries.
This was mentioned by Mseleku yesterday on 'The Morning Show', a programme which is monitored closely by Arise news, on which he also noted that the bilateral agreements being signed by both countries would be fully executed in the coming years.
According to Mseleku, Nigerian businesses are operating in South Africa, with the issue being raised back in 2019 when President Buhari was present in South Africa specifically talking about Access Bank and Air Peace. Mseleku stated that Access Bank has since opened up a branch in South Africa, and Air Peace is now making flights to and from South Africa.
Mseleku then said,"So, the issue is that we must encourage more businesses that want to go to South Africa from Nigeria to do so particularly in the financial sector."
This prospective deal between both countries is promising, because the encouragement of Nigerian businesses to come into South Africa may eventually lead to more South African businesses coming into Nigeria to operate. The moves will undoubtedly boost the economies of both countries.
It may also encourage other African countries to engage in trades and have bilateral or multilateral agreements with other African countries, boosting economies across the entire continent.
Mseleku also noted that some South African countries were pulling out of Nigeria, which he cited as one of the reasons for the visit of the South African President.
He also addressed the inaccessibility of visa to business personnel, saying that the country is agreeing and would go on implementing longer term visas for them. He then mentioned the 10 years visa which the country is considering.
All Business Stakeholders Will Benefit from Stronger ESG Policies, Says GlobalData
The age-old view that addressing environmental, social and governance (ESG) issues will make a dent in profits is a myth, says GlobalData. The leading data and analytics company notes that businesses that embrace all three elements of ESG will actually outperform their peers.
Cyrus Mewawalla, Head of Thematic Research at GlobalData, comments: "The reluctance of many CEOs to fully engage with sustainability can be attributed to the age-old view that it will hurt profits. However, GlobalData's research suggests the opposite: CEOs that are too slow to improve their company's approach to ESG will see an exodus of customers and a drop in profits far sooner than they ever imagined."
GlobalData's latest thematic report, 'Thematic Research: ESG – Top Trends by Sector', notes that, while saving the planet used to just equate to implementing sustainable practices such as 'limiting the use of plastics' and 'reducing carbon footprint', 'sustainability' has morphed into an umbrella term that includes all aspects of ESG issues. The company proposes an ESG framework that identifies key areas in which companies should invest. One of these is climate change.
Luke Gowland, Analyst in the Thematic team at GlobalData, comments: "With COP26 setting the agenda on climate change, companies are focusing their efforts on tackling carbon emissions by switching to renewable energy and undertaking energy efficiency projets. However, companies must excel across all three aspects of ESG, and not overlook the importance of strong social performance and having the correct governance structures in place to achieve ESG goals."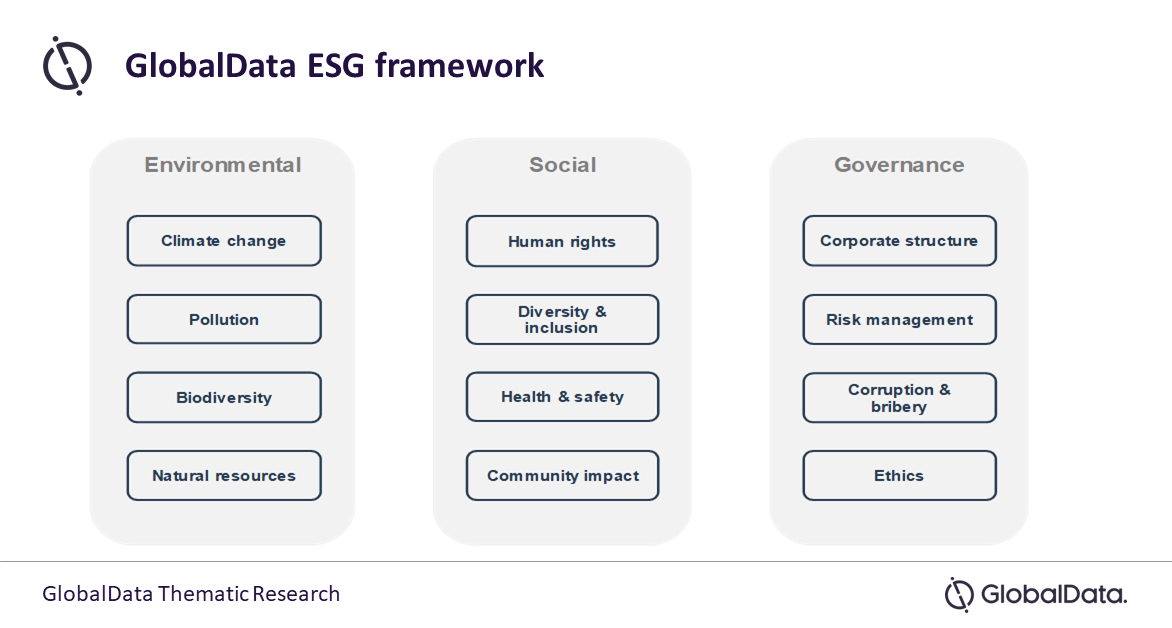 Citizens, governments, regulators, and the media are turning the spotlight on corporations and demanding action. Social inequality, corruption, tax avoidance, and a lack of action on climate change are all issues that companies must now address head-on, in full public view.
Since Q1 2021,GlobalData has been asking respondents to detail their company's approach to ESG goals In Thematic Sentiment Analysis, Q3 2021, conducted in Q3 2021, nearly a quarter of respondents thought that, for most companies, ESG was just a marketing exercise.
Gowland continues: "Our latest sentiment analysis report shows that more companies have changed their behavior to meet ESG goals (33%) than not (22%). While the attitudes towards ESG are improving, there is a long way to go."