Fed: Rate Hike Appropriate in 'Coming Months'
Federal Reserve Chair Janet Yellen said the ongoing improvement in the U.S. economy would warrant another interest rate increase "in the coming months," stopping short of giving an explicit hint that the central bank would act in June.
"It's appropriate — and I've said this in the past — for the Fed to gradually and cautiously increase our overnight interest rate over time," Yellen said Friday during remarks at Harvard University in Cambridge, Massachusetts. "Probably in the coming months such a move would be appropriate."
Yellen will host her colleagues on the Federal Open Market Committee in Washington June 14-15, when they will contemplate a second interest-rate increase following seven years of near-zero borrowing costs that ended when they hiked in December. A series of speeches by Fed officials and the release of the minutes to their April policy meeting have heightened investor expectations for another tightening move either next month or in July.
"The economy is continuing to improve," she said in a discussion with Harvard economics professor Gregory Mankiw. She added that she expects "inflation will move up over the next couple of years to our 2 percent objective," provided headwinds holding down price pressures, including energy prices and a stronger dollar, stabilize alongside an improving labor market.
Several regional Fed presidents, ranging from Boston Fed President Eric Rosengren to San Francisco's John Williams, have in recent weeks urged financial market participants to take more seriously the chances of a rate hike in the next two months, pointing to continued signs of steady if unspectacular growth in the U.S. economy and the waning of risks posed by global economic and financial conditions.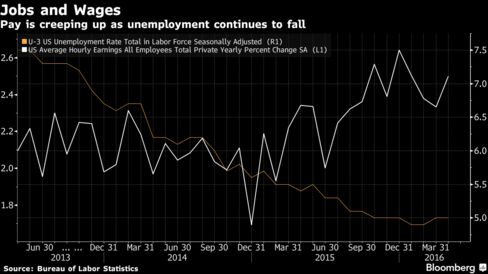 Left scale – hourly earnings; right scale – unemployment
"It sounds like the committee is close to a rate hike, assuming the data hold up, but that no decisions have been made about the precise timing," Laura Rosner, a senior U.S. economist at BNP Paribas in New York, said in an e-mail. "It will be a collective decision."
The U.S. labor market has continued to expand even as the jobless rate has declined to 5 percent, which many economists consider to be close to or at full employment. Inflation and wages have also shown signs of edging up, a trend the Fed has longed for but is anxious to keep under control. The May employment report will be released on June 3, three days before Yellen is scheduled to speak publicly again, this time in Philadelphia.
More than incoming economic data, market sentiment over the June meeting has been shifted by FOMC member comments and by the April meeting minutes. Those records, released May 18, showed a majority on the committee favored a June rate increase if the economy continued to improve.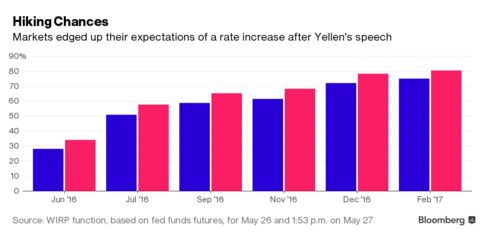 Odds of a June rate hike implied by pricing in federal funds futures contracts were 32 percent following her remarks compared to 28 percent earlier on Friday and about 4 percent two weeks ago.
The FOMC accompanied its December rate hike with projections showing officials expected to raise rates four more times in 2016. Amid renewed worries over global growth and a bout of turmoil in financial markets in January and February, the committee has since held rates steady and cut its median projection for the number of 2016 quarter-point rate increases to two.
Yellen, 69, accepted the Radcliffe Medal, an award given annually by Harvard's Radcliffe Institute for Advanced Studies to "an individual who has had a transformative impact on society," according to its website. Supreme Court Justice Ruth Bader Ginsburg received the award in 2015.
CBN Freezes Another 194 Accounts of firms, BDCs, Others
The Central Bank of Nigeria on Thursday said it got orders from the Federal High Court, Abuja division, to freeze 194 bank accounts belonging to firms and Bureaux de Change to enable it to conduct investigations into suspicious activities.
It disclosed this on Thursday in three separate documents on its website.
In one of the documents, the CBN said it got an order to freeze 60 bank accounts of Bluebeam Capital Limited.
The accounts were domiciled in 13 different banks, the CBN as the plaintiff stated.
Bluebeam, as the respondent had eight accounts each in Access Bank and Keystone Bank; seven each in First Bank and Ecobank; five each in UBA and GTBank; four each in Fidelity Bank, FCMB and Sterling Bank; three accounts in Polaris Bank; two each in Wema Bank and Heritage Bank; and one in Providus Bank.
In another document, the CBN said it got an order to freeze 84 accounts in 17 banks.
The third document revealed that the banking regulator had the court order to freeze 50 accounts domiciled in different banks.
The motions exparte which were signed on different dates sought the orders of the court to direct the banks to freeze all other bank accounts of the defendants for a period of 180 days, pending the outcome of investigation and inquiry being conducted by the CBN.
In the document signed by the Presiding Judge, A.R. Mohammed, the court empowered the CBN to direct the banks to freeze all the bank accounts for a period of 45 days only, pending the outcome of the investigation.
It added that the order may be extended upon good reasons shown.
Any person aggrieved by this order could apply to the court to have the order set aside, discharged or have the order reviewed upon good reasons without waiting for the 45 days to lapse, the document stated.
The CBN on Wednesday disclosed it got an order to freeze 11 bank accounts to enable it conduct investigations into suspicious activities.
It had listed the names of the defendants/respondents as Albert Austin Ugochukwu with two bank accounts; Belfour Energy & Allied Services; Belfour Oil and Gas Limited with three bank accounts; Circle Flow Integrated Services; Kacynaus Reality Nigeria Limited with three bank accounts; and Tasmara Integrated Services.
Insider Dealing: Henry Oroh, An Executive Director of Zenith Bank, Acquires N46.982 Million Worth of Zenith Bank Shares
Henry Oro, an executive director of Zenith Bank Plc, has dumped N46.982 million on shares of Zenith Bank, according to the latest filing with the Nigerian Stock Exchange.
The executive director purchased Zenith Bank's shares of 724,527 on April 1st, 2021 at N22.05 each or N15.976 million.
On April 6th, Oroh added 612,573 shares at N22 a unit and another 400,000 units at N21.90 per share.
On the same day, he purchased another 400,000 units at N21.90 a share. Bringing aggregate purchase on April 6th to 1,412,573 at an average price of N21.95 a unit or N31.006 million.
Henry Oroh has spent a total of N46.982 million on Zenith shares in April.
Henry Oroh was appointed as Zenith Bank's executive director on September 1st, 2019 and holds a Bachelor's Degree in Accounting from the University of Benin, Edo State and an MBA from the Lagos State University as well as an LLB Degree from the University of London.
He is a Fellow of the Institute of Chartered Accountants of Nigeria (ICAN) and an honorary member of the Chartered Institute of Bankers (CIBN), Nigeria.
He has over two decades of banking experience. He began his banking career in 1992 at Citibank where he served for seven (7) years in Operations, Treasury and Marketing.
He joined Zenith Bank in February 1999 and has worked in various Groups and Departments within the Zenith Group Office. His expertise spans Operations, Information Technology, Treasury, Marketing, including the Manufacturing, Food and Beverages, Pharmaceuticals, Oil and Gas, Public Sector, Consumer, as well as Corporate Banking and Business Development.
In April 2012, he was seconded to Zenith Bank Ghana Limited as an Executive Director and became the Managing Director/ Chief Executive in February 2016, where he successfully spearheaded the phenomenal growth of the Zenith Brand both within the Ghana market and the West African sub-region.
Henry has attended several Leadership Programmes and Executive Management Courses at the Harvard Business School, Columbia Business School, New York, University of Chicago, University of Pennsylvania, HEC Paris, JP Morgan Chase, UK and the Lagos Business School.
He comes to the Board of Zenith Bank Plc with strong competencies in Credit & Marketing, Operations, Information Technology, Treasury and impressive Leadership skills.
Access Bank Lagos City Marathon Adopts Virtual Audience For 10km Runners
In a bid to ensure the health and safety of all runners and essential service workers amid the global COVID-19 pandemic, the title sponsors of the Access Bank Lagos City Marathon, Access Bank PLC, has announced that the Lagos City Marathon will be held virtually for interested 10km runners this year.
The marathon, scheduled for April 10, 2021 can only accommodate 300 runners in line with the guidelines provided by the World Health Organisation (WHO), World Athletics and the Lagos State Ministry of Health.
Speaking on the development, Access Bank's Executive Director of Retail Banking, Victor Etuokwu said, "Our primary consideration is the health and safety of participants, attendees and staff that will be a part of the Lagos City Marathon. This is why we decided to have an exclusive virtual event – that allows participants from all over the world to run the race wherever they are.
''While we regret that we can't host the live 10km race and fanfare that have become synonymous with the Access Bank Lagos City Marathon, we continue to stand with the other sponsors to preserve public health as we look forward to hosting a successful marathon. We implore all well-meaning Lagosians to please adhere to the movement guidelines put in place by the Lagos State Government to ensure that the marathon fulfills its purpose of positively placing Lagos and indeed the whole of Africa on the global map," he concluded.
Though audience participation may have changed, the organisers have also announced that the race route will largely remain the same. Runners will begin the race from the National Stadium, Surulere, opposite Teslim Balogun Stadium and finish at the Eko Atlantic City, Victoria Island.
Now in its sixth edition, the Silver – Labelled Access Bank Lagos City Marathon has featured over 200,000 registered athletes from over 12 participating countries collectively covering a distance of 42,000 kilometers.