Fed: Rate Hike Appropriate in 'Coming Months'
Federal Reserve Chair Janet Yellen said the ongoing improvement in the U.S. economy would warrant another interest rate increase "in the coming months," stopping short of giving an explicit hint that the central bank would act in June.
"It's appropriate — and I've said this in the past — for the Fed to gradually and cautiously increase our overnight interest rate over time," Yellen said Friday during remarks at Harvard University in Cambridge, Massachusetts. "Probably in the coming months such a move would be appropriate."
Yellen will host her colleagues on the Federal Open Market Committee in Washington June 14-15, when they will contemplate a second interest-rate increase following seven years of near-zero borrowing costs that ended when they hiked in December. A series of speeches by Fed officials and the release of the minutes to their April policy meeting have heightened investor expectations for another tightening move either next month or in July.
"The economy is continuing to improve," she said in a discussion with Harvard economics professor Gregory Mankiw. She added that she expects "inflation will move up over the next couple of years to our 2 percent objective," provided headwinds holding down price pressures, including energy prices and a stronger dollar, stabilize alongside an improving labor market.
Several regional Fed presidents, ranging from Boston Fed President Eric Rosengren to San Francisco's John Williams, have in recent weeks urged financial market participants to take more seriously the chances of a rate hike in the next two months, pointing to continued signs of steady if unspectacular growth in the U.S. economy and the waning of risks posed by global economic and financial conditions.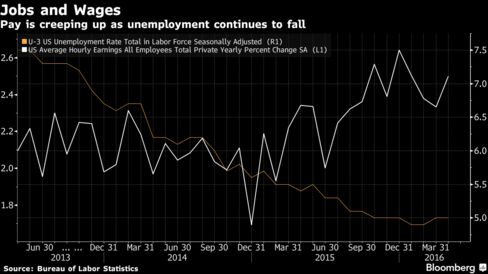 Left scale – hourly earnings; right scale – unemployment
"It sounds like the committee is close to a rate hike, assuming the data hold up, but that no decisions have been made about the precise timing," Laura Rosner, a senior U.S. economist at BNP Paribas in New York, said in an e-mail. "It will be a collective decision."
The U.S. labor market has continued to expand even as the jobless rate has declined to 5 percent, which many economists consider to be close to or at full employment. Inflation and wages have also shown signs of edging up, a trend the Fed has longed for but is anxious to keep under control. The May employment report will be released on June 3, three days before Yellen is scheduled to speak publicly again, this time in Philadelphia.
More than incoming economic data, market sentiment over the June meeting has been shifted by FOMC member comments and by the April meeting minutes. Those records, released May 18, showed a majority on the committee favored a June rate increase if the economy continued to improve.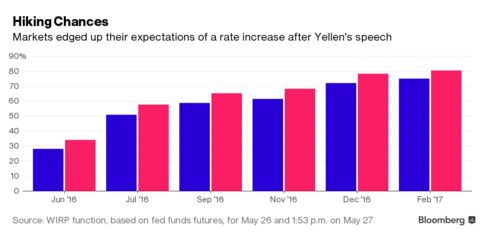 Odds of a June rate hike implied by pricing in federal funds futures contracts were 32 percent following her remarks compared to 28 percent earlier on Friday and about 4 percent two weeks ago.
The FOMC accompanied its December rate hike with projections showing officials expected to raise rates four more times in 2016. Amid renewed worries over global growth and a bout of turmoil in financial markets in January and February, the committee has since held rates steady and cut its median projection for the number of 2016 quarter-point rate increases to two.
Yellen, 69, accepted the Radcliffe Medal, an award given annually by Harvard's Radcliffe Institute for Advanced Studies to "an individual who has had a transformative impact on society," according to its website. Supreme Court Justice Ruth Bader Ginsburg received the award in 2015.
CBN Starts Debiting Defaulters of Its Intervention Loans
The Central Bank of Nigeria (CBN) has begun debiting the account of intervention loan defaulters.
The Central Bank of Nigeria (CBN) has begun debiting the account of intervention loan defaulters.
The apex bank declared this at the last Monetary Policy Committee (MPC) meeting held in Abuja. It further noted that States Governments and smallholder farmers form a large part of the defaulter. 
It will be recalled that the Central Bank disclosed in August that about N791 billion was disbursed to more than 3 million farmers under the Anchor Borrowers' Program (ABP) and Commercial Agric Credit. 
ABP was launched by Muhammad Buhari on November 17, 2015 to assist Smallholders Farmers. ABP was created to reduce the pains faced by farmers in accessing credit for their operations. It had a single interest rate of nine percent.
Some of the benefiting smallholder farmers are those engaged in the production of rice, maize, wheat, cotton, cassava, potatoes, yam, ginger, oil palm, cocoa, rubber tomatoes, fish and poultry among others.
According to the director of development finance of the CBN, Yusuf Yila, state governments' monthly federation account allocation committee (FAAC) accruals are already being debited directly every month. He however did not specify the states involved.
"Every person(s) or state that took that loan (ABP) is going to pay. We have their BVN. These persons are smallholder farmers, who received funds for farming. We have started recovering loans from state governments. We have been doing a loan workout programme with them, and we are debiting their monthly Federal Allocation Account (FAAC) accruals directly for the loans", he stated.
"If a state government has taken N1 billion and is already in default, over six months, we debit them N150 million every month. So, we've started that programme." He continued. So, every single loan that has been given out through any of our intervention programmes must be paid back." He added
Yila, also mentioned that the CBN has put sentiment aside and is determined to collect the money it is owed. 
 "There is absolutely no mercy. We have started; we are in recovery mode. At the development finance department, we have begun to recover the loans", he stated.
Five Million Passengers Used Abuja Airport in 2021
More than five million passengers used Nnamdi Azikiwe International Airport, (NAIA) Abuja, between January and December 2021.
More than five million passengers used Nnamdi Azikiwe International Airport, (NAIA) Abuja, between January and December 2021.
The Federal Airport Authority of Nigeria (FAAN) has disclosed that 5,323,905 passengers were processed through the Nnamdi Azikiwe International Airport (NAIA) Abuja in 2021. This represents a 37.23 per cent increase from 2020.
Speaking in Abuja at the celebration of the 40th anniversary of the Airport, the Managing Director of FAAN, Captain Hamisu Yadudu noted that the airport continued to wax stronger and higher. 
Captain Hamisu further noted that for easy movement of passengers, the Federal Government has completed and commissioned a world-class, brand-new international terminal. 
"I am glad that the airport has continued to grow in leaps and bounds since then. In the year 2021 for example, a total of 5,323,905 passengers were processed through the airport, which was a whopping 37.23% increase on the year 2020 figures. In terms of the facility upgrade, the airport also has been quite progressive". The MD stated.
Hamisu also noted that Abuja airport was adjudged the Best Airport in Safety for the year 2018 by Airport Council International, Africa Region while the airport also received ACI's Airport Service Quality Award in the year 2020, among several others laurels. 
The MD, therefore, laud the contributions of all staff, both past and present, as well as partners and stakeholders for the last 40 years.
Meanwhile, the Regional General Manager/ Airport Manager of NAIA, Abuja, Kabir Mohammed revealed that the Federal Executive Council (FEC) has approved the construction of a new runway at Abuja airport. 
He added that the new runway will come with a new terminal and a new fire station. 
Nnamdi Azikiwe International Airport (NAIA) is one of the most used and functional airports in Nigeria. It was established on the 29th of September, 1982. Sited at the seat of power, the airport is often used by the president, majority of the public office holders, visiting presidents and foreign diplomats. 
World Bank Approves $750 Million Loan For Nigeria
The World Bank has approved a sum of $750 million to help Nigeria in its efforts to create more jobs. 
The World Bank has approved a sum of $750 million to help Nigeria in its efforts to create more jobs. 
A statement released by the World Bank on Thursday commended the Nigerian government in its efforts to eliminate constraints in the business environment through the Presidential Enabling Business Environment Council (PEBEC). 
The world bank further noted that although Nigeria's ability to attract both domestic and international foreign investment remains low when compared to its peers, the country is capable to drive private investment to high growth
According to the statement which was released on Thursday,  the World Bank nonetheless stated that the fund will help Nigeria to accelerate the implementation of critical actions that will improve the business-enabling environment in the country.
Investors King learnt that though Nigeria moved by 38 places on the global ranking of ease of doing business between 2016 and 2019 from 169 to 131, the previous gains seem to have been wiped out after the adverse effect of covid19 and the current economic challenges. 
Similarly, in June 2022, a publication by the World bank also decried the cumbersome customs procedures in Nigeria, especially at the Nigeria port. 
The report stated that Nigeria's tariffs are among the highest in the world, especially for capital, intermediate and consumer goods. 
In recent times, there has been a series of complaints about the activities of the Nigerian Customs Service which could be detrimental to goods importation. Manufacturers and importers have an alleged arbitrary approach that the Nigeria Custom is using for duty valuation. 
They argued that it was not helpful for Customs to use the Consumer Price Index (CPI) to compute value and charge duty, given the high cost of local production.
Consumer Price Index is used to measure the overall change in consumer prices based on a representative basket of goods and services over time.