Fed: Rate Hike Appropriate in 'Coming Months'
Federal Reserve Chair Janet Yellen said the ongoing improvement in the U.S. economy would warrant another interest rate increase "in the coming months," stopping short of giving an explicit hint that the central bank would act in June.
"It's appropriate — and I've said this in the past — for the Fed to gradually and cautiously increase our overnight interest rate over time," Yellen said Friday during remarks at Harvard University in Cambridge, Massachusetts. "Probably in the coming months such a move would be appropriate."
Yellen will host her colleagues on the Federal Open Market Committee in Washington June 14-15, when they will contemplate a second interest-rate increase following seven years of near-zero borrowing costs that ended when they hiked in December. A series of speeches by Fed officials and the release of the minutes to their April policy meeting have heightened investor expectations for another tightening move either next month or in July.
"The economy is continuing to improve," she said in a discussion with Harvard economics professor Gregory Mankiw. She added that she expects "inflation will move up over the next couple of years to our 2 percent objective," provided headwinds holding down price pressures, including energy prices and a stronger dollar, stabilize alongside an improving labor market.
Several regional Fed presidents, ranging from Boston Fed President Eric Rosengren to San Francisco's John Williams, have in recent weeks urged financial market participants to take more seriously the chances of a rate hike in the next two months, pointing to continued signs of steady if unspectacular growth in the U.S. economy and the waning of risks posed by global economic and financial conditions.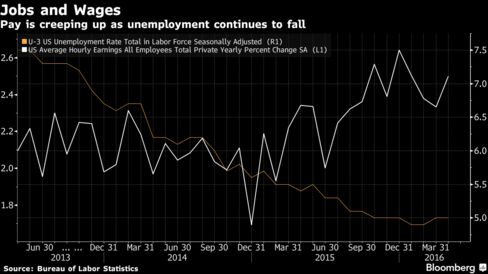 Left scale – hourly earnings; right scale – unemployment
"It sounds like the committee is close to a rate hike, assuming the data hold up, but that no decisions have been made about the precise timing," Laura Rosner, a senior U.S. economist at BNP Paribas in New York, said in an e-mail. "It will be a collective decision."
The U.S. labor market has continued to expand even as the jobless rate has declined to 5 percent, which many economists consider to be close to or at full employment. Inflation and wages have also shown signs of edging up, a trend the Fed has longed for but is anxious to keep under control. The May employment report will be released on June 3, three days before Yellen is scheduled to speak publicly again, this time in Philadelphia.
More than incoming economic data, market sentiment over the June meeting has been shifted by FOMC member comments and by the April meeting minutes. Those records, released May 18, showed a majority on the committee favored a June rate increase if the economy continued to improve.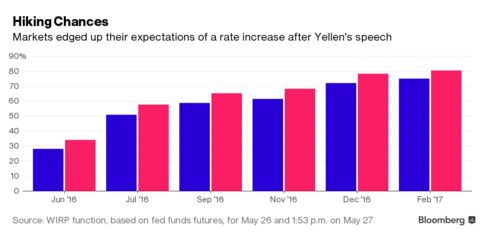 Odds of a June rate hike implied by pricing in federal funds futures contracts were 32 percent following her remarks compared to 28 percent earlier on Friday and about 4 percent two weeks ago.
The FOMC accompanied its December rate hike with projections showing officials expected to raise rates four more times in 2016. Amid renewed worries over global growth and a bout of turmoil in financial markets in January and February, the committee has since held rates steady and cut its median projection for the number of 2016 quarter-point rate increases to two.
Yellen, 69, accepted the Radcliffe Medal, an award given annually by Harvard's Radcliffe Institute for Advanced Studies to "an individual who has had a transformative impact on society," according to its website. Supreme Court Justice Ruth Bader Ginsburg received the award in 2015.
Osinbajo Lauds China on Loans Offered to Africans, Repayment System
Nigeria's Vice President, Prof. Yemi Osinbajo has commended the Chinese government for the loans given to African countries and its repayment system.
According to Osinbajo, the Chinese loans have reduced the reliance of Africans on international financial institutions like the World Bank, and International Monetary Fund amongst others.
He stated these at King's College, London on March 27, 2023 while delivering a public lecture on 'China's Investment in Africa, Investors King reports.
The Vice President lauded China for constantly meeting the needs of African countries which has reduced the burden on the western institutions.
He further mentioned that the loan servicing system was made easy to aid the African economies, especially during the Covid-19 Pandemic in 2020. 
Through its Debt Service Suspension Initiative (DSSI), China offered 73 low income economies suspension of principal and interest payments.
"Chinese banks provided 63% of the total debt relief while being only owed 30% of the debt service payments due," Osinbajo noted.
The VP pointed out that China is the largest provider of foreign direct investment which provides jobs for hundreds of thousands of Africans.
On Chinese investment in Africa, Osinbajo stated that $254 billion was disbursed in 2021 which was calculated as four times the volume of US-Africa trade.
"China remains by far the largest lender to African countries. Chinese companies have also taken the lead in exploiting minerals in Africa, many now in lithium mining in Mali, Ghana, Nigeria, DRC, Zimbabwe and Namibia. Most African countries are rightly unapologetic about their close ties with China. China shows up where and when the west will not or are reluctant.
"And many African countries are of the view that the 'beware of the Chinese Trojan loans' advice from the west is wise but probably self serving. Africa needs the loans and the infrastructure. And China offers them."
"All of Chinese lending to Africa is only 5% of all outstanding public and publicly guaranteed debt in low and middle income countries, compared to 23% held by the World Bank and other multilaterals. Chinese lenders account for 12 per cent of Africa's private and public external debt," the vice president stated.
FirstBank Announces a Name Change of its Subsidiaries, Reiterates its Commitment to Boosting Cross-border Payments
First Bank of Nigeria Limited, Nigeria's premier financial services institution, has announced a phased corporate name change of its subsidiaries in the United Kingdom and Sub-Saharan Africa.
FBNBank UK, FBNBank Sierra Leone, FBNBank Gambia and FBNBank DRC are the first set of subsidiaries effecting the name alignment. They are now known and addressed as FirstBank UK, FirstBank Sierra Leone, FirstBank Gambia and FirstBank DRC. The Ghana, Senegal and Guinea subsidiaries will be next in the phased name change implementation.
The name change is being implemented to align the subsidiaries with the parent brand and to enjoy the strong heritage and brand equity built by FirstBank Nigeria in its 129 years of banking leadership. This will further enhance the quality-of-service delivery resulting in better brand clarity, uniformity and consistency across all the markets where the Bank operates.
A leading financial inclusion services provider, FirstBank Group is committed to its nation-building goal. It has taken giant performance strides on its unique growth trajectory as it continues to build distinctive capabilities through partnerships and the constant drive to reinvent itself.
This performance is evidenced in the numerous awards and recognitions bestowed on the institution. These awards include Best Private Bank for Sustainable Investing in Africa 2023 by Global Finance Awards; Best Corporate Bank in Western Africa 2022 by Global Banking; Finance; Best CSR Bank Africa by International Business Magazine in 2022; and ranked as number one in Nigeria in terms of Overall Performance; Profitability; Efficiency and Return o Risk by the Top 100 African Bank Rankings 2022 released by The Banker Magazine from the stables of Financial Times.
In addition, in Euromoney Market Leaders, an independent global assessment of the leading financial service providers conducted by Euromoney Institutional Investor Plc., the Bank was crowned: Market Leader in Corporate and Social Responsibility (CSR); Market Leader in Environmental, Social and Governance (ESG); Highly Regarded in Corporate Banking and Digital Solutions and Notable: in SME Banking.
Speaking on the name change, Dr. Adesola Adeduntan, CEO of FirstBank Group, said " the name change which coincides with FirstBank's 129th founding anniversary (March 31 st , 2023) is indeed a milestone reflective of our resolve to continuously provide the gold standard of excellence and value as we put our customers First.  The new identity of the subsidiaries contributes to an enhanced brand presence. It helps our customers and stakeholders better appreciate the value of the diversified products suites, competitive pricing and extensive business networks the FirstBank Group offers. These include our commitment to boosting cross-border businesses including trade and investment opportunities essential to enhancing trade relations amongst countries, thereby strengthening the economies of host communities and reducing poverty," he concluded.
First Bank Denies Forgery Allegation in Face of Legal Battle with Loan Defaulter
First Bank of Nigeria Limited has issued a denial against the forgery allegation made by Francis Chukwumah Nwufor, the owner of Whiteplains British School.
In the lawsuit marked CR/266/2023, the federal ministry of justice had accused the bank of forging a "tripartite legal mortgage without the consent of Mr Francis Chukwumah Nwufor, with intent to commit fraud."
In an official statement, First Bank described the accusation as a spurious allegation made by a delinquent debtor, which is aimed at tainting the bank's loan recovery efforts and legal enforcement of its security collateral interest in line with the terms of the loan.
The bank emphasized that it operates by the highest standards of ethical conduct and will under no circumstances involve itself in any act of illegality. It further assured its numerous customers, stakeholders, and the general public that it remains focused on its mission of providing the best financial services.
The case has been adjourned until May 8th, as the prosecution lawyer stated that all the defendants had yet to be served with the charge.
It is common for loan defaulters to resort to legal battles with banks and this case is no different. However, it is important for both parties to ensure that the matter is handled in a transparent and legal manner.
First Bank's denial of the allegation is a clear indication that it is standing firm against any attempt by recalcitrant debtors to fritter away depositors' funds under its custody. The bank's focus on its mission of providing the best financial services to its numerous customers is commendable and should be the guiding principle for all financial institutions.