Billionaire Soros Cuts U.S. Stocks by 37%, Buys Gold Miner
Billionaire George Soros cut his firm's investments in U.S. stocks by more than a third in the first quarter and bought a $264 million stake in the world's biggest bullion producer Barrick Gold Corp.
The value of Soros Fund Management's publicly disclosed holdings dropped by 37 percent to $3.5 billion as of the end of the last quarter, according to a government filing Monday. Soros acquired 1.7 percent of Barrick, making it the firm's biggest U.S.-listed holding. Soros also disclosed owning call options on 1.05 million shares in the SPDR Gold Trust, an exchange-traded fund that tracks the price of gold.
Soros, who built a $24 billion fortune through savvy wagers on markets, has warned of risks stemming from China's economy, arguing its debt-fueled economy resembles the U.S. in 2007-08, before credit markets seized up and spurred a global recession. In January, the former hedge fund manager turned philanthropist said a hard landing in China was "practically unavoidable," adding that such a slump would worsen global deflationary pressures, drag down stocks and boost U.S. government bonds.
Soros sold a stake in Level 3 Communications Inc. which was worth $173 million as of Dec. 31 and a holding in Dow Chemical Co. that was worth $161 million. The family office also divested its stakes in Endo International Plc and Delta Air Lines Inc.
Druckenmiller's Take
Soros's former chief strategist, billionaire investor Stan Druckenmiller, is also bullish on gold. Earlier this month he called gold his largest currency allocation as central bankers experiment with the "absurd notion of negative interest rates."
Gold for immediate delivery jumped 16 percent in the first three months of the year, the biggest quarterly surge since 1986, according to Bloomberg generic pricing. Shares of Toronto-based Barrick have more than doubled this year as the miner accelerates cost-cutting efforts and reduces debt. Barrick is up 39 percent since March 31.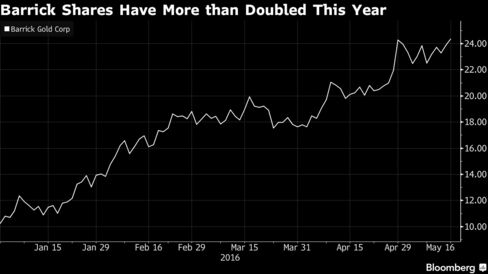 Soros returned money to outside investors five years ago and his New York-based firm now manages his own wealth. Michael Vachon, a spokesman for Soros, declined to comment on the firm's holdings.
Glenview Capital Management, the hedge fund run by Larry Robbins, also cut its investments of U.S.-listed stocks last quarter. The value of his firm's equity holdings fell by 22 percent to $13.6 billion, a filing shows.
Money managers who oversee more than $100 million in equities in the U.S. must file a Form 13F within 45 days of each quarter's end to list those stocks as well as options and convertible bonds. The filings don't show non-U.S. securities, holdings that aren't publicly traded or cash.
Gold Prices Rise as Soft Dollar Supports Safe-haven Appeal
Gold prices firmed on Monday, propped up by a subdued dollar and slight retreat in the U.S. Treasury yields, with investors gearing up for a week of speeches from U.S. Federal Reserve policymakers for cues on the central bank's rate hike path.
Spot gold was up 0.5% at $1,759.06 per ounce, as of 0400 GMT, while U.S. gold futures were up 0.4% at $1,759.00.
While the dollar index softened, the benchmark 10-year Treasury yields eased after hitting their highest since early-July. A weaker dollar offered support to gold prices, making bullion cheaper for holders of other currencies.
"Gold is still looking slightly precarious where it is right now, and it's probably bouncing off key technical level around $1,750," IG Market analyst Kyle Rodda said.
"Gold remains an yield story and that yield story is very much tied back to the tapering story."
A slew of Fed officials are due to speak this week including Chairman Jerome Powell, who will testify this week before Congress on the central bank's policy response to the pandemic.
"There'll be a lot of questions being put to Fed speakers about what the dot plots implied last week and weather there is higher risk of heightened inflation going forward and that rate hikes could be coming in the first half of 2022," Rodda added.
A pair of Federal Reserve policymakers said on Friday they felt the U.S. economy is already in good enough shape for the central bank to begin to withdraw support for the economy.
Gold is often considered a hedge against higher inflation, but a Fed rate hike would increase the opportunity cost of holding gold, which pays no interest.
Investors also kept a close watch on developments in debt-laden property giant China Evergrande saga as the firm missed a payment on offshore bonds last week, with further payment due this week.
Holdings of SPDR Gold Trust, the world's largest gold-backed exchange-traded fund, increased 0.1% to 993.52 tonnes on Friday from 992.65 tonnes in the prior session.
Silver rose 0.9% to $22.61 per ounce.
Platinum climbed 1.3% to $994.91, while palladium gained 0.7% to $1,985.32.
Brent Crude Oil Near $80 Per Barrel Amid Supply Constraints
Oil prices rose for a fifth straight day on Monday with Brent heading for $80 amid supply concerns as parts of the world sees demand pick up with the easing of pandemic conditions.
Brent crude was up $1.14 or 1.5% at $79.23 a barrel by 0208 GMT, having risen a third consecutive week through Friday. U.S. Oil added $1.11 or 1.5% to $75.09, its highest since July, after rising for a fifth straight week last week.
"Supply tightness continues to draw on inventories across all regions," ANZ Research said in a note.
Rising gas prices as also helping drive oil higher as the liquid becomes relatively cheaper for power generation, ANZ analysts said in the note.
Caught short by the demand rebound, members of the Organization of the Petroleum Exporting Countries and their allies, known as OPEC+, have had difficulty raising output as under-investment or maintenance delays persist from the pandemic.
China's first public sale of state oil reserves has barely acted to cap gains as PetroChina and Hengli Petrochemical bought four cargoes totalling about 4.43 million barrels.
India's oil imports hit a three-month peak in August, rebounding from nearly one-year lows reached in July, as refiners in the second-biggest importer of crude stocked up in anticipation of higher demand.
Oil Holds Near Highest Since 2018 With Global Markets Tightening
Oil held steady near the highest close since 2018, with the global energy crunch set to increase demand for crude as stockpiles fall from the U.S. to China.
Futures in London headed for a third weekly gain. Global onshore crude stocks sank by almost 21 million barrels last week, led by China, according to data analytics firm Kayrros, while U.S. inventories are near a three-year low. The surge in natural gas prices is expected to force some consumers to switch to oil, tightening the market further ahead of the northern hemisphere winter.
China on Friday sold oil to Hengli Petrochemical Co. and a unit of PetroChina Co. in the first auction of crude from its strategic reserves said traders with the knowledge of the matter. Grades sold included Oman, Upper Zakum and Forties.
Oil has rallied recently after a period of Covid-induced demand uncertainty, with some of the world's largest traders and banks predicting prices may climb further amid the energy crisis. Global crude consumption could rise by an additional 370,000 barrels a day if natural gas costs stay high, according to the Organization of Petroleum Exporting Countries.
"Underpinning the latest bout of price strength is a tightening supply backdrop," said Stephen Brennock, an analyst at PVM Oil Associates Ltd.
Various underlying oil market gauges are also pointing to a strengthening market. The key spread between Brent futures for December and a year later is near $7, the strongest since 2019. That's a sign traders are positive about the market outlook.
At the same time, the premium options traders are paying for bearish put options is the smallest since January 2020, another indication that traders are less concerned about a pullback in prices.