Fed: Rate Hike Appropriate in 'Coming Months'
Federal Reserve Chair Janet Yellen said the ongoing improvement in the U.S. economy would warrant another interest rate increase "in the coming months," stopping short of giving an explicit hint that the central bank would act in June.
"It's appropriate — and I've said this in the past — for the Fed to gradually and cautiously increase our overnight interest rate over time," Yellen said Friday during remarks at Harvard University in Cambridge, Massachusetts. "Probably in the coming months such a move would be appropriate."
Yellen will host her colleagues on the Federal Open Market Committee in Washington June 14-15, when they will contemplate a second interest-rate increase following seven years of near-zero borrowing costs that ended when they hiked in December. A series of speeches by Fed officials and the release of the minutes to their April policy meeting have heightened investor expectations for another tightening move either next month or in July.
"The economy is continuing to improve," she said in a discussion with Harvard economics professor Gregory Mankiw. She added that she expects "inflation will move up over the next couple of years to our 2 percent objective," provided headwinds holding down price pressures, including energy prices and a stronger dollar, stabilize alongside an improving labor market.
Several regional Fed presidents, ranging from Boston Fed President Eric Rosengren to San Francisco's John Williams, have in recent weeks urged financial market participants to take more seriously the chances of a rate hike in the next two months, pointing to continued signs of steady if unspectacular growth in the U.S. economy and the waning of risks posed by global economic and financial conditions.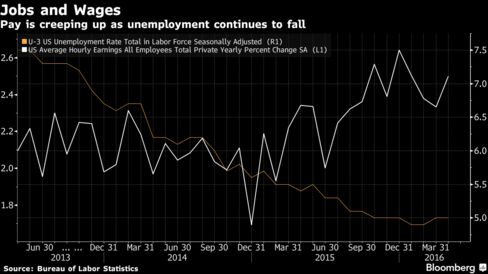 Left scale – hourly earnings; right scale – unemployment
"It sounds like the committee is close to a rate hike, assuming the data hold up, but that no decisions have been made about the precise timing," Laura Rosner, a senior U.S. economist at BNP Paribas in New York, said in an e-mail. "It will be a collective decision."
The U.S. labor market has continued to expand even as the jobless rate has declined to 5 percent, which many economists consider to be close to or at full employment. Inflation and wages have also shown signs of edging up, a trend the Fed has longed for but is anxious to keep under control. The May employment report will be released on June 3, three days before Yellen is scheduled to speak publicly again, this time in Philadelphia.
More than incoming economic data, market sentiment over the June meeting has been shifted by FOMC member comments and by the April meeting minutes. Those records, released May 18, showed a majority on the committee favored a June rate increase if the economy continued to improve.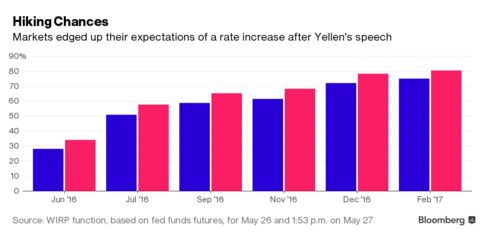 Odds of a June rate hike implied by pricing in federal funds futures contracts were 32 percent following her remarks compared to 28 percent earlier on Friday and about 4 percent two weeks ago.
The FOMC accompanied its December rate hike with projections showing officials expected to raise rates four more times in 2016. Amid renewed worries over global growth and a bout of turmoil in financial markets in January and February, the committee has since held rates steady and cut its median projection for the number of 2016 quarter-point rate increases to two.
Yellen, 69, accepted the Radcliffe Medal, an award given annually by Harvard's Radcliffe Institute for Advanced Studies to "an individual who has had a transformative impact on society," according to its website. Supreme Court Justice Ruth Bader Ginsburg received the award in 2015.
Top 5 Largest US Banks Hold over $7 Trillion in Deposits as Personal Savings Rate Grows by 17.8%
US 5 Largest Banks Hold Over $7 Trillion in Deposits as Savings Rate Jumps 17.8%
According to the research data analyzed and published by ComprarAcciones, the personal saving rate in the US as of July 20, 2020 was 17.8%, up from 7% the previous July. The rate increased from 7.6% in January and hit a high of 33.7% in April 2020.
In April 2020 alone, deposits in US banks grew by a massive $865 billion according to the FDIC data. It coincided with a 10.5% increase in personal income according to the Bureau of Economic Analysis (BEA). Overall, FDIC shows an upsurge of deposits exceeding $2 trillion during the pandemic period.
JP Morgan Chase Grows by 18% in Total Deposits, Citigroup 11% and BAC 10%
During Q1 2020, total deposits made into US banks amounted to $15.78 trillion according to YCharts. It marked an 8.54% increase from $14.54 trillion in Q4 2019. There was a 13.29% year-on-year (YoY) growth from $13.93 trillion in Q1 2019. At the end of February, banks held $13.3 trillion in deposit accounts. During the week ending June 2020, this figure had risen to $15.47 trillion.
According to the FDIC, over 66% of the gains went to the top 25 US banks by assets. Of these, the top three banks reported the highest growth. JP Morgan Chase saw an increase of 18% in total deposits from Q4 2019 to Q1 2020. During the same period, Citigroup reported 11% growth while Bank of America saw an increase of 10%. In contrast, the industry as a whole only reported a 4% upsurge.
Due to this explosive growth, the top 5 banks by assets held over $7 trillion in deposits at the end of H1 2020. JP Morgan Chase led the pack with $2.05 trillion while Bank of America was second with $1.82 trillion. Wells Fargo was third with $1.50 trillion, Citigroup fourth with $1.24 trillion and U.S. Bancorp fifth with $425.28 billion.
P&ID Nigeria Case: Nigeria's Foreign Reserves Rise by Over $200 Million to $36 Billion
Foreign Reserves Rose by Over $200 Million to $36 Billion after London Commerce Court Returned P&ID Nigeria Case's Security Fund
The Central Bank of Nigeria on Tuesday said the nation's foreign reserves rose by US$200 million to US$35.746 billion following the return of the $200 million security used in the discredited P&ID $10 billion Arbitral claim.
The P&ID had taken Nigeria to London Commerce Court over breach of contractual agreement, previous fine and accumulated interest to the tune of $10 billion over a period of 10 years.
The company had claimed it invested a substantial amount in a contract project signed between itself and the Nigerian government, only for the Federal Government to backout or failed to fulfil its end of the deal.
An accusation the Federal Government denied and described the whole project as a scam orchestrated by some Nigerians and foreign entities looking to profit from the nation's lack of proper documentation.
The government fought back with evidence proving that the P&ID supposed contract was a sham as the contract was not signed or approved by the then president who was way because of sickness.
The Federal Government was asked to deposit security of $200 million to appeal the case in London commerce court.
After proving beyond a reasonable doubt that the project was a fraud, the London commerce court has now returned the $200 million security plus the £1.5 million previous awarded to Nigeria and another £70,000 for the cost incurred during the trial.
In a tweet on Tuesday, the apex bank said "Nigeria's Foreign Exchange Reserves was this morning boosted by over $200Million when the London Commercial Court ordered the release of the $200Million guarantee put in place as security in respect of the execution of the much discredited P&ID $10 Billion Arbitral Claim."
"The court also awarded a £70,000 cost in favour of Nigeria in addition to an earlier award of £1.5m."
Nigeria's Foreign Exchange Reserves was this morning boosted by over $200Million when the London Commercial Court ordered the release of the $200Million guarantee put in place as security in respect of the execution of the much discredited P&ID $10 Billion Arbitral Claim.

— Central Bank of Nigeria (@cenbank) September 29, 2020
N75 Billion Nigeria Youth Investment Fund to be Opened for Application Soon -CBN
CBN to Open N75 Billion Nigeria Youth Investment Fund for Application Soon
The Central Bank of Nigeria has said it will announce the Nigeria Youth Investment Fund soon to support Nigerian youths as unemployment jumped to 27.1 percent in the second quarter.
The apex bank has launched numerous funds to deepen growth and ease the negative impact of COVID-19 on Nigerian youths, Africa's largest youth population and one of the largest in the world.
As stated on the apex bank website, the Nigeria Youth Investment Fund (NYIF) is a N75 billion investment fund approved by the Federal Executive Council (FEC) in August to address the financial needs of 500,000 youths from 2020 to 2023.
According to the CBN, approval will range from N250,000 to N50 million with a spread across group applications, individual applications and working capital loans with a single-digit interest rate of 5 percent.
The fund was approved in August by the Federal Executive Council, the first of such approval.
Following the FEC meeting presided over by President Muhammadu Buhari in August, the presidency had tweeted that, "We recently established a 75 billion Naira Nigerian Youth Investment Fund (NYIF), as part of our commitment to creating opportunities for the youth of Nigeria. On this occasion of International Youth Day, I urge all our young people to take advantage of these opportunities."
Nigeria youth investment fund website/portal
There is no dedicated website or portal to Nigeria Youth Investment Fund, applicants would have to go through the 125 micro-credit banks across the country to access the fund.
How to apply for the Nigeria Youth Investment Fund
To apply for the Nigeria Youth Investment Fund, you must have a fundable business idea, be a registered business owner in Nigeria and be a Nigerian citizen.
Also, you must be between the age of 18 and 35 to be qualified for the fund.
The fund would be disbursed to qualified applicants through one of the numerous microcredit institutions in Nigeria under the Central Bank of Nigeria but supported by BOI, Fintech Organisations and Venture Capital Organisations registered with the apex bank.
This is coming after the Federal Government introduced Survival Fund a week ago to stimulate growth in small and medium businesses and cushion the economy from the impact of COVID-19 that is expected by many to plunge it into recession in this third quarter.