World's No. 2 Currency Trader Says Dollar Rebound Just the Start
The dollar's three-week rally is just the beginning, according to Deutsche Bank AG.
A slump by the greenback earlier this year has "likely run its course," analysts at the world's second-largest currency trader wrote in a note Friday. The bank favors buying the U.S. currency versus emerging markets — such as China, Mexico and South Korea — following a shakeout in speculative bets on the dollar, George Saravelos, co-head of global foreign-exchange research in London, wrote.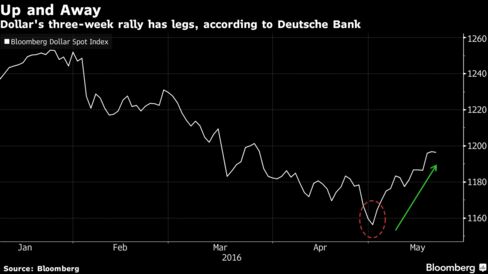 With policy makers from the Group-of-Seven economies meeting in Japan, the Federal Reserve this week gave the dollar a boost by signaling that it may raise interest rates as soon as June. That helped send the greenback to a seven-week high, providing relief to policy makers outside the U.S. who have watched with dismay as a weaker dollar eroded the stimulatory effect of interest-rate cuts and bond purchases.
"The dollar still has some legs," said Sebastien Galy, a strategist at Deutsche Bank in New York. "The global dollar trend is probably far less appealing than it used to be, but there's still some opportunity there."
The Bloomberg Dollar Spot Index, which tracks the dollar versus 10 peers, added 0.8 percent this week. The greenback rose 0.8 percent to $1.1224 per euro and gained 1.4 percent to 110.15 yen.
Market Swings
The dollar slumped 12 percent versus the yen, 7 percent versus the euro, and 7 percent against 10 peers this year before turning higher this month.
More neutral positioning signals room for dollar gains. Hedge funds and other large speculators cutting bets against the dollar this week after turning net bearish on the currency for the first time since 2014 at the end of April, data from the Commodity Futures Trading Commission show.
"The dollar cycle isn't old enough to die of old age," Saravelos wrote. "Recent weakness has likely run its course."
For Deutsche Bank, the dollar's biggest gains will be versus emerging markets, partly because they rely less on Fed expectations.
New York and Richmond Fed presidents both indicated this week that the central bank may look to raise rates as soon as June — a message also hinted at in minutes from its last meeting. Markets are pricing just a 30 percent likelihood of a hike next month and a 73 percent by the end of the year.
State Street Corp., with about $2.3 trillion under management, agrees. Emerging markets are likely to slump versus the dollar, while the performance of the greenback versus the euro and yen depends on the Fed.
"The dollar does go up against risky assets," Lee Ferridge, the Boston-based head of macro strategy for North America at State Street Global Markets, said in an interview at Bloomberg's New York headquarters. "But for euro and yen, it's much more subtle now because that's about policy divergence."
Naira Remains Pressure at N465/US$ Despite BDCs Expecting $50.9m from CBN
Naira Remains at N465/US$ Despite BDCs Expecting $50.9m Injection from CBN
The Nigerian Naira remained under pressure despite the Central Bank of Nigeria's foreign exchange sales to the bureau de change operators (BDCs).
Since the apex bank resumed forex sales about two weeks ago, the local currency had only improved slightly against global counterparts as investors and businesses doubt the central bank's ability to sustain forex intervention given the weak foreign reserves and low oil prices.
Two weeks ago, the apex bank injected $51.8 million into the foreign exchange market to ease scarcity and support Naira's value, however, despite the amount injected, the local currency only moderated slightly from N480 to a US dollar to N443 before depreciating back to N465 following the increase in electricity tariff and complete subsidy removal.
In what appeared like investors have started pricing in a further decline in consumer spending, especially with inflation hovering above 13 percent and expected to rise further with an increase in prices.
Also, Nigeria's unemployment rate remained high at 27.1 percent, meaning apart from weak revenue generation and definitely low tax revenue, businesses will not be creating enough jobs to cushion the impact of COVID-19 on the economy.
A situation expected to further weigh on Naira outlook against global counterparts, even with central bank forex sales.
The Naira exchanged at N465 to a US dollar on Tuesday despite Bureau de change operators expecting $50.9 million forex allocation from the central bank today. This means, the market no longer expect a meaningful impact from the apex bank intermittent intervention because of the disparity in the amount being injected and forex backlog estimated at slightly over $5 billion.
CBN Moves Against 55 Companies, Individuals for Forex Infractions
CBN Commences Investigation into FX Activities of  55 Companies, Individuals
In an effort to ease foreign exchange pressure and better manage the dwindling foreign reserves, the Central Bank of Nigeria has intensified fight against companies and individuals taking advantage of the nation's limited foreign reserves.
The apex bank said it has commenced investigations into the activities of 55 companies and individuals engaging in foreign exchange transactions.
The central bank attributed the reason for the investigation to foreign exchange deals outside the official Investors & Exporters (I&E) forex window.
Some of the companies being investigated are Stallion Nigeria Limited, Interswitch Nigeria Limited, as well as a leading global shipping line, CMA CGM Nigeria Shipping Limited.
Other big names on the list are Petro-Afrique Energy Services Limited, Steel Force Far East Limited, Auto Petroleum Company Limited, Cavendish Mechanicals Limited, Aquashield Oil & Marine Limited, Haitch & Elf Integrated Services Limited, Fenog Nigeria Limited, and Promasidor Nigeria Limited.
The I&E window was established to facilitate foreign exchange transactions and encourage a moderate market-determined exchange rate.
Naira Declines to N465 Against US Dollar on Black Market
Naira Falls to N465 Against US Dollar on Black Market
Nigeria's economic uncertainties continued to weigh on the Nigerian Naira despite the Central Bank of Nigeria's forex sale resumption.
The local currency declined by N3 from N462 a US dollar to N465 on the black market even with over $58 million injected into the forex market through the bureau de change.
Against the British Pound, Naira depreciated by N5 from N595 to N600 on Friday while it dipped by N3 against the European common currency to N548, down from N545 it traded on Thursday.
A series of weak economic fundamentals and anti-people policy continued to hurt the nation's economic outlook and investors' confidence.
In a recent event, the Nigerian government simultaneously raised electricity tariffs, pump prices and foreign exchange rates in an economy that depends on imports for most of its supplies.
Also, with the unemployment rate at over 27 percent, inflation rate over 13 percent and the number of companies shutting downing operation rising on a daily bases, foreign investors and even local investors are now holding back on investments needed to support the nation's weak foreign reserves and cushion the negative effect of COVID-19.
While the exchange rates have moderated slightly from COVID-19 peak, it remains close to COVID-19 record.