Pound Gains Support Before EU Vote as 'Remain' Lead Takes Hold
The pound is gathering supporters.
One month ago, the U.K. currency was seen ending June at $1.42, according to the median of analyst estimates in a Bloomberg survey. That forecast has now risen to $1.45, the highest in almost four months, even as the crucial June 23 vote that will decide the fate of Britain's membership in the European Union draws closer.
The winds of change are found in the increasing number of surveys that have signaled pro-European voters are pulling ahead of those wanting to break away from the bloc. Sterling has been the best performer among its Group-of-10 peers during the past two weeks, and has climbed from a seven-year low reached in February.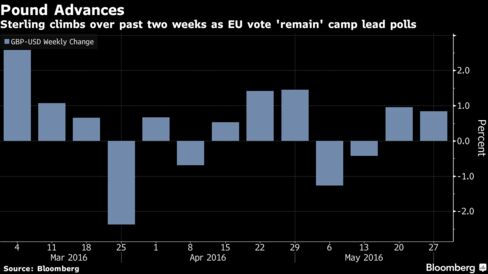 "There is still room for recovery in the pound," said Thu Lan Nguyen, a currency strategist at Commerzbank AG in Frankfurt. Sterling would be supported "if the market continues to price in that the U.K. will vote to stay in the EU, but it is a fragile state."
The pound rose 0.8 percent in the week to $1.4623 as of the 5 p.m. close in New York on Friday. It previously climbed 1 percent in period through May 20.
U.S. Factors
Factors outside of the U.K. could also prove important for sterling next week, according to Commerzbank's Nguyen. The pound fell on Friday after U.S. Federal Reserve Chair Janet Yellen said higher interest rates in the coming months look "appropriate."
Investor sentiment and jobs data from the U.S. could sway predictions on whether Fed officials will announce tighter monetary policy after meeting on June 15, just days before the U.K. referendum. U.S. non-farm payrolls are forecast to remain steady at 160,000 jobs in May, according to a Bloomberg survey of economists.
The odds of a Fed rate increase in June implied by federal funds futures more than doubled this month to 30 percent, as markets adjusted their view after hawkish remarks from U.S. policy makers. The chance of a rate hike by the end of 2016 is at 74 percent.
One-month sterling-dollar volatility rose to a six-year high Friday. Options to shield against a lower pound right after the EU vote, compared with hedging against an increase, were at their most expensive in records going back to 2003. This signals that despite polls predicting a victory for the "remain" camp, investors and traders still wanted protection against an upset.
Naira Declines to N465 Against US Dollar on Black Market
Naira Falls to N465 Against US Dollar on Black Market
Nigeria's economic uncertainties continued to weigh on the Nigerian Naira despite the Central Bank of Nigeria's forex sale resumption.
The local currency declined by N3 from N462 a US dollar to N465 on the black market even with over $58 million injected into the forex market through the bureau de change.
Against the British Pound, Naira depreciated by N5 from N595 to N600 on Friday while it dipped by N3 against the European common currency to N548, down from N545 it traded on Thursday.
A series of weak economic fundamentals and anti-people policy continued to hurt the nation's economic outlook and investors' confidence.
In a recent event, the Nigerian government simultaneously raised electricity tariffs, pump prices and foreign exchange rates in an economy that depends on imports for most of its supplies.
Also, with the unemployment rate at over 27 percent, inflation rate over 13 percent and the number of companies shutting downing operation rising on a daily bases, foreign investors and even local investors are now holding back on investments needed to support the nation's weak foreign reserves and cushion the negative effect of COVID-19.
While the exchange rates have moderated slightly from COVID-19 peak, it remains close to COVID-19 record.
Zenith Bank Joins Other Banks to Cap International Spend Limit at $100/Month
Zenith Bank Caps International Spend Limit at $100 Per Month
Following persistent forex scarcity impacting the nation, Zenith Bank has joined other deposit money banks capping international spend limits.
In an e-mail to customers, the lender said "Please be informed that the monthly international spend limit for your Zenith Bank Naira Card has been reviewed to US$100 while the use of Zenith Bank Naira cards for international Automated Teller Machine cash withdrawals is still temporarily suspended.'
It added that this review is in response to change in Nigeria's macroeconomic factors.
The bank, however, advised those with higher international spend requirements than the US$100 stipulated above to visit any Zenith branch and request a foreign currency debit or prepaid card "which are available in US Dollar, Pounds and Euro variants."
This is coming a few weeks after UBA, GTBank, First Bank and others capped their international spend limits to $100 for similar reasons. However, Zenith's decision was after the Central Bank of Nigeria commenced forex sale to the Bureau De Change Operators across the country.
Nigeria's Foreign Exchange Inflows Decline by 43.2% in May
CBN Says Foreign Exchange Inflows Decline to $5.52bn in May
The total foreign exchange inflows into Nigeria in the month of May declined by 43.2 percent, according to the Central Bank of Nigeria's report.
The report said the COVID-19 pandemic negatively impacted capital inflows during the month as the total foreign exchange inflows dropped to $5.52 billion.
It said "Inflows through the CBN and autonomous sources were negatively impacted.
"On a month-on-month basis, foreign exchange flows into the economy declined to $5.52bn in May 2020.
"The decline in inflow, relative to the level in April 2020, was attributed to the lower receipts from oil sources, which fell sharply by 55.2 per cent because of the continued fragility in global crude oil demand.
"Inflow through autonomous sources, particularly invisible purchases, declined by 7.0 per cent to $3.51bn, relative to the preceding month, while there was a 66.2 per cent fall in inflow through the CBN, which stood at $2.01bn in May 2020."
However, foreign exchange outflows from the country declined by 23.9 percent to $2.50 billion in the month. Likely because of forex scarcity and the central bank forex rate adjustments that curbed outflows by foreign investors.
A break down of the report showed that outflow through the apex bank declined by 30.9 percent to $2.19 billion, below what was recorded in April.
But outflow through autonomous sources, mainly imports and Invisibles, rose by 152.2 percent to $0.32 billion. Higher than the amount reported for the month of April.