Massive Bailout' Needed in China, Banking Analyst Chu Says
Charlene Chu, a banking analyst who made her name warning of the risks from China's credit binge, said a bailout in the trillions of dollars is needed to tackle the bad-debt burden dragging down the nation's economy.
Speaking eight days after a Communist Party newspaper highlighted dangers from the build-up of debt, Chu, a partner at Autonomous Research, said she was yet to be convinced the government is serious about deleveraging and eliminating industry overcapacity.
She also argued that lenders' off-balance-sheet portfolios of wealth-management products are the biggest immediate threat to the nation's financial system, with similarities to Western bank exposures in 2008 that helped to trigger a global meltdown.
The former Fitch Ratings analyst uses a top-down approach to calculating China's bad-debt levels as the credit to gross domestic product ratio worsens, requiring more credit to generate each unit of GDP.
While Chu is on the bearish side of the debate about the outlook for China, she's not alone. In a report on Monday, Societe Generale SA analysts said that Chinese banks may ultimately face 8 trillion yuan ($1.2 trillion) in losses and a bailout from the government, citing the scale of soured credit within state-owned enterprises.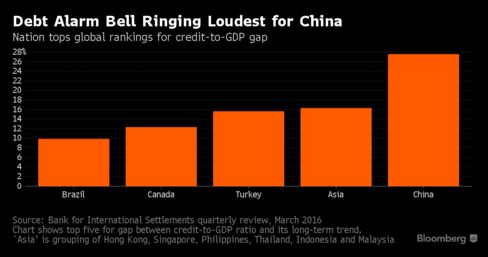 Interviewed in Hong Kong last week, Chu estimated as much as 22 percent of all China's outstanding credit may be nonperforming by the end of this year, compared with an official bad-loan number for banks in March of 1.75 percent.
Question
What do you see as the biggest risk in the financial system?
Answer
"China's debt problems are large and severe, but in some respects a slow burn. Over the near term, we think the biggest risk is banks' WMP portfolios. The stock of Chinese banks' off-balance-sheet WMPs grew 73 percent last year. There is nothing in the Chinese economy that supports a 73 percent growth rate of anything at the moment. Regardless of all of the headlines and announcements about the authorities cracking down on WMPs, they have done very little, really, and issuance continues to accelerate.
"We call off-balance-sheet WMPs a hidden second balance sheet because that's really what it is — it's a hidden pool of liabilities and assets. In this way, it's similar to the Special Investment Vehicles and conduits that the Western banks had in 2008, which nobody paid attention to until everything fell apart and they had to be incorporated on-balance-sheet.
"The mid-tier lenders is where these second balance sheets are very large. China Merchants Bank is a good example. Their second balance sheet is close to 40 percent of their on-balance-sheet liabilities. Enormous."
Question
Who buys a WMP?
Answer
"The products used to be predominantly sold to the public, but now they're increasingly being sold to banks and other WMPs. We're starting to see layers of liabilities built upon the same underlying assets, much like we did with subprime asset-backed securities, collateralized debt obligations, and CDOs-squared in the U.S. The range of assets is much more diverse than mortgages, but we have significantly less visibility on the assets than we did with subprime."
Question
After the People's Daily commentary, is it clear that the government is serious about deleveraging?
Answer
"The word deleveraging should not be used when discussing China. Deleveraging means negative credit growth, or a contraction in the ratio of credit to GDP. China is nowhere close to deleveraging. Over the years, I have learned from watching the authorities respond to issues like WMPs that there is often a large divergence between official rhetoric and actual action. It's encouraging to see policy makers acknowledge the severe overcapacity problem, but I am sceptical that much headway will be made any time soon, given how painful implementation will be and the pushback they will inevitably receive at local levels."
Question
Is a financial crisis or a very dramatic economic slowdown now inevitable?
Answer
"Not yet, but we're getting there because the problem is getting so big. We're still adding 10 to 20 percentage points to the ratio of credit to GDP every year — that has not changed despite the fact that credit growth has decelerated. If the government was to come out with a very aggressive — and it would have to be incredibly aggressive — bailout package for corporates, as well as financial institutions, it would do a lot in terms of dealing with some of this debt overhang and getting rid of the black cloud that's hanging over the country. However, the idea that China needs a massive bailout in the trillions of U.S. dollars isn't something I think the authorities are on board with or accept yet. They still believe they can grow out of it."
Question
Could your assessment of China's debt situation be based on faulty assumptions?
Answer
"If we're wrong, and there's always a chance of that, it's going to be because we're under-appreciating the economic growth potential in China — that there is some more strength to the consumption story and services story than we sense now, and that these are about to take off and propel the country out of these debt problems."
Question
How does China's debt build-up compare to Japan's previously?
Answer
"If you look at Japan, the credit expansion wasn't anywhere close to the size of China's, and China's continues to grow at a rapid rate. There is also a somewhat Wild West, chaotic nature to a lot of the shadow banking going on in China that is different from the shadow credit we saw in Japan. What's positive for China is that they've got a leadership team that is not as afraid as the Japanese leadership is of radical change. So, if China's authorities ever do decide debt is the center of their problems and they need to do something about it, we won't have decades of complacency with nothing really done. On the negative side, China has a much weaker social safety net and a much poorer population, which makes social and political instability a real concern."
Question
What's your assessment of China's capital flows?
Answer
"The party line is that outflows are all about offshore debt repayment, but that accounts for a minority of the flows we are seeing. We think most of the money is leaving through trade mis-invoicing, which is very hard to shut down. Although capital outflows have quieted down, the underlying motivations for people to move their money out of the country are still there. This problem has not gone away."
USAID/Power Africa Announces $2.6m in Healthcare Electrification Grants to Solar Energy Companies in Nine Countries in Sub-Saharan Africa
 

Power Africa, through the United States Agency for International Development (USAID), announces grants totaling $2,620,650 to solar energy companies to provide reliable, affordable off-grid electricity to nearly 300 healthcare facilities in sub-Saharan Africa.

Nearly 60 percent of all healthcare facilities in sub-Saharan Africa have no access to electricity, and of those that do, only 34 percent of hospitals and 28 percent of health clinics have reliable, 24-hour access.  Energy is critical for powering essential devices, medical and sterilization equipment, diagnostics, cold storage for vaccines and medication, information technology, and lights to enable the delivery of continuous health care services. Efficient health services and responses to diseases – including COVID-19 – depend on reliable access to electricity.

In support of the accelerated provision of off-grid solar energy to healthcare facilities in sub-Saharan Africa, Power Africa is awarding grants to the following solar energy companies: 
Havenhill Synergy Ltd. (Nigeria)
KYA-Energy Group (Togo)
Muhanya Solar Ltd. (Zambia)
Nanoé (Madagascar)
OffGridBox (Rwanda)
OnePower (Lesotho)
PEG Solar (Ghana)
SolarWorks! (Mozambique)
Zuwa Energy (Malawi)
These companies will utilize Power Africa funding to provide off-grid solar electricity solutions to 288 healthcare facilities across the nine countries represented.

"Solar energy holds great potential to expand and improve health care delivery in sub-Saharan Africa, and off-grid solar technology offers a clean, affordable, and smart solution to electrify healthcare facilities located beyond the reach of national electricity grids," said Mark Carrato, Power Africa Acting Coordinator. "Power Africa's experience shows that off-grid solar energy systems can be rapidly deployed to even the most rural facilities."

"These awards demonstrate what we can accomplish when the public and private sectors join together to break down the barriers to reliable electricity for rural healthcare facilities," said Chris Milligan, Counselor to USAID, on September 22, 2020 during a virtual event announcing the grant awardees.

ABOUT THE GRANTEES AND HOW THEY WILL POWER HEALTHCARE IN RURAL COMMUNITIES

Havenhill Synergy will electrify 21 rural healthcare facilities in Oyo State, Nigeria, using an energy-as-a-service business model. The facilities are mostly within peri-urban communities with limited reliable electricity access. Havenhill will provide long-term operation and maintenance of the solar energy systems.

KYA-Energy Group will electrify 20 health centers in Togo. In addition to electricity access, KYA will provide automated solar hand washing stations for infection prevention and solar phone charging stations for generating additional income.  

In partnership with the Churches Health Association of Zambia, Muhanya Solar Ltd. will provide electricity access to seven rural health facilities in Zambia. Muhanya will also electrify staff housing to generate revenue for the operation and maintenance of the solar systems installed at the health facilities. 

Nanoé will electrify 35 rural health facilities in the Ambanja and Ambilobe districts of Madagascar. The company will deploy nano-grids with the health facilities as anchors and connections running to staff housing. Electricity will be sold to the surrounding communities to generate income for the operation and maintenance of the nano-grids. 

With their containerized solution, OffGridBox will provide renewable energy and clean water to six rural clinics in Rwanda. The company will also set up a pay-as-you-go (PAYGO) business model, selling electricity and clean water to the surrounding communities.

OnePower will electrify seven rural health facilities in Lesotho, using the facilities as anchor loads for mini-grids. In addition to powering the health facilities, the mini-grids will provide electricity access for rural communities served by the facilities. 

PEG Solar will provide electricity access to 91 rural community healthcare facilities in Ghana. PEG will adopt a private sector approach to energy service delivery for public health facilities, enabling rapid electrification of the facilities while significantly reducing the upfront financial burden of transitioning to solar energy. 

SolarWorks! will electrify 92 rural healthcare facilities in Mozambique's Sofala province. To ensure sustainability of the systems beyond the grant implementation period, SolarWorks! will cover operational and maintenance costs of the solar energy systems for five years.

Zuwa Energy will install solar energy solutions in nine health facilities in Malawi. Electricity access will enable the facilities to provide higher-quality health services throughout the day and more comprehensive services at night. Additionally, Zuwa will electrify staff housing with the aim to increase staff wellbeing and retention rates.

"Through these grants, USAID is investing in a set of pilot projects that demonstrate how healthcare electrification can be delivered in a commercially sustainable manner, with strong private sector involvement," said David Stonehill, the Lead for Power Africa's Beyond the Grid initiative.  "These grants demonstrate the Power Africa model in action:  We use a modest amount of public funding to de-risk transactions, thus opening the door for private investment."
Market Cap of Five Largest Hotel Chains Decline by $25.2bn Amid Coronavirus Crisis
World`s Five Largest Hotel Chains Lost $25.2bn in Market Cap Amid Coronavirus Crisis
The coronavirus outbreak has affected every sector across the globe, but the hotel industry is among the hardest hit. Although hotels implemented increased safety and sanitation measures and cautiously reopened for the summer travel season, recovery to pre-COVID-19 levels could take years.
According to data presented by Stock Apps, the combined market capitalization of Wyndham Hotels and Resorts, Choice Hotels International, Marriott International, Intercontinental Hotels Group, and Hilton Worldwide Holdings, as the five largest hotel chains in the world, hit $79.2bn in September, a $25.2bn plunge since the beginning of 2020.
Marriot International Witnessed the Biggest Market Cap Drop in 2020
To curb the spread of the virus, countries across the world have imposed lockdown rules, leading to thousands of canceled vacations, and closed hotels between March and May. Although many of them lifted off travel restrictions in the last three months, the first two quarters of the year produced colossal revenue and market cap drops to the largest hotel chains globally.
The market cap of Wyndham Worldwide, the biggest hotel chain in the world by the number of hotels, stood at $5.89bn in December, revealed the Yahoo Finance data. By the end of March, this figure dropped to $2.93bn. Although the second and third quarter of 2020 brought a recovery, the combined value of stocks of the U.S. corporation, which owns 8,092 hotels, stood at over $5bn in September, an $870 million plunge since the beginning of the year.
The second-largest hotel chain globally, Choice Hotels International, lost $440 million in market capitalization amid the coronavirus crisis. In December 2019, the total value of stocks of the company that owns 7,118 properties amounted to $5.76bn. During the last nine months, this figure dropped to $5.32bn.
However, statistics indicate that Marriot International, the third-largest hotel chain with 5,974 hotels in more than 110 countries, witnessed the most significant drop in market capitalization since the beginning of the year. In December, the combined value of stocks of the Washington-based corporation stood at $49.51bn. By the end of the second quarter, it halved to $24.25bn. Although the company's market cap recovered to $33.86bn in September, this figure still represents a 31% plunge since the beginning of 2020.
Intercontinental and Hilton Lost $8.3bn in Total Stock Value
Intercontinental Hotels Group ranked as the fourth largest hotel chain globally, with 5,070 hotels across nearly 100 countries. Statistics indicate the market capitalization of the British multinational hospitality company amounted to $12.3bn in December 2019. After falling to $6.2bn in March, it rose to $9.7bn in September, a 21% plunge amid the coronavirus crisis.
The total value of Hilton Worldwide Holdings stocks, the fifth-largest chain of hotels globally, dropped by $5.66bn since the beginning of 2020. In December, the market cap of the hotel group that generated around $9.45bn in revenue last year stood at $30.94bn. After a sharp drop caused by the Black Monday crash, it recovered to $25.28bn in September. Nevertheless, the figure represents an 18% fall since the beginning of the year. Statistics show two hotel groups lost $8.3bn in combined market capitalization amid the coronavirus crisis.
Premier League Brand Value Hit €8.5bn, Bigger than La Liga and Bundesliga Combined
Brand Value: Premier League Worth €8.5bn, More than La Liga and Bundesliga Combined
The revenues of the big five European football leagues have soared in the last twenty years, reaching €17bn in the season 2018/2019. However, English Premier League convincingly tops the list of professional football competitions in Europe, both in terms of profit and brand value.
According to data presented by Safe Betting, Premier League hit €8.5bn in brand value in 2020, 19% more than La Liga and Bundesliga combined.
€1.5 bn Higher Revenue than Other Top Football Leagues
Besides leading in brand value, the Premier League also generates the highest revenue of all the European football leagues and has the highest operating profit. Although the coronavirus outbreak caused a massive financial hit to England's top division teams, Premier League clubs are still expected to generate at least €1.5 bn more than their counterparts in Germany and Spain, revealed the Deloitte Annual Review of Football Finance 2020.
The reason for that is broadcasting rights. Statistics indicate the Premier League clubs are set to reach €2.4 bn in revenue from broadcasting rights this season. Commercial revenues are forecast to hit €1.7bn value in 2020, a €139 million increase year-on-year. Matchday profits follow with €614 million in revenue this season.
Manchester United tops the list of the professional football clubs in England, with over €1.3bn in brand value in 2020, revealed the Brand Finance Football 50 – 2020 survey. Statistics show the club generated €627 million in revenue last year, while its wage costs amounted to €352 million. The 2019 Global Sports Salaries Survey also revealed that Manchester United's first-team players earned an average of €6.8 million last season, ranking as the second leading football club in Premier League and seventh globally.
Liverpool FC hit over €1.2bn brand value this year, the second-largest among all Premier League clubs. Deloitte's Annual Review of Football Finance 2020 showed the club generated €533 million in revenue in season 2019/2020, while its first-team members earned an average of €6.1 million last year. Liverpool also represents the second most-expensive football team globally, with €1.02bn in the combined market value of its 30 players.
Manchester City ranked as the third most valuable football brand in England, with over €1.1bn in brand value in 2020. However, statistics show the club, which generated €538 million in revenue last season, tops the list of the highest-priced football teams in 2020, with €1.04bn in the combined market value of its 31 players. In the 2019/2020 season, Manchester City had an average annual first-team member salary of €7.7 million, the highest among all Premier League clubs.
La Liga Has the Most Valuable Football Club Brands
Although La Liga ranked as the second leading European football league with almost €4bn in brand value in 2020, statistics show the two top Spanish clubs represent the most valuable football brands globally.
Real Madrid and FC Barcelona both hit over €1.4bn in brand value this year, accounting for 70% of the total brand value of the highest-leveled Spanish football league.
Statistics show the first-team players of Real Madrid, the world's largest football brand, earned an average of €9.45 million this season. At the same time, their combined market value hit €930.3 million, ranking them as the fifth most-expensive football team in the world.
FC Barcelona, the second most valuable football brand in the world, tops the list of European football clubs with a €10.4 million average annual player salary in the season 2019/2020. The club's players also represent the third most expensive football team globally, with €1bn in their combined market value. Moreover, the Spanish football giant hit a record revenue of €813.3 million in the season 2018/2019 and ranked as the biggest cash-generating football club for the first time.
With €3.2bn in brand value or 2.6 times less than Premier League, Bundesliga ranked as the third most valuable European football league. The leading German football club and the sixth globally, FC Bayern München, accounts for one-third of that figure, with over €1bn in brand value this year.
Italy's Serie A and French Ligue 1 follow, with 1.8bn and 1.2bn in brand value, respectively.