Filings for U.S. unemployment benefits declined last week from a more than one-year high, as a plunge in New York returned claims to a level consistent with a firm labor market.
Applications dropped by 16,000 in the week ended May 14, the biggest decrease since early February, to 278,000, a Labor Department report showed Thursday. The median forecast in a Bloomberg survey called for 275,000.
The decrease was primarily due to fewer filings in New York after a surge the previous week that probably reflected difficulties adjusting for the spring break holiday. A subdued rate of dismissals, along with steady hiring, shows companies have confidence in the demand outlook.
"New York State fell basically by the amount it went up in the prior week, so that seems like more of a blip," Kevin Cummins, an economist at RBS Securities Inc. in Stamford, Connecticut, which is the best forecaster of jobless claims over the past two years, according to data compiled by Bloomberg. Overall, claims are "still suggesting a pretty solid labor market."
Estimates in the Bloomberg survey ranged from 260,000 to 285,000. Claims were unrevised at 294,000 in the previous week, the highest since February 2015.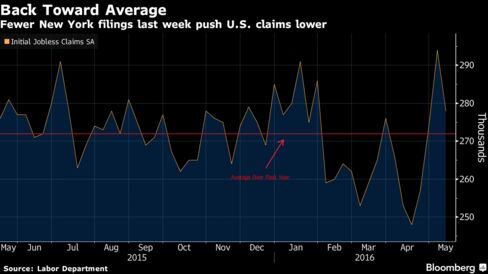 Filings have been below 300,000 for 63 straight weeks, the longest stretch since 1973 and a level economists say is typically consistent with a healthy labor market.
No states were estimated last week and there was nothing unusual in the data, according to the Labor Department. In New York, jobless claims slumped by 15,745 last week, accounting for most of the 17,099 overall decline before seasonal adjustment.
Applications for benefits in the Empire State jumped 14,494 in the prior week due to increased filings in educational services, transportation and accommodation and food services, the report showed.
The four-week average of claims, a less-volatile measure than the weekly figure, rose to a seasonally adjusted 275,750 from 268,250 in the prior week.
The number of people continuing to receive jobless benefits decreased by 13,000 to 2.15 million in the week ended May 7. The unemployment rate among people eligible for benefits held at 1.6 percent. These data are reported with a one-week lag.
Employers in April added the fewest number of workers in seven months, while the unemployment rate held at 5 percent. Economists see job gains slowing to a 182,000 monthly pace by year-end, compared with a 203,000 average in the first quarter.